Lori Arnold
| ChristianHeadlines.com Contributor
| Tuesday, July 30, 2019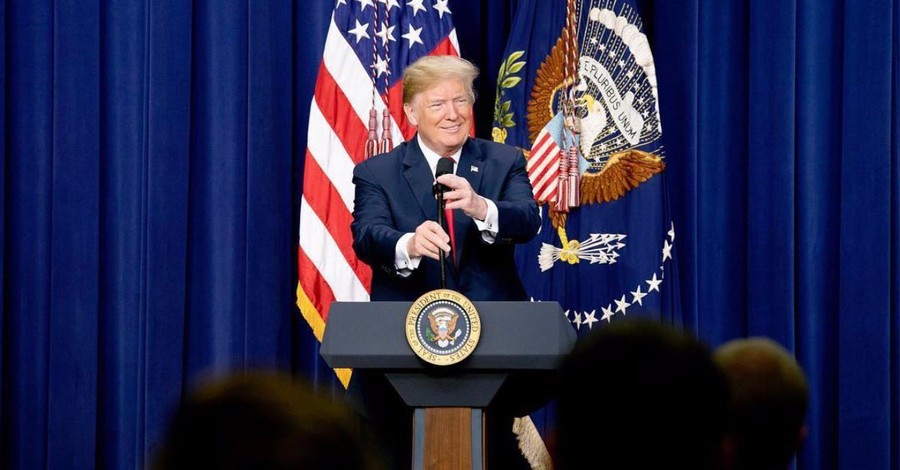 President Donald Trump, whose weekend Twitter tirade targeted Baltimore Congressman Elijah Cummings and TV host-activist Al Sharpton, met with 20 or so African-American pastors Monday to discuss numerous issues facing the African American community.
"What I was impressed by is how much support we got from the African American pastors," Maryland Bishop Harry Jackson told the Christian Post. "And they're basically saying that we realize that we're in a volatile, contentious political environment but we think that Trump has been more than faithful in just following up and making sure things that he promises he does."
The meeting, which was not listed on the White House's Monday schedule, came after a Twitter exchange in which Trump took Cummings to task, calling his congressional district a rat-infested and crime-ridden place "no human being would want to live."
Trump went on to call the House Oversight and Reform Committee Chairman a "racist," adding that "his radical 'oversight' is a joke." Cummings has been highly critical of Trump's border policies and has pushed for numerous investigations against the President and his administration.
On Monday, Trump turned his attention to Al Sharpton, calling him a "con man" after the MSNBC pundit came to Cummings' defense.
Jackson, pastor of Hope Christian Church in Beltsville, Maryland, defended Monday's meeting saying it was a follow-up to a similar session Trump hosted with inner-city pastors a year ago and had "no bearing" on the timing of the White House meeting from a "macro" level, the Christian Post reports.
"I think it was on the White House's mind a long time ago," Jackson said while conceding he did not know when the White House decided to host the Monday gathering. "I talked about this trip and coming back together again. And pretty much, it's all about locking down schedules. And then, you get a short framework. But I would have expected it to happen a couple of months ago, actually."
The Rev. Bill Owens, founder of the Coalition of African American Pastors, echoed Jackson's comments in a post-gathering news conference, attended by him, Jackson, Dr.Alveda King, the niece of Martin Luther King Jr., and the Rev. Dean Nelson, the founder of the Douglass Leadership Institute.
"Two hours of discussion, that's not a photo-op," Owens said, according to CNN.
One invitee, East Baltimore Pastor Donte Hickman told the Baltimore Sun he declined to join the White House meeting because he was "unavailable," but reiterated that an earlier offer to host the President in Baltimore still stands.  According to Hickman, Trump planned to visit the city at his request last December, but the President canceled. Instead, Hickman traveled to the White House to discuss economic strategies for struggling cities through a Trump administration program that offers investor tax breaks for communities designated as "opportunity zones."
"I think it's important for the president to engage with and really see the community of which he talks about and has talked about giving support to," Hickman told the Sun.
During the pastors' news conference, members of the media asked if Trump is a racist.
"I find that hard to believe, considering the things he's done for the black community," Owens said, according to ABC News. "Positive things for the black community."
According to CBN News, Owens added that the president could do more to address racism in the country, "absolutely."
"This country needs healing. There's so much division in America along racial lines," he said.
As for the content of the actual meeting, those attending said in addition to the "opportunity zones," topics covered were wide-ranging and included employment, criminal justice and prison re-entry.
"We talked about everything from religious liberties, to life issues. So what impressed me was the positivity," the Christian Post reported Jackson as saying. "So it sounded like [it would be for] evangelicals who support Trump with one important exception. And that is that in black communities, there's a lot of backlash against the president and a lot of name-callings. But in that room, they were saying, 'Hey, if our people got a chance to hear your hearts as we heard, they wouldn't think the way some of them think,'" he concluded.
Photo courtesy: Public Domain/Executive Office of the President of the United States
---
---