Lori Arnold
| ChristianHeadlines.com Contributor
| Wednesday, January 15, 2020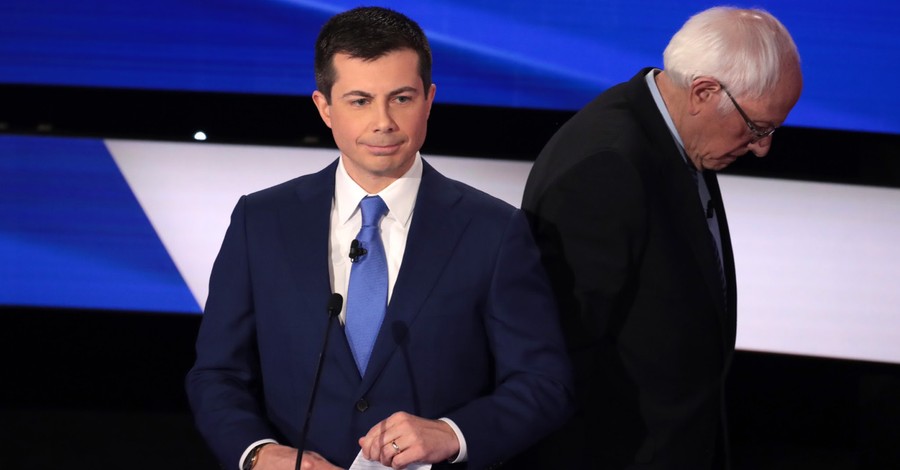 2020 hopeful Pete Buttigieg, in a pre-Iowa caucus debate that covered wide-ranging progressive topics but failed to deliver fireworks, said he was prepared to challenge President Donald Trump on religion.
"If a guy like Donald Trump keeps trying to use religion to somehow recruit Christianity into the GOP, I will be standing there not afraid to talk about a different way to answer the call of faith and insist that God does not belong to a political party," the former mayor of South Bend, Indiana said.
His comments came during a segment in which he explained how he could stand up to Trump if he secured the Democratic nomination.
"I'm ready to take on Donald Trump because when he gets to the tough talk and the chest-thumping, he'll have to stand next to an American war veteran and explain how he pretended bone spurs made him ineligible to serve," the 37-year-old said.
Buttigieg, who is openly gay, has been outspoken about his Christian faith on the national stage since he announced his run for the presidency.
Tuesday's debate, the last before the Feb. 3 Iowa caucus, was held at Drake University in Des Moines. In all, six candidates qualified for the stage, including front-runners Vermont Sen. Bernie Sanders, Massachusetts Sen. Elizabeth Warren, former Vice President Joe Biden and Buttigieg. Also securing spots were Minnesota Sen. Amy Klobuchar and billionaire activist Tom Steyer.
The candidates answered questions on the situation in the Middle East, troop deployment levels there, Medicare for All, diversity, access to higher education, a wealth tax, climate change, the economy and the ability to beat Trump in November.
Another standout moment from the debate includes an uncomfortable confrontation between Senators Warren and Sanders on whether a woman could beat Trump.
In the days leading up to the debate, Warren alleged that Sanders told her in a private 2018 meeting at her home that a woman could not beat Trump, an allegation that Sanders strongly denied on the stage.
"Anybody who knows me knows it is incomprehensible that I would think that a woman could not be president of the United States," Sanders said.
"Hillary Clinton won the popular vote by three million votes. How could anybody in a million years not believe that a woman could become president of the United States?
"And let me be very clear, if any of the women on this stage, or any of the men on this stage, win the nomination—I hope that's not the case, I hope it's me—but if they do, I will do everything in my power to make sure they are elected in order to defeat the most dangerous president in the history of our country."
Warren challenged the electability narrative in a comment that has been widely cited as one of the biggest sound bites of the evening.
"Look at the men on this stage," she said. "Collectively, they have lost 10 elections. The only people on this stage who have won every single election that they've been in are the women—Amy [Klobuchar] and me!"
Klobuchar, who has carved out a lane as a moderate Democrat, earned praise in some quarters last night for her performance, with experts saying she showcased her steady pragmatism. She argued that her experience with middle America would provide voters with a sharp contrast in styles in a match-up with President Trump.
"I can look at him and say, `You treated these workers and farmers like poker chips,'" she said. "They're my friends and neighbors."
In a post-debate poll on Drudge Report, Klobuchar was deemed the top performer, garnering 26 percent of the vote, followed by Sanders at 22 percent.
Photo courtesy: ©Getty Images/Scott Olson/Staff
Related:
5 Things Christians Should Know about the Faith of Donald Trump
5 Things Christians Should Know about the Faith of Pete Buttigieg
5 Things Christians Should Know about the Faith of Joe Biden
5 Things Christians Should Know about the Faith of Bernie Sanders
5 Things Christians Should Know about the Faith of Elizabeth Warren
---
Lori Arnold is a national award-winning journalist whose experience includes 16 years at a daily community newspaper in San Diego and 16 years as writer-editor for the Christian Examiner. She owns StoryLori Media and is a member of the Evangelical Press Association.
---
---