Lori Arnold
| ChristianHeadlines.com Contributor
| Thursday, October 10, 2019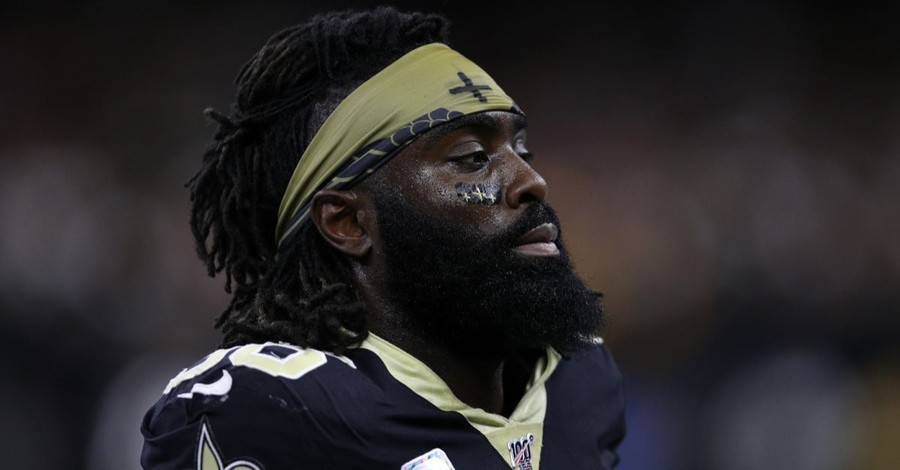 A New Orleans Saints football player, who was fined $7,017 by the NFL for wearing a "Man of God" headband during a Sept. 22 game, has won his appeal against the league and turned the incident into a fundraising opportunity for a local hospital.
"My agent just told me that I won my appeal and won't have to pay the headband fine," linebacker Demario Davis posted Wednesday on Instagram.
Davis's wallet will still be $7,017 lighter, though, as he pledged to donate the amount of the original fine to St. Dominic Hospital in Jackson, Mississippi. One hundred percent of subsequent sales of the headband, which also come in "Woman of God" and "Child of God" versions, are benefitting the hospital.
"So far, we've raised over $30,000 for them from the headbands!!" the linebacker posted. "That means yall helped me turn a $7,000 negative into an almost $40,000 positive benefiting people who truly need it!!! Do y'all see how that worked?? Let's gooooo. That's crazy! Ya'll are a part of this journey too!! I can't thank ya'll enough either. We on a mission over here obstacles are meant to be conquered!! I'm truly blessed as anybody."
As Christian Headlines reported last week, Davis wore the headband for three weeks before catching the eye of NFL officials, who maintained the headband violated its policy of "personal messages" on uniforms.
After receiving the fine, Davis, founder of the faith-based Devoted Dreamers Foundation, announced he would no longer wear the headband.
"I don't think a lot of people were aware of the policy that was in place— I wasn't even fully aware of it," Davis told the Times-Picayune, "I just wanted to put it out and just kind of help fans who care about the game understand a more intricate part of the game. Of course you don't want to be fined. Nobody wants to lose money but I think any time that the conversation about God is brought up, especially in these times, I think it's always a positive or silver lining."
When Davis announced the fine on social media, fans came out in support, including a local Catholic School, which donned homemade versions of the headband for a school-wide photo, captured on Twitter by Anne Cutler.
HOW SWEET! After New Orleans Saints player Demario Davis faced a $7,000 fine for wearing a "Man of God" headband during a recent NFL game, many rallied around the professional linebacker in support — including young fans at an area school. ⚜️🏈🙏https://t.co/ViZBSFIXon

— Anne Cutler (@AnneCutler) October 10, 2019
Even before the NFL announced the reversal, Davis said no matter the outcome he believed God was in control.
"If He can get glory from it, I think He can get glory from it whether I personally wear the headband or don't wear the headband," he said. "He's always gonna be in control of the whole situation. We're still all good."
Photo courtesy: Getty Images/Chris Graythen/Staff
---
---