Lori Arnold
| ChristianHeadlines.com Contributor
| Tuesday, February 11, 2020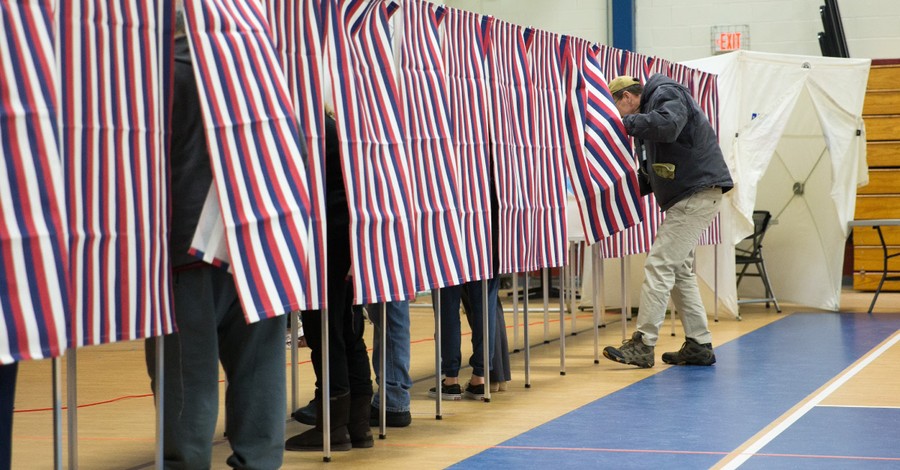 ---
On Tuesday, New Hampshire hosted the first presidential primary of the 2020 Election.
Minnesota Sen. Amy Klobuchar, who earned a bounce in the polls following a solid debate performance in last week's Democratic debate, was out to an early—real early—lead Tuesday after three tiny townships held their election at midnight.
Just over two-dozen residents voted under the cover of darkness, giving the moderate Klobuchar eight votes. Projected front- runner Vermont Sen. Bernie Sanders and Massachusetts Sen. Elizabeth Warren, each garnered four votes. Former Vice President Joe Biden secured two votes, one less than entrepreneur Andrew Yang who won three votes. Biden, who is counting on South Carolina to reverse his campaign fortunes, left New Hampshire this morning to work on shoring up his votes in the Tar Heel state. Biden surprised many observers by conceding likely defeat during the Feb. 7 debate.
Also earning two votes in the early balloting were former South Bend, Indiana Mayor Pete Buttigieg and former New York Mayor Michael Bloomberg. The New York billionaire, a late arrival to the campaign, decided to forgo campaigning in New Hampshire to focus on the delegate-rich Super Tuesday on March 3, in which voters from Alabama, Arkansas, California, Colorado, Democrats Abroad, Maine, Massachusetts, Minnesota, North Carolina, Oklahoma, Tennessee, Texas, Utah, Vermont, and Virginia all head to the polls. Rounding out the midnight vote was Hawaii Rep. Tulsi Gabbard and businessman Tom Steyer, who each secured a single vote.
Although Klobuchar has surged in recent polling, experts believe the race is ultimately between Sanders and Buttigieg, both of whom came away with the top votes in last week's Iowa caucus debacle. According to the latest RealClear Politics Average poll, Bernie Sanders, who represents neighboring Vermont, stands at 28.7 percent, up from 19 percent in early November. Buttigieg stands at second with 21.3 percent, a 10 percent uptick from November. Klobuchar is 11.7 percent, closely followed by Warren and Biden, each at 11 percent. Both Warren and Biden were at 19.7 percent in November, while Klobuchar gained significant ground, up from 3.3 percent.
But polls in this fiercely independent state are no guarantee about end results.
"The state is famously unpredictable and can swing faster than polls can capture, especially because independent voters, who outnumber Democrats and Republicans, can vote in the primary," NBC News reported.
Also playing into the scenario is how New Hampshire awards its 24 delegates, which are doled out proportionally based on congressional districts. The formula gets tricky because candidates need to garner at least 15 percent of the vote in each district to receive any votes. NBC pundits said that threshold could prove difficult for Klobuchar, Warren and Biden because they are all polling under that number.
So why does New Hampshire matter since it only has 24 delegates?
New Hampshire marks the first presidential primary in an election year. According to NPR, in New Hampshire – which is Celebrating its 100th anniversary as the first-in-the-nation primary – lawmakers codified its right to hold the first primary by enacting a 1975 law requiring election officials to move the primary date earlier if another state made a move to become first.
So, while the prize is small in terms of delegates, winning in New Hampshire often provides victors with a bump in campaign cash and media attention, especially important this year in the wake of vote tally delays in Iowa that quashed those benefits.
Although considered a battleground state for candidates, it's important to remember the state's demographics do not mirror those of the nation. In 2016, for instance, its Democratic primary was 93 percent white.
Also relevant is the fact that the New Hampshire primary is not a reliable predictor of who will ultimately go on to win the nomination.
In both the 2008 and 2016 Democratic primaries, the New Hampshire winners—Hillary Clinton and Bernie Sanders, respectively—failed to earn the party nomination. In 2008, then-Senator Barak Obama earned the nomination and became president. In 2016, Hillary Clinton earned the nomination only to lose to President Donald Trump.
New Hampshire did, however, prove to be the predictor for the Republicans after Trump comfortably led the GOP slate and went on to win the presidency.
Most polls in New Hampshire are open until 7 p.m., although some stay open as late as 8 p.m.
Photo courtesy: ©Getty Images/Scott Eisen/Stringer
---
Lori Arnold is a national award-winning journalist whose experience includes 16 years at a daily community newspaper in San Diego and 16 years as writer-editor for the Christian Examiner. She owns StoryLori Media and is a member of the Evangelical Press Association.