Lori Arnold
| ChristianHeadlines.com Contributor
| Wednesday, November 27, 2019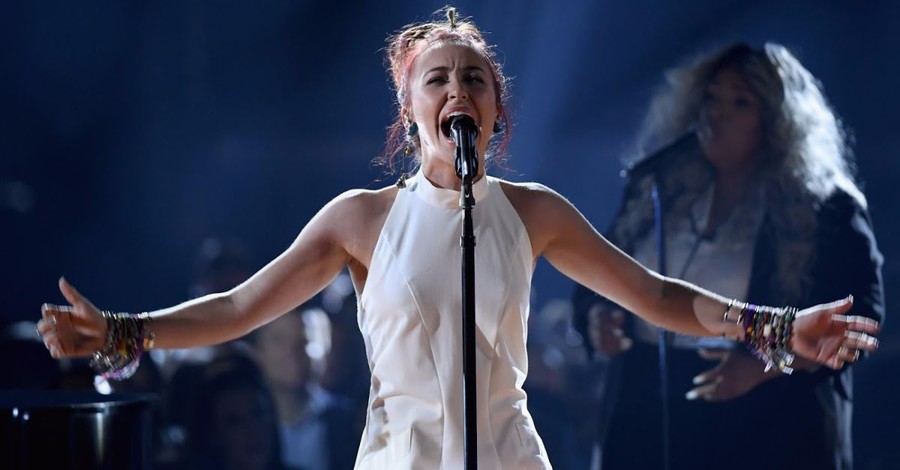 ---
Lauren Daigle, who last month broke a Billboard record for her song "You Say," has scored another musical milestone by garnering her fourth straight American Music Award in the "Favorite Artist—Contemporary Inspirational" category.
Daigle was not at the Sunday award show but reached out to fans via Twitter.
"Thanks to everyone who voted for the @amas! This year continues to be incredibly special and it is all because of YOU!!" she tweeted.
Thanks to everyone who voted for the @amas! This year continues to be incredibly special and it is all because of YOU!! ✨ pic.twitter.com/mPzO1iB82Q

— Lauren Daigle (@Lauren_Daigle) November 25, 2019
Fans vote for best artist in each category for the AMA's. To qualify for nominations, the association considers interactions on Billboard.com, streaming, album and digital song sales, radio airplay, social activity and touring, according to CHVN Radio.
So far this year, Daigle has earned two Grammy's, three Billboard awards and six GMA Dove awards.
In late October, the cross-over artist eclipsed another best-selling project, topping Hillsong United's "Oceans," which held the No. 1 of all-time spot atop Billboard's Hot Christian Songs list for 61 weeks until Daigle unseated it with "You Say." It stayed there for 66 weeks until Kayne West's recent release of "Follow God" from his Jesus Is King album. 
Daigle credited "Oceans" with giving her inspiration to touch others through music.
"I hoped that I could be a part of something that shakes the earth like that song," she said of "Oceans." I didn't know that would ever happen, and I had no idea that 'You Say' would be something that would parallel the life of 'Oceans.'"
In January, Daigle launches her first-ever world arena tour, beginning in Australia. 
"This year has been life-changing," Daigle said in September.
"There's no better feeling than to be able to look out from the stage and see how people have connected with the songs on this album. Our shows feel like one big party of togetherness."
Many of her concerts feature Q & A sessions, including one in late October at Joy Eslava in Madrid, Spain. Faithwire reported that during that session, Daigle talked about trying to remain humble in an industry so reliant on fans.
"I know that I can't do this without the Lord, that's the bottom line," she said. "It can be lonely and tiring… I remember a pastor once told me 'if you receive the praise of man, you will receive the criticism of man. Because you open your heart up for it.
"If you welcome that applause as something that fills you up, the second the applause ends, you will feel empty and depleted."
In an interview last month with the Christian Post, Daigle addressed concerns that her mainstream success would draw her away from her Christian roots.
"I'm not leaving anybody," she responded. "Someone asked me, they said, 'Hey, now that you're mainstream, are you going to change your content?' I said, 'If I changed the content that would change who I was in order to meet a format, and the format (audience) that is actually receiving this. Why would I change? It would make me inauthentic.'
"There's nothing in me that's going to change. It's loving where I came from and loving where I'm going."
Photo courtesy: ©Getty Images/Ethan Miller/Staff