Lori Arnold
| ChristianHeadlines.com Contributor
| Thursday, September 12, 2019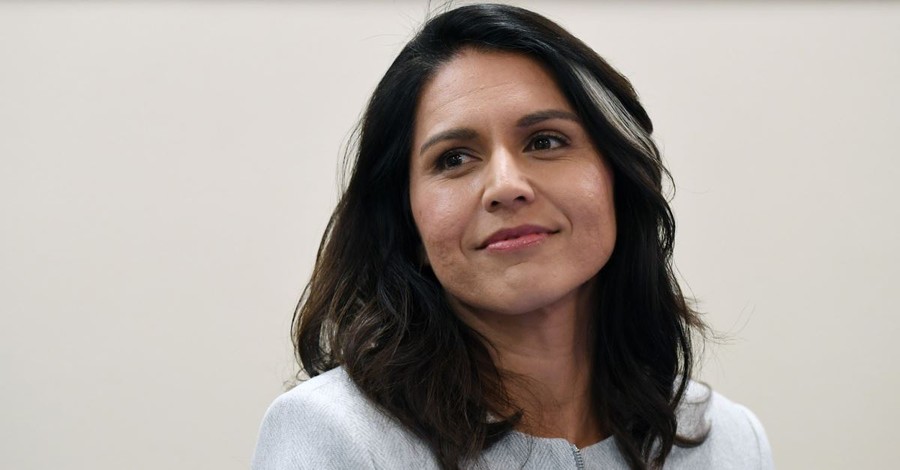 ---
Democrat Tulsi Gabbard, the Hawaii Congresswoman running for president, said in an online interview Sunday she supports limits on abortion in the third trimester, a dramatic departure from her opponents who advocate unlimited access.
In an hour-plus Rubin Report interview streamed on YouTube Gabbard described herself as having a "libertarian" approach to abortion, adding the government shouldn't be mandating women's choices.
"I think that there should be some restrictions though," she said.
Host Dave Rubin then asked if she had a "cutoff point."
"I think the third trimester," she answered."Unless a woman's life or severe health consequences is at risk, then there shouldn't be an abortion in the third trimester."
Gabbard's admission comes at a time when other 2020 hopefuls are pushing for unregulated access to abortion.
As Christian Headlinesreported last week, candidate Pete Buttigieg made national news when he claimed on a radio talk show that life begins at a baby's first breath and that the Bible supports abortion up until the moment of birth.
"There's a lot of parts of the Bible that talk about how life begins with breath," Buttigieg told the hosts of Power 105.1 FM's Breakfast Club show. "And so even that is something that we can interpret differently."
Also last week, candidate Bernie Sanders said during a CNN town hall meeting on climate change that he supports abortion as a way to slow population growth. He was responding to a question from someone in the audience.
"Human population growth has more than doubled in the past 50 years," the woman said to Sanders. "The planet cannot sustain this growth. I realize this is a poisonous topic for politicians, but it's crucial to face. Empowering women and educating everyone on the need to curb population growth seems a reasonable campaign to enact. Would you be courageous enough to discuss this issue and make it a key feature of a plan to address climate catastrophe?"
"The answer is yes," Sanders said. "And the answer has everything to do with the fact that women in the United States of America, by the way, have a right to control their own bodies."
Late last month, Beto O'Rourke reiterated his support for abortion up until the moment of birth when confronted by a woman during a campaign stop at the College of Charleston.
"You were at a town-hall meeting just like this in Cleveland and someone asked you specifically about third-trimester abortions, and you said that's a decision left up to the mother. I was born Sept. 8, 1989, and I want to know if you think on Sept. 7, 1989, my life had no value."
"Of course, I don't think that and, of course, I'm glad that you're here," O'Rourke said before reaffirming his position.
"You reference my answer in Ohio, and it remains the same," he said. "This is a decision that neither you, nor I, nor the United States government should be making. That's a decision for the woman to make. … I don't question the decisions that a woman makes."
According to National Review, even though Gabbard opposes third-trimester abortions she still receives a 100 percent rating from Planned Parenthood and supports taxpayer funding for the procedure. Still, Gabbard is not listed among the 210 congressional co-sponsors of the Democratic "Women's Health Protection Act," proposed federal legislation that would override state restrictions on abortion.
Photo courtesy: Getty Images/Ethan Miller/Staff