Lori Arnold
| ChristianHeadlines.com Contributor
| Tuesday, December 10, 2019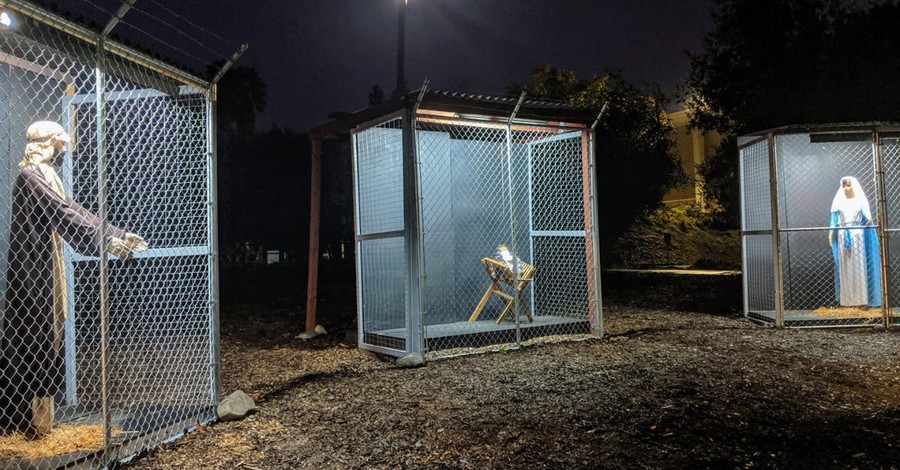 ---
A Southern California church is protesting U.S. immigration policy by displaying a nativity with Joseph, Mary and Jesus isolated in their own chain-linked cages topped with barbed wire.
The target of the protest, according to Fox News, is a Trump Administration policy—ended last year—that separated children from families who crossed the U.S.-Mexico border illegally.
In a Facebook post Saturday, the Rev. Karen Clark Ristine, senior pastor at Claremont United Methodist Church, said she was "stirred to tears" by the nativity, which had been in the planning stages since she arrived at the congregation in July.
Her post included words from a "theological statement" displayed near the outdoor nativity.
"In a time in our country when refugee families seek asylum at our borders and are unwillingly separated from one another, we consider the most well-known refugee family in the world," the statement reads. "Jesus, Mary, and Joseph, the Holy Family. Shortly after the birth of Jesus, Joseph and Mary were forced to flee with their young son from Nazareth to Egypt to escape King Herod, a tyrant. They feared persecution and death.
"What if this family sought refuge in our country today?
"Imagine Joseph and Mary separated at the border and Jesus no older than two taken from his mother and placed behind the fences of a Border Patrol detention center as more than 5,500 children have been the past three years."
After citing Matthew 25:23, the Scripture mandating care of those who are hungry and thirsty, the statement went on to say, "In the Claremont United Methodist Church nativity scene this Christmas, the Holy Family takes the place of the thousands of nameless families separated at our borders."
Inside the church, however, the Holy Family is reunited in another traditional nativity with Joseph, Mary and Jesus together.
By Tuesday morning, Ristine's Facebook post had generated 13,000 comments and 23,000 shares.
"If this horrific act had happened to your family for whatever reason would you feel the same?" asked Ana Claudia Avila. "Also what would Jesus do? Exactly! Not separate families and treat them like dogs."
But many of the posts took exception to the nativity, some for using the display politically, others accusing the pastor of taking Scriptures out of context or cherry-picking them.
Phyllis Reason addressed lawlessness by citing Romans 13:1. "Let everyone be subject to the governing authorities, for there is no authority except that which God has established. The authorities that exist have been established by God," Reason posted.
An entry by Olaf Storasli made reference to an April Gallup poll showing church membership had dropped 20 percent over the past two decades.
"No wonder church attendance is down," wrote Olaf Storasli. "Shame on you for misrepresenting both our Christianity and politics. Those who attend your church should be ashamed!"
In an interview with the Washington Post, Ristine said her Claremont church of about 300 has long supported migrants and refugees.
"Our intent is to focus on the asylum seekers and the ways they are being greeted and treated and to suggest there might be a more compassionate way to show God's love," the pastor said. "I think as Christians we have a responsibility to proclaim a narrative that might be counter to what the world thinks."
She also insisted the protest was theological in nature, not political. Still, Ristine told the Associated Press that the church uses its annual nativity display to spotlight societal issues, including homelessness.
"A nativity is the theological equivalent to public art, and the role of public art has always been to offer awareness," she said. "Jesus taught us kindness and mercy and the radical welcome of all people."
Photo courtesy: Karen Clark Ristine Facebook
---
Lori Arnold is a national award-winning journalist whose experience includes 16 years at a daily community newspaper in San Diego and 16 years as writer-editor for the Christian Examiner. She owns StoryLori Media and is a member of the Evangelical Press Association.