Lori Arnold
| ChristianHeadlines.com Contributor
| Wednesday, December 18, 2019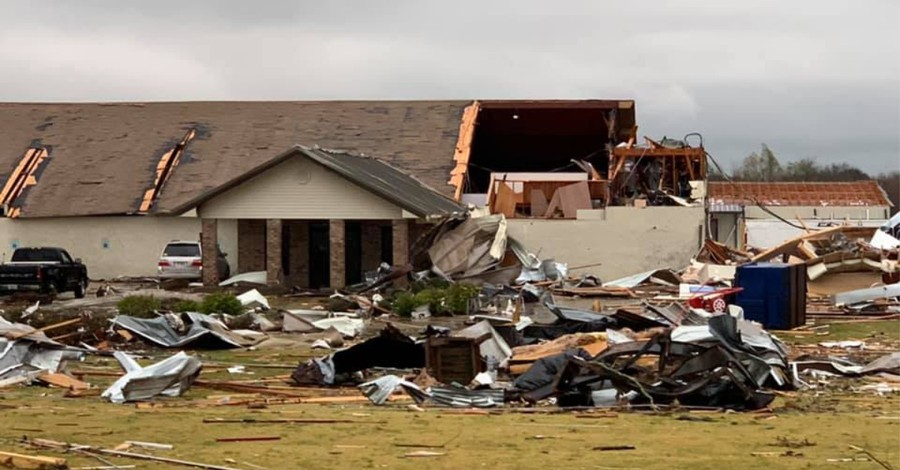 ---
A series of violent storms—stretching from the Midwest and Deep South to New England—have killed at least 15 people, with tornados wiping out large swaths of neighborhoods, including a Christian school where 18 children were evacuated just moments before it was obliterated.
The children were attending classes Monday at Hope Baptist School in Alexandria, Louisiana when the weather spawned a tornado warning.
"Just before the tornado made it's way through the school, leaving nothing but the restrooms standing, the students were moved into the sanctuary to safety; if not, this would be a totally different story," according to a GoFundMe account set up for the school and church. "Everyone walked away, no injuries reported, but the Church and the school are at a total loss."
CBS News reported the children huddled under pews as the tornado passed by.
"Afterward, fire rescue crews wrapped the students in towels and blankets and walked them from the wreckage to safety," the CBS report said.
Aerial photos on Hope Baptist Church's Facebook page show the school was leveled, while about a third of the church's roof was missing. Another structure across the parking lot was also missing about half its roof. The only text accompanying that post was Psalm 147:3:
He heals the brokenhearted
and binds up their wounds.
"The damage to our church/school/parsonage is extensive and will take many, many days to process. But God spared us from any lives being lost, and for that, we are extremely thankful," a separate Facebook post read.
"Right now, we are asking for prayer. There are so many things to sort through and figure out. Please pray for our students. Today was hard on them. Pray for our church family. Our hearts are broken."
Within hours, an alternate location had been secured for Hope's mid-week service, heavy equipment and labor were offered for an upcoming work party, and the GoFundMe account had been established.
"As members of Hope, we are looking for folks to donate so that we can take the burden off of our church," the GoFundMe statement continued. "If you can't donate prayers are welcome, and I would ask that you share those with us so that we can share them with the church. We are trusting that God is bigger than our need and that He will keep His promise and stay close to the ones who draw close to Him."
CBS attributed the destruction to a powerful winter storm system that resulted in at least 27 tornadoes in Louisiana, Mississippi and Alabama—rare for this time of year.
Three people were killed as a result of the tornados. The death toll was much higher in the Midwest and Northeast, where the storm brought snow and ice from Kansas to Massachusetts. The Weather Channel reported at least 12 crash-related deaths attributed to the snow and ice. Flights were also disrupted, dozens of school districts were shuttered and numerous highways closed.
Photo courtesy: Hope Baptist Church and School Facebook Page
---
Lori Arnold is a national award-winning journalist whose experience includes 16 years at a daily community newspaper in San Diego and 16 years as writer-editor for the Christian Examiner. She owns StoryLori Media and is a member of the Evangelical Press Association.