Josh M. Shepherd
| Contributor to ChristianHeadlines.com
| Tuesday, February 14, 2017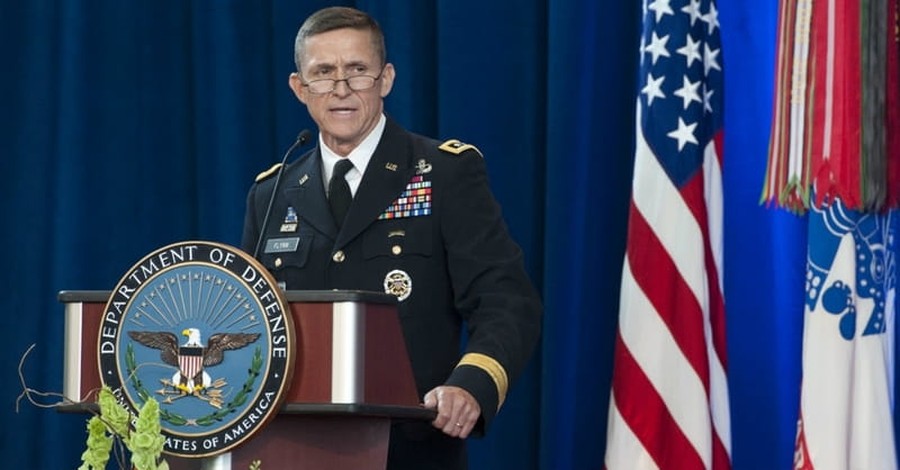 ---
Late Monday, General Michael Flynn resigned as National Security Adviser for the Trump Administration. The announcement followed an exposé by the Washington Post, revealing how Flynn had misstated certain facts in relaying information to Vice President Mike Pence regarding his post-election contacts with Russian officials.
While the move comes as a shock to cable news pundits and politicos on Capitol Hill, one Christian author was sounding the alarm about Flynn back on November 19—nearly three months before his ultimate resignation.
Middle East expert and author Joel Richardson carefully laid out in a half-hour video his case against General Flynn serving in a high-level national security role, while informing viewers why they should care about what's happening right now in the Republic of Turkey.
On December 7, his prediction via Facebook was more explicit—stating of Flynn: "He'll be gone within the first year."
Richardson, a New York Times best-selling author who produces a weekly video podcast titled The Underground, spent his entire post-election show discussing his concerns about Flynn in the context of national security, foreign policy and holding the Trump Administration to its campaign promises.
"Trump has repeatedly made it clear he is going to 'drain the swamp,'" Richardson began. "One of the primary ways to clean up Washington is to get rid of the lobbyists; everybody is being paid by some foreign government or corporation to go to politicians to try to influence them."
Richardson applauded the ethics pledge made by President Donald Trump, stating that no registered lobbyists would be employed by his Administration. He used it as his first grounds for questioning: "Although General Flynn is not himself a lobbyist, he owns a company whose primary purpose is to lobby politicians in Washington."
Yet his concerns run deeper, as Richardson draws on his knowledge of current events in Turkey and the surrounding region to flesh out a larger picture.
Noting the future National Security Adviser's financial ties to a Turkish businessman, Richardson quoted at length an op-ed Flynn authored that ran in The Hill newspaper on November 8.
"Turkey is really our strongest ally against the Islamic State in Iraq and Syria," wrote General Michael Flynn in the column published on Election Day.
Richardson challenged Flynn in his video, stating unequivocally: "This statement is a lie. Turkey was the primary entity that allowed ISIS to come into being!"
He continued, "Now there was a lot of corruption in the American government that allowed ISIS to take place. But the bottom line is, Recep Erdoğan, the President of Turkey, knew that tens of thousands of [terrorists] were rolling into Syria across Turkish borders. There were actual ISIS recruiting stations in Istanbul; Turkey was giving them weapons and logistical support."
"I understand the Middle East is complicated. But to call Turkey an ally in the fight against ISIS is a lie. And it's coming from a man [Flynn] who is being paid tens of thousands of dollars by a wealthy Turkish businessman to lobby Washington on behalf of Turkish interests," he noted, calling back to the ethics pledge. 
"Christians, pay attention! There are more journalists in prison in Turkey the past few years than in North Korea, China or Iran. This is not a free democratic nation whom we want to call an ally," stated Richardson.
He balanced his remarks with a question, concluding: "Is it important for the U.S. to maintain ties with Turkey because of military bases and other interests? Yes. But to write an article like this is absolute nonsense."
Through his outreach and missions travels, Richardson often visits Christians living in Iraq and throughout the Middle East.
Author of six books and director of two documentaries including The Global Jesus Revolution filmed across the Middle East, his unique perspective combines biblical scholarship and considerable knowledge of foreign affairs—with the plight of persecuted believers also weighed in the balance.
In a follow-up video podcast the next week, Richardson had read Flynn's book The Field of Fight: How We Can Win the Global War Against Radical Islam and Its Allies and proceeded to evaluate its ideas for defeating jihadists with his own views.
"Over 50 percent of the battle is going to be won through information," he stated.
"The entire approach we take has to be to try to win the hearts of the moderate Muslims of the earth, and to shame and undo the very successful propaganda of ISIS and al-Qaeda. Otherwise, we will lose."
Josh M. Shepherd, contributor to Christian Headlines, has served on staff at The Heritage Foundation, Focus on the Family and Bound4LIFE International. He earned a degree in Business Marketing from the University of Colorado. Josh and his wife Terri live in the Washington, DC area. Follow Josh on Twitter @joshMshep.
Photo courtesy: Flickr.com
Publication date: February 14, 2017