John Paluska
| ChristianHeadlines.com Contributor
| Monday, November 2, 2020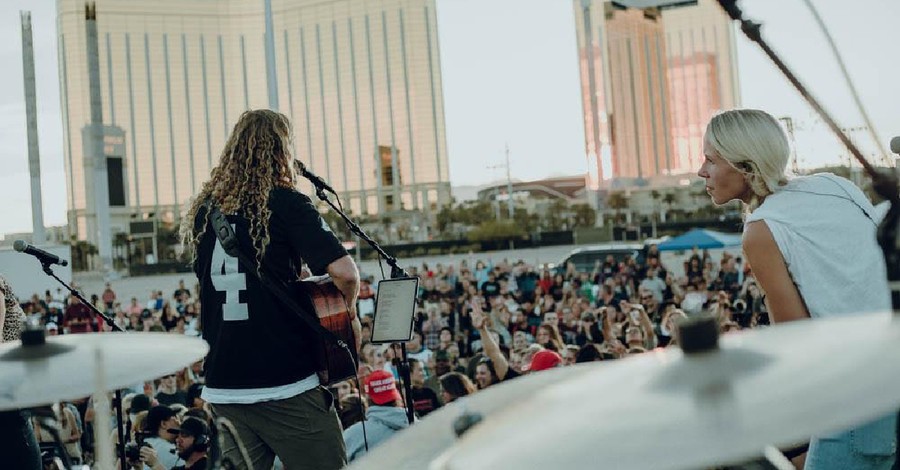 Sean Feucht, a worship leader who has been holding worship services around the country to protest the U.S. Government's restrictions on church gatherings, brought his worship protest tour to Las Vegas over the weekend, he announced on an Instagram post.
"Only God can write a story like last night!!!!! It was absolutely WILD watching JESUS crash into Las Vegas with His love, presence and power!!!" The worship leader wrote.
Feucht has been giving performances nationwide, in places like Washington D.C., various cities throughout California, Florida, Texas, Tennessee and several other states.
Feucht also was the center of controversy over a petition on his website that is demanding State and Local Governments remove COVID-19 restrictions on religious and church gatherings. "Our freedom to worship God and obey His Word has come under unprecedented attack. Powerful politicians and social media giants have engaged in unchartered abuses of religious liberty, silencing the faithful, banning our voices, and outright attacking our God-given right to declare His goodness," he wrote in the petition.
As Christian Headlines previously reported, despite many of the gatherings welcoming more than 10,000 people, there have been no reports of anyone at his rallies contracting the novel coronavirus.
Sean Feucht ran for Congress this year and is a member of Bethel Music. He is from California, where he ran for the 3rd Congressional District in 2020 and lost the bid. He is married with three kids, has recorded 22 studio albums, and co-authored 5 books. He also started burn 24-7, a worship movement that has spanned 246 cities and 6 continents.
Related:
Over 5,000 Believers Worship Together in Texas
12,000 People Gather for Worship Service at California State Capitol
Massive Revival Meetings Ensue across the East Coast
Tennessee Officials Investigate Large Worship Event Where Many Ignored COVID-19 Guidances
'A New Jesus Movement in America': More Than 35,000 Pray for Revival in Washington D.C.
Thousands of Christians Gather in Portland for 'Riots to Revival' Worship Event
'This Is Simply Biblical': Thousands of Christians Gather for Revival in Florida
Photo courtesy: ©Sean Feucht Facebook
---
John Paluska has been a contributor for Christian Headlines since 2016 and is the founder of The Washington Gazette, a news outlet he relaunched in 2019 as a response to the constant distribution of fake news.
---
---