John Paluska
| ChristianHeadlines.com Contributor
| Thursday, November 12, 2020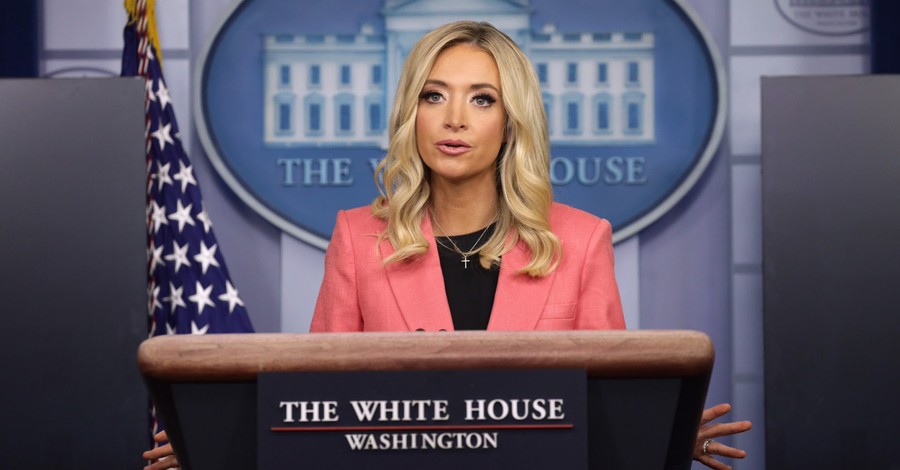 ---
In a recent interview with CBN News, White House Press Secretary Kayleigh McEnany, talked about the 2020 election, allegations of voter fraud and lawsuits from the Trump Administration.
In the interview, McEnany shared that the Trump Administration has "several attestations to witnesses of voter fraud, we can't even begin to see how deep this goes until our poll watchers are allowed in the building."
She added, "We know that with 680,000 ballots and in Pennsylvania, our poll watchers weren't there to watch, so until we get a look, meaningful access into these ballots, we won't truly be able to see how far it goes."
"But to me," she continued, "the systemic issue, the most important issue, is this equal protection provision, and it goes widespread."
In the interview, CBN News's David Brody asked McEnany about the lawsuits filed by the Trump administration across multiple states, including Pennsylvania, Georgia, Michigan and Nevada.
"All we are saying is let's press pause, allow us to look, allow the courts to look at what happened, and then we can move forward united as a country," McEnany told Brody. "We believe asking for transparency should be a good thing. It's amazing with the Democrats; they tried to delegitimize the 2016 election for four years. All we're asking is for transparency and we have the media attacking us simply for asking to put light on the system."
Holding up 131 affidavits concerning voter fraud in Michigan, McEnany went on to assert that the Trump administration has been gathering information regarding alleged voter fraud.
"There are affidavits, I have them here. There are 131 of them, attestations to voter fraud; one, in fact, was a city election official who worked there for decades, who says that they were telling voters to vote for Joe Biden, encouraging them to backdate ballots," McEnany said of the alleged fraudulent behavior in Michigan.
Brody wrapped up the interview by asking McEnany how this all ends. McEnany said she believes "at this point, it will probably make its way up to the Supreme Court."
As Christian Headlines previously reported, on Monday, 10 GOP Attorneys General filed an amicus brief in the Supreme Court over Pennsylvania's mail-in ballot process. The Attorneys General are arguing that the PA Supreme Court overstepped its constitutional boundaries in their acceptance of late ballots.
Further U.S. Attorney General William Barr urged prosecutors in a recent memo to investigate any "substantial allegations" of voter fraud.
Related:
Attorney General Barr Urges Prosecutors to Investigate Voter Fraud Allegations
'Reforms Are Needed': GOP Senator's Election Bill Requires Faster Counting, Bipartisan Observation
10 Attorneys General File Amicus Brief in Supreme Court over Penn. Mail-In Ballots, Potential Voter Fraud
Parler Gains over 5 Million Followers amid Big Tech Censorship, Election Coverage
Photo courtesy: ©Getty Images/Alex Wong/Staff
---
John Paluska has been a contributor for Christian Headlines since 2016 and is the founder of The Daily Fodder, a news outlet he relaunched in 2019 as a response to the constant distribution of fake news.