Crystal A. Dixon
| ChristianHeadlines.com Contributor
| Monday, February 22, 2021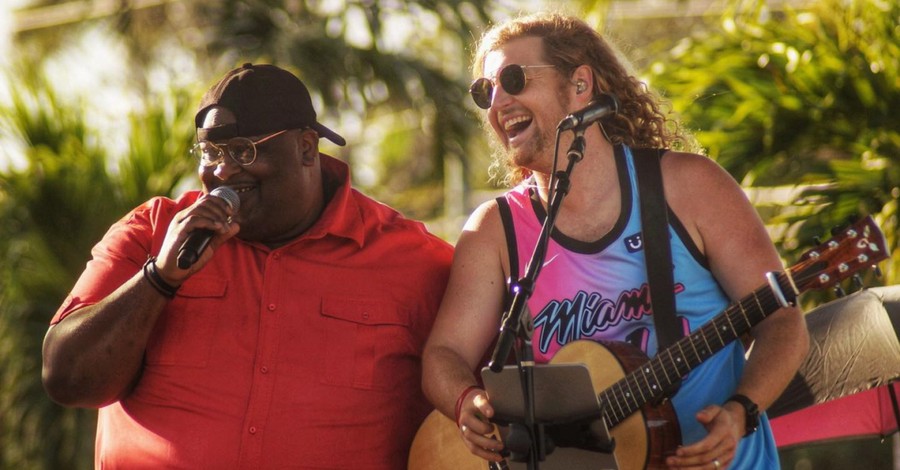 ---
Portions of the Yellowhammer state experienced a revival this weekend as thousands gathered to find healing and restoration through God's truth and the power of the Holy Spirit.
Worship leader Sean Feucht took his "Let Us Worship" revival event to Birmingham, Alabama on Saturday, and on to Mobile on Sunday.
Following Saturday's event, the worship leader shared with his followers on Instagram an overview of the worship that took place that night, "THIS IS THE ONLY HOPE FOR AMERICA!!! THIS IS THE ONLY ANSWER FOR THE WORLD!! 😭😭😭😭 So many ran down to the altar tonight!!!! JESUS!!! See you tomorrow Mobile!!"
On Sunday morning, Feucht, still savoring the worship from the night before, tweeted, "Thousands of worshippers from 10 states filled the park in Birmingham last night! God showed up! Salvations, healing and freedom!"
According to a recent article from CBN News, Feucht started Let Us Worship in 2020 when states were prohibiting church services due to COVID-19. He created an outside worship event and travelled across the U.S. as both a means to worship Jesus and protest the church bans.
While thousands have welcomed the events and opportunity to worship, Feucht has also faced vicious attacks and threats of violence from others. Protesters of Let Us Worship events assert Feucht is spreading COVID with the outdoor worship gatherings.
Sean Feucht recently told CBN News about his plans to continue spreading God's Word across the country during his Let Us Worship events.
"I believe this is going to be an incredible hour for the church – 2021 is going to be a beautiful hour for the church in America. With the intensity of this season as we've seen all over the world and revival history, the church always rises to the occasion and I believe it's going to happen this year and I'm so excited. We're seeing thousands gather together in these cities across America. There is a hunger that I've never seen before and I believe it's going to increase. Nothing can stop the spread of an unstoppable Kingdom."
"We're just getting started...it's just beginning. I feel an incredible grace and now more than ever, we gotta gather in the spirit of unity, to seek the face of the Lord and go after His Kingdom in this hour."
On Sunday, the worship leader took revival to Mobile. According to Feucht's Facebook page, the night was incomprehensible, with hundreds coming to know Jesus, and the sense that there is more to be done in that city. As a result, he announced he was not leaving just yet. The revival will continue again on Monday in Mobile.
According to his website, Sean Feucht is a missionary, artist, speaker, author, activist, and the founder of multiple worldwide movements. He has "produced, recorded and released over 22 music albums, co-authored 5 books, created numerous teaching resources, developed an online school, and has ignited several global missional initiatives."
Feucht is "married to his high school sweetheart, Kate," and they have four children.
Photo courtesy: Sean Feucht Facebook
---
Crystal A Dixon is contributing writer at ChristianHeadlines.com, Devotableapp.com. Visit her blog at crystaladixon.com