Amanda Casanova
| ChristianHeadlines.com Contributor
| Published: Jun 21, 2023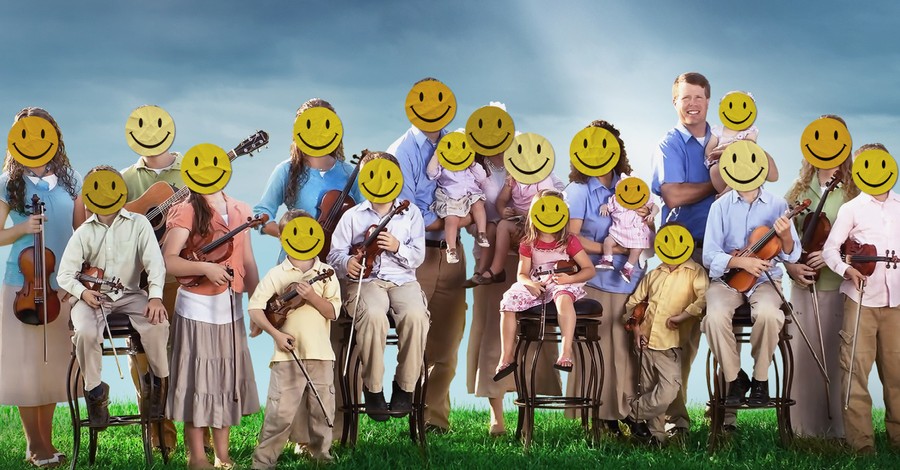 Amazon Prime Video's docuseries on Bill Gothard and the Duggar family has reportedly become the "biggest docuseries debut ever" for Prime Video.
The docuseries, Shiny Happy People, details the teachings of Gothard's Institute in Basic Life Principles and how TV's Duggar family, Jim Bob, Michelle, and their 19 children, followed those principles.
"It's been multiples higher than what we anticipated," said Vernon Sanders, Amazon Studios' head of television, according to Variety.
The four-part series highlights how TLC's reality show about the Duggar family, 19 Kids & Counting, became a popular hit but later fell from its status when allegations of physical and sexual abuse emerged.
Interviews in the docuseries reveal that the IBLP encouraged what many are calling physical and spiritual abuse.
Gothard resigned in 2014 from the IBLP after allegations of sexual abuse arose against him. Victims later filed a lawsuit but then voluntarily dismissed the lawsuit against him.
In a statement to The Roys Report (TRR), Cori Shepherd Stern, executive producer of Shiny Happy People, said the "record-setting" response to the series "isn't just voyeurism." It's a reckoning of "basic beliefs (that) permeated our culture, far beyond IBLP and Gothard," she said.
Stern added, "I think so many people are re-evaluating how they were raised, questioning some things that were incredibly harmful, but were just the air we breathed and the water we swam in."
Meanwhile, IBLP has released a statement in the wake of the debut of the docuseries, calling it "misleading and untruthful."
It "mocks that which is good and moral in the most sensationalized way possible," the statement said.
Among its interview subjects, the docuseries includes conversations with Jill Dillard, the fourth-oldest Duggar child, and her husband. The Duggars' cousin, Amy Duggar King, who also appeared on the TLC show, is interviewed.
In the interviews, Dillard says that she was forced to defend her brother, Josh, when allegations surfaced that he had sexually abused her and her sister Jessa.
She also says that her father, Jim Bob Duggar, misled her into signing a long-term contract with TLC.
"My dad does control a lot of things in the family," Dillard said in the docuseries. "Family relationships were already kinda rocky ... Everything within the family dynamic has shifted, and not for the better."
The docuseries has drawn a range of responses from Christian leaders.
Bible teacher and author Beth Moore posted multiple threads on Twitter about the series. She tweeted: "When I was a young mom, many of the peer families we knew were getting neck deep in (Bill Gothard) events & materials. Couldn't do it. He made my skin crawl. For one thing, I don't trust heavy-duty fundies pushing & policing girls' purity. That's a NOPE. In my view, that's not for protection. That's for training predators and grooming prey."
I'm going to need to discuss this shiny happy people documentary and the Bill Gothard piece at some point when i find my lady like words. When I was a young mom, many of the peer families we knew were getting neck deep in BG events & materials. Couldn't do it. He made my skin…

— Beth Moore (@BethMooreLPM) June 5, 2023
Ok, a couple more thoughts on the Bill Gothard influence highlighted in Shiny Happy People. I'm only a couple of episodes in and never got into the Duggar reality show nor did I ever attend a Gothard seminar or read his materials though I constantly ran in circles that did.

— Beth Moore (@BethMooreLPM) June 5, 2023
MinistryWatch president Warren Cole Smith, however, stated that series producers "either ignored or edited out reasonable voices that could have added much insight and nuance to this story.
Related:
Jinger Duggar Vuolo Shares Why She Didn't Appear in Shiny Happy People Docuseries
'Derogatory and Sensationalized': Jim Bob, Michelle Duggar Denounce New Duggar Family Secrets Docuseries
Beth Moore Says New Duggar Docuseries Reveals the Pervasiveness of Bill Gothard's Controversial Teachings
Jill Duggar Dillard Talks Controversial Religious Upbringing, Sex Abuse in New Docuseries
Jill Duggar Dillard to Share Her Story in New Docuseries about Her Family, Their Controversial Religious Beliefs

Photo courtesy: ©Prime Video, used with permission.
---
Amanda Casanova is a writer living in Dallas, Texas. She has covered news for ChristianHeadlines.com since 2014. She has also contributed to The Houston Chronicle, U.S. News and World Report and IBelieve.com. She blogs at The Migraine Runner.
---
---