Amanda Casanova
| ChristianHeadlines.com Contributor
| Monday, January 9, 2023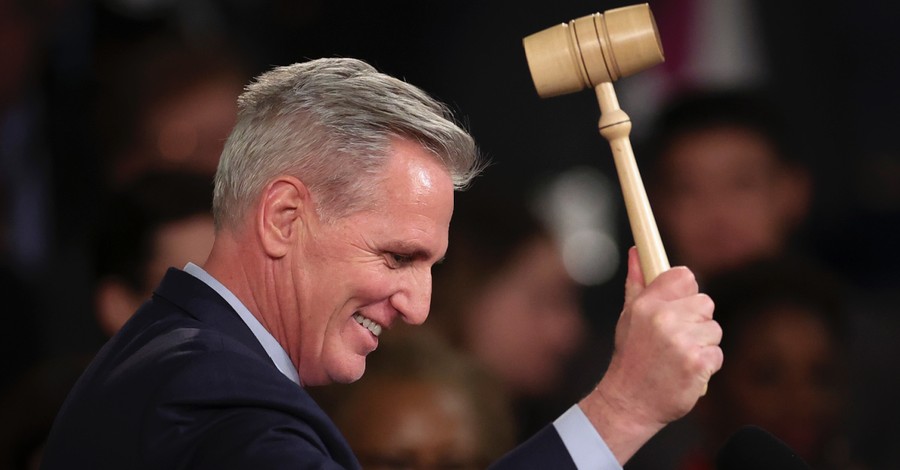 House Speaker Kevin McCarthy officially took his role Saturday after a round of failed votes to elect him to the speaker spot.
He opened the 118th Congress early Saturday, also swearing in new members to the House, Fox News reports.
"As Speaker of the House, my ultimate responsibility is not to my party, my conference, or even our Congress. My responsibility – our responsibility – is to our country," he said. "Two months ago, you voted for a new direction for our country. You embraced our Commitment to America. And now, we are going to keep our commitment to you."
After securing the election in the 15th and final vote, McCarthy said: "I hope one thing is clear after this week: I will never give up. I will never give up for you, the American people. And I will never give up on keeping our Commitment to America."
"Our nation is worth fighting for," he added in his opening remarks.
McCarthy's path to the win wasn't easy. In preceding votes, he could not win enough votes and held numerous talks with other Republicans to gain their support.
Democrats in the House were standing behind Rep. Hakeem Jeffries.
Jeffries was elected as House Minority Leader.
"To Leader Jeffries – there will be times we will agree and many times we will differ," McCarthy said. "I promise that our debates will be passionate but never personal. And now the hard work begins. What we do here today, next week, next month, and next year will set the tone for everything that follows.
"Hakeem – I need to warn you: I also won 100 percent of my conference vote on this floor two years ago. So, good luck!" McCarthy said.
McCarthy also discussed some priorities for this session of Congress, such as investigating China, securing the border, and working to eliminate some of the federal debt.
"Our system is built on checks and balances. It's time for us to be the check and provide some balance to the President's policies," McCarthy added. "There is nothing more important than making it possible for American families to live and enjoy the lives they deserve."
Photo courtesy: ©Getty Images/Win McNamee/Staff
---
Amanda Casanova is a writer living in Dallas, Texas. She has covered news for ChristianHeadlines.com since 2014. She has also contributed to The Houston Chronicle, U.S. News and World Report and IBelieve.com. She blogs at The Migraine Runner.
---
---