Scott Slayton
| ChristianHeadlines.com Contributor
| Monday, July 1, 2019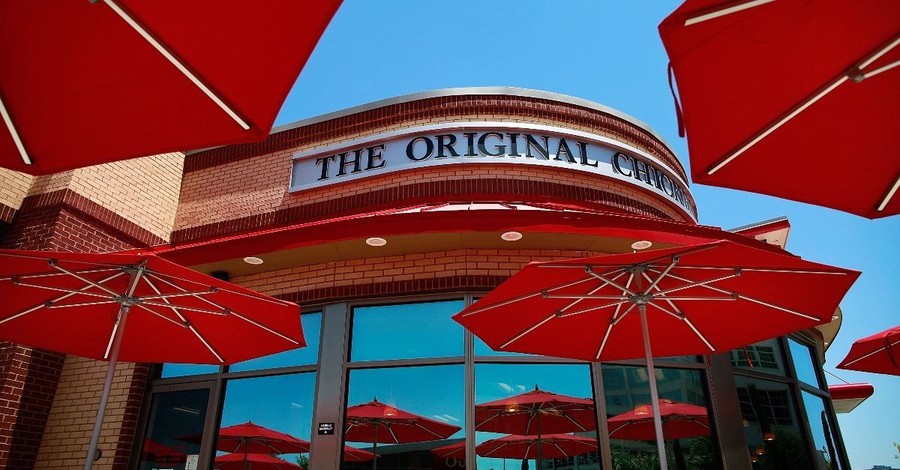 One of Chick-fil-A's Manhattan locations was vandalized during the Pride parade in New York City this weekend.
Photos of the vandalism were first released by the Daily Caller and show the words "F**k Haters" in black sprawled across one of the restaurant's windows. Someone also taped a large pink X on the window that contained the "F**k Haters" message too. There was also a brightly colored sign propped against the door which read "Love is a terrible thing to WASTE" and pink tape across the front doors.
Michael Signorile, a Sirius radio host, also posted a photo from a participant in the parade making an obscene gesture towards the restaurant. 
Chick-fil-A has been a target of progressive activists for several years because of its mission "to glorify God" and its support of groups who believe that marriage is between one man and one woman such as the Fellowship of Christian Athletes, the Salvation Army, and the Paul Anderson Youth Home. Authorities in San Antonio and Buffalo took action to prevent Chick-fil-A from opening locations in their airports. In response, the Federal Aviation Administration opened an investigation, the Texas legislature passed the "Save Chick-fil-A" bill, and Texas-based law firm First Liberty filed a complaint with Transportation Secretary Elaine Chao.
Despite the opposition, Chick-fil-A became the third largest fast food chain in the country, moving up from 7thin previous rankings. Chick-fil-A's sales topped $10 billion, even though every location is closed on Sundays. This represented a 16.7 percent increase in sales, which made 2018 the fifth year in a row that Chick-fil-A sales rose by double digits.
More than 150,000 people took place in Manhattan's Pride parade, which marked the 50thanniversary of the Stonewall Rebellion and the close of LGBT Pride Month.
Scott Slayton writes at "One Degree to Another."
Photo courtesy: Getty Images/Tom Pennington/Stringer
---
---