Scott Slayton
| ChristianHeadlines.com Contributor
| Friday, July 26, 2019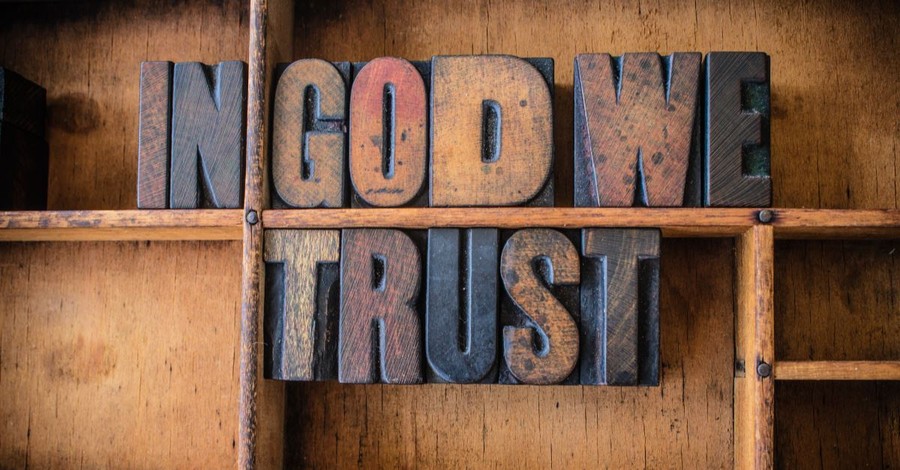 Students in South Dakota will notice a new addition to their schools this fall thanks to a new state law. The law, which goes into effect this month, mandates that every public school in the state must display the national motto– "In God We Trust."
Governor Kristi Noem signed the law on March 18th. It says that "The display shall be located in a prominent location within each school. The display may take the form of a mounted plaque, student artwork, or any other appropriate form as determined by the school principal. The display shall be easily readable and shall be no smaller than twelve inches wide by twelve inches high." According to the Associated Press, the lawmakers who proposed the bill believed it would increase patriotism.
Schools have fulfilled the requirements in various ways. "Some have plaques. Others have it painted on the wall, maybe in a mural setting," Associated School Boards of South Dakota executive direction Wade Pogany told the Associated Press. He also said that in one school "it was within their freedom wall. They added that to a patriotic theme."
Schools in Rapid City went with a method that the district found to be cost-effective. Rapid City Area Schools community relations manager Katy Urban told NPR that, "As soon as we heard that it was going to be a state law… we started looking at different options and we chose to do stenciling as it is the most uniform and most affordable option."
State legislators included a method for protecting local school boards in case they faced law suits. One provision in the law stipulates that the state attorney general will "provide legal representation at no cost to the school district, employee, school board, or member of the school board." The state will also cover any "expenses of representation…including any award for monetary damages" and "attorney fees."
Some within South Dakota oppose the new law or want it altered. A group of Rapid City high school students asked the school board to consider replacing God with Buddha, Yahweh, Allah, Science, or "Ourselves" from time to time to prevent excluding other faiths and those with no religious faith. 
One student told NPR, "I think that's a really fundamental element of American society, is that we are a cultural melting pot and it is really important that we make all people who come to America feel welcome and to be more in accordance with the First Amendment since we all have freedom of religion."
At least one outside group has expressed its opposition to the new law. The Freedom from Religion Foundation told the Associated Press that their "position is that it's a terrible violation of freedom of conscience to inflict a godly message on a captive audience of school children." 
"In God We Trust" first appeared on coins during the Civil War after "devout persons" pressed Treasury Secretary Salmon P. Chase to adopt the change during the Civil War. The 84thCongress passed a law declaring "In God We Trust" as the nation's motto and President Dwight D. Eisenhower signed the bill on July 30, 1956.
Scott Slayton writes at "One Degree to Another."
Photo courtesy: Getty Images/Eline Design Services
---
---