Scott Slayton
| ChristianHeadlines.com Contributor
| Wednesday, November 7, 2018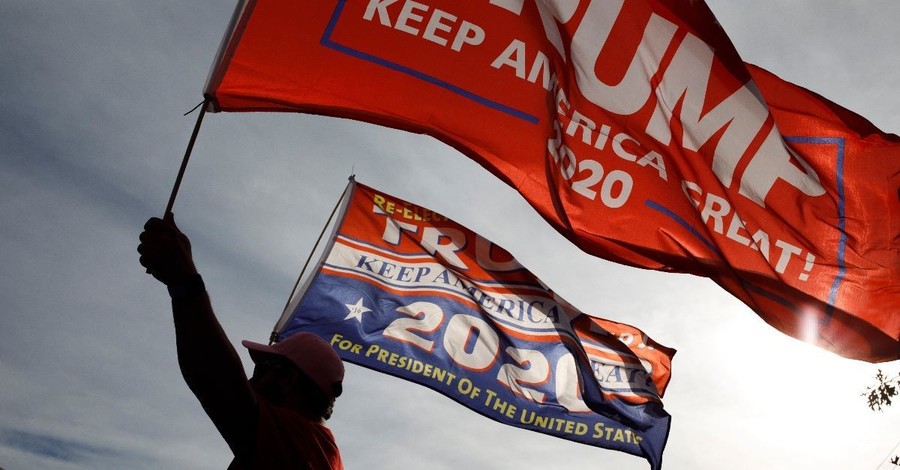 A group who placed billboards in St. Louis that many believe equated President Trump with Jesus have explained the reasoning behind the ads in a post in their Facebook group. 
The ad appeared on a digital billboard on I-70 and featured a large photo of President Trump with the tagline, "The word became flesh," which is a quotation from John 1:14. A logo appeared in the top corner with a cross on top of American flag and the words, "Make the Gospel Great Again."
Many wondered about the meaning behind the ad. KMOV interviewed one woman who summed up the sentiments of many when she said, "I didn't know what message it was trying to send but I felt like it was somewhat offensive, I didn't know if they were trying to equate Donald Trump to Jesus." 
A Facebook group named "Make the Gospel Great Again" (MGGA) carried a cover photo with the image from the billboard. They said their mission was to "help spread the truth of God's great champion on earth – President Donald Trump." They also said, "We believe God has given American Christians His earthly messenger – Donald J. Trump. We follow his words in faith each day!"
The group responded to critics on their Facebook page, which was taken down on Tuesday. They said, "We met as a team last night to discuss how much hatred we've received for our efforts to encourage fellow believers in holding fast to the faith. We prayed that the Facebook page would be a community for fellow Christians to be encouraged at what God is doing in the world and to find out if they could, like our president, be a part of being God's presence in making America great. But the hateful comments and mean spiritedness from liberals and atheists drowned out the voices of Christians in this country." 
DDI Media, who owned the billboard on which the ad appeared, announced Monday on their Facebook page that they had taken the ad down. They said it did not meet the proper guidelines for a political ad because it did not disclose who paid for it. 
MGGA explained the billboard was not a political ad or designed to equate Trump with Jesus. They explained, "Salvation only comes from a personal relationship with Jesus Christ, not any man. But God does send his messengers to us, and just as King David liberated the faithful in his day, President Trump is doing this today through his protection of the unborn, defense of our land against foreign invaders and standing up for Israel."
They further explained why they were removing the Facebook page, saying that it had "become a place full of disgusting comments and a complete lack of scriptural understanding."
The group said taking down the Facebook page will not end their mission, but rather said they would, "draw our strength directly from the Lord as well as from the teachings of evangelists such as James Dobson, Franklin Graham, John Gray, and Jerry Falwell Jr. and many other voices who encourage us in our mission."
Scott Slayton writes at One Degree to Another.
Photo courtesy: Getty Images/Drew Angerer/Staff
---
---