Scott Slayton
| ChristianHeadlines.com Contributor
| Friday, May 3, 2019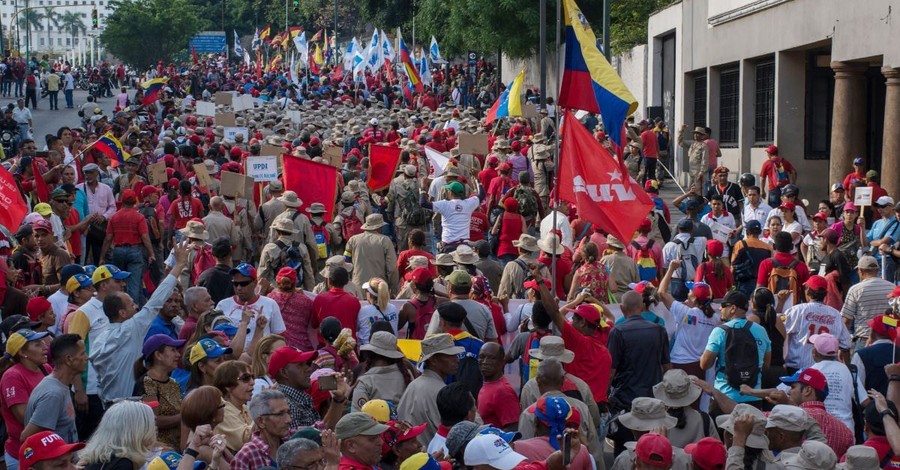 Four people are dead and over 200 have been wounded as a result of violent protests rocking Venezuela. 
According to the Washington Post, the Venezuelan Observatory of Social Conflict reported the numbers as protests continued across the country Thursday. Two people died as a result of gunfire in Caracas and two others were shot in La Victoria.
The Venezuelan people have been struggling through an economic crisis for several years, but the political turmoil began last year when President Nicolas Maduro won another term in an election that many believed to be an illegitimate election. The opposition party boycotted it in protest. 
When other Latin American nations and the United States publicly questioned the results of the election and the legitimacy of the Maduro government, National Assembly leader Juan Guaido declared himself to be the interim president. Over 50 nations now recognize Guaido as the leader of Venezuela, claiming that his ascension to power is in line with the Venezuelan Constitution. Cuba, Russia, and some other countries still recognize Maduro as the duly-elected national leader.
The violence occurred this week as thousands took to the streets of Caracas in support of Guaido after he called for public employees to go on strike and worked to encourage the military to defect from supporting Maduro. Many refused and a counter-protest to support Maduro took place in the streets as well. 
A standoff between the military and Guaido supporters at La Carlota airbase resulted in the arrests of 117 people, as well as deaths and injuries of many others. Government forces used tear gas and rubber bullets to keep the protesters at bay while the protesters were armed with only shields, stones, and rocks. Video showed a military vehicle running over a crowd of protesters.
Guaido seized on the violence to attack Maduro and his regime. He said on Twitter that "The dictatorship killed a 24-year-old who manifested his desire to live in freedom. I know that my condolences to your family is not enough, but know the usurper that in every step we give to freedom is the strength of our martyrs demanding justice. And that's not a game."
La dictadura asesinó a un joven de 24 años que manifestaba su deseo de vivir en Libertad. Sé que mi pésame a su familia no basta, pero sepa el usurpador que en cada paso que damos hacia la Libertad está la fuerza de nuestros mártires reclamando justicia. Y con eso no se juega. https://t.co/N970vuV126

— Juan Guaidó (@jguaido) May 2, 2019
In spite of the protests and violence, Maduro still clings to power, as many in the military refuse to defect from supporting him. Maduro publicly called for the army to oppose "any coup plotter" and lauded them for their continued loyalty. In a statement on Thursday, he said, "No one dare touch our sacred ground or bring war to Venezuela.
The current political crisis has only added to the pain of the Venezuelan people. Since the collapse of the country's economy, food shortages have been widespread. Hospitals go without power, have limited water supplies, and face shortages of necessary medicines. A recent report said two-thirds of the nation faces either shortages or "total loss" of water. The Washington Post reports that they have seen an increasing number of cases typhoid, hepatitis A, and typhoid."
The Trump Administration supported the protests and strikes in Venezuela, hoping they would lead to Maduro's ouster and the ascension of the man they believe to be the rightful leader of Venezuela. After they failed to dislodge Maduro this week, Trump's advisors blamed Russian and Cuban interference in Venezuelan affairs, as well as three high-profile Venezuelan officials who did not switch sides as Washington believed they would.
Guaido remains committed to ousting Maduro, telling Fox Business that he continues to prepare to lead the nation. "As long as we are mobilized and united, we are very close to achieving our freedom." He continued, "Can't tell you a specific date or time. Working on a transition. Democracy has always taken time."
Photo courtesy: Getty Images/Stringer
---
---