Scott Slayton
| ChristianHeadlines.com Contributor
| Wednesday, August 22, 2018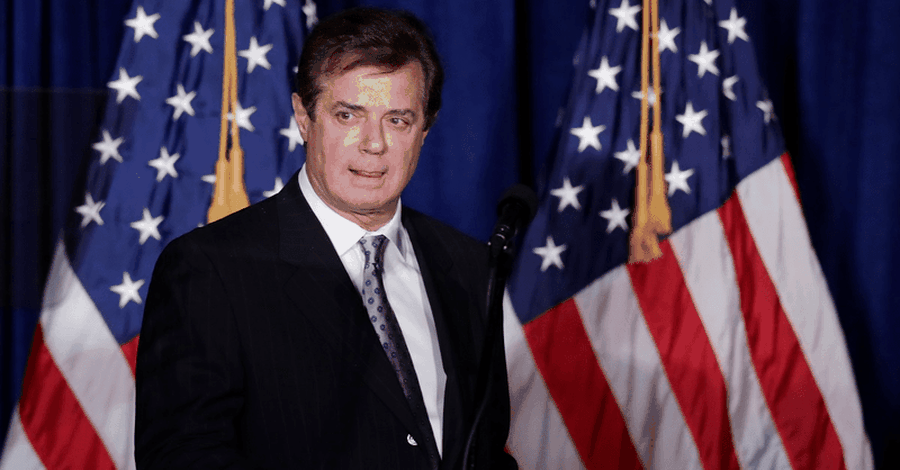 A jury in Alexandria, VA found President Trump's former campaign chairman, Paul Manafort, guilty on eight counts of financial fraud. The case, spawned by Special Counsel Robert Mueller's investigation into Russian interference in the 2016 election, made headlines for weeks as prosecutors introduced thousands of pages of records into evidence.
The jury found Manafort guilty of five counts of tax fraud, two counts of bank fraud and one count of failing to disclose a foreign bank account. The judge declared a mistrial on ten other counts on which the jury did not come to a verdict.
At the heart of the trial were millions of dollars Manafort, 69, made working for a political party in Ukraine who favored pro-Russian policies. The five counts for tax fraud were for filing false tax returns in the years 2010 through 2014. He did not report a foreign bank account in 2012. The remaining counts were related to two bank loans worth over $4 million.
Reporters asked President Trump for his response to Manafort's conviction after he landed for a rally in West Virginia. He expressed sympathy for Manafort while also arguing that it had nothing to do with his 2016 campaign.
President Trump called the verdict a "sad thing" and said Manafort is "a good man." Then he told reporters, "This had nothing to do with Russian collusion" before taking a shot at the Mueller investigation. "This is a witch hunt and it is a disgrace."
The timing of Manafort's conviction came at a bad time for the President, as his former attorney Michael Cohen pled guilty to eight crimes, including tax fraud, bank fraud, and violation of campaign finance law. He admitted to paying hush money to porn star Stormy Daniels and to working with the National Enquirer to silence former Playboy model Karen McDougal. Both women claim to have carried on extramarital affairs with Trump.
Legal experts disagree about the effect of Manafort's convictions on the Mueller probe. While Manafort's trial was not directly related to the allegations of collusion with Russia during the 2016 Presidential campaign, it did serve as a test of the work Mueller's team has done.
Manafort could face up to 10 years in prison. President Trump has not commented on whether or not he would be willing to offer a pardon to his former campaign manager. 
Photo courtesy: Getty Images/Chip Somodevilla/Staff
---
---