Scott Slayton
| ChristianHeadlines.com Contributor
| Friday, June 14, 2019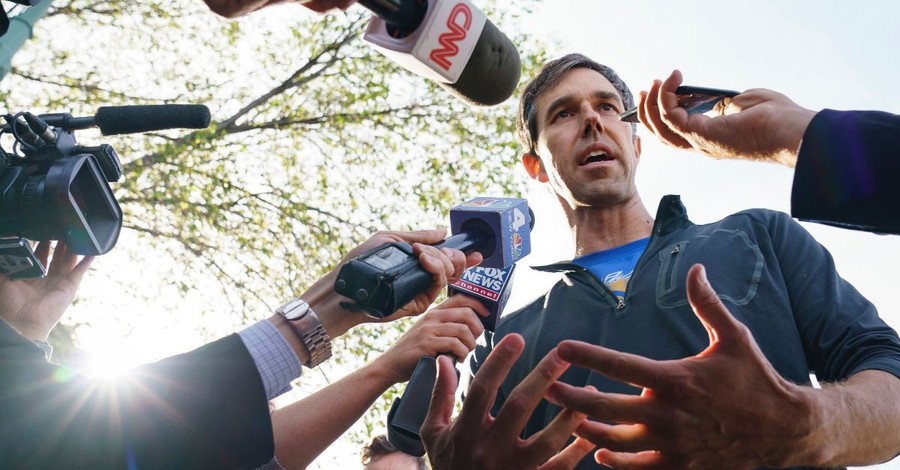 Democratic presidential hopeful Beto O'Rourke released his plan for "LGBTQ+ Equality" Wednesday and one element of the plan would ensure that transgender males would be allowed to compete on female sports teams. In announcing the plan, O'Rourke exclaimed that it would "ensure LGBTQ+ Americans can live openly without fear or discrimination or violence and would immediately reverse the Trump Administration's Discriminatory policies."
O'Rourke, the Texas Democrat who gained national popularity during his failed bid to defeat Senator Ted Cruz in 2018, details the plan on his website. First, he lists executive actions that he would take "to protect LGBTQ+ People," including rolling back several executive orders by President Trump, opening the asylum process to "LGBTQ+ individuals fleeing persecution," and protecting "LGBTQ+ youth from conversion therapy." In the second part, he details legislative action he would pursue and in the final part of the plan he promises to work for LGBTQ+ equality across the globe.
Under the second aspect of the plan, he pledged that he would work to ensure passage of the "Equality Act." The Equality Act would add gender identity to the protected classes under the Civil Rights Act of 1964 and would have profound effects on many aspects of American society, including Title IX. Since 1972, Title IX mandated that in many cases, educational institutions must provide programs and opportunities for women. This legislation has been especially important for the creation and maintenance of women's sports programs.
The Equality Act would likely force female sports teams to allow men who identify as women to compete. When the Equality Act came before the House Judiciary Committee, Rep. Greg Steube (R- Florida) offered an amendment that would prevent biological females from being forced to compete against biological men. The amendment failed 22-10.
Critics allege the biological males do not have an inherent advantage over women in sporting events, but science and recent events call these assertions into question. In an op-ed at the Washington Post, Martina Navratilova, Doriane Coleman, and Sanya Richards-Ross argue that, "The evidence is unequivocal that starting in puberty, in every sport except sailing, shooting and riding, there will always be significant numbers of boys and men who would beat the best girls and women in head-to-head competition. Claims to the contrary are simply a denial of science." They also point to Team USA sprinter Allyson Felix, who "has the most World Championship medals in history," yet 275 high school boys ran faster times than her personal best of 49.26 in the 400 meters in 2018.
At Connecticut's state track championships in February, Terry Miller and Andraya Yearwood finished first and second in the 55-meter dash. Both Miller and Yearwood are transgender and in the process of transitioning from male to female. One of Miller and Yearwood's competitors summarized how other athletes feel competing against them, saying"We all know the outcome of the race before it even starts; it's demoralizing."
The Equality Act passed the House of Representatives on May 17thby a vote of 236-173.
Scott Slayton writes at "One Degree to Another."
Photo courtesy: Getty Images/Drew Angerer/Staff
---
---