Scott Slayton
| ChristianHeadlines.com Contributor
| Wednesday, May 29, 2019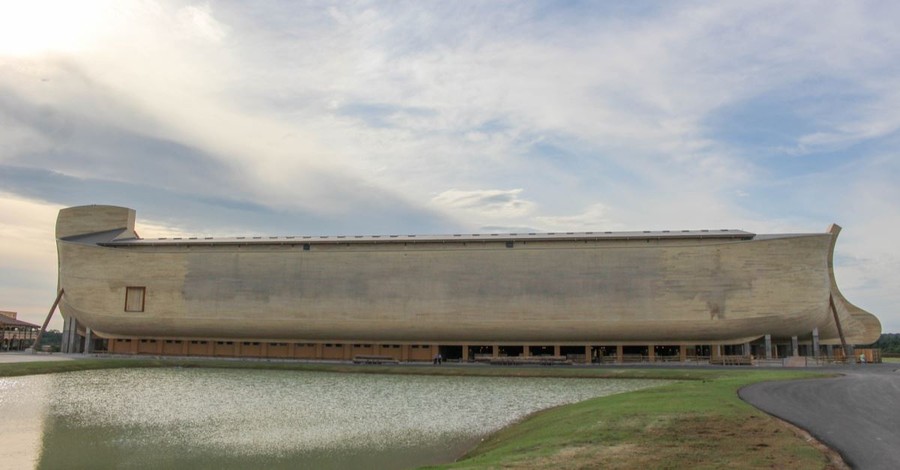 The headline has sparked jokes all over the country. Ark Encounter, the Noah's ark replica and theme park in Kentucky, is suing Allied World Insurance Company in district court because they would not pay for over $1 million in damages from excessive rain.
Williamsburg – where the park is located – saw higher than normal rainfall in 2017. While the 520-foot ark itself was not damaged, a slope near the access road on the east side of the ark started to fail before a "significant landslide" damaged a barrier along the road. In its place, engineers suggested they build a retaining wall with concrete shafts. In addition, they repaved portions of the road and reworked the drainage around it.
According to the Washington Post, Ark Encounter submitted the damage to Allied World Insurance, but the company denied the claim. Reportedly, the insurance company said the theme park's policy carried an exception clause for work related to "design deficiencies" or "faulty workmanship."
In the end, the insurance company paid what the suit calls a "very small portion" of the claim, but Ark Encounter said the company "breached their contractual obligations, acted in bad faith, and violated Kentucky law by failing to provide further coverage."
Louisville's Courier-Journal contacted Ark Encounter's attorney, Amanda Brooke Stubblefield. She said they were "not going to comment to the press on this case." A spokeswoman from the Ark Encounter's public relations firm, Melany Ethridge, issued a statement saying, "The lawsuit speaks for itself. We don't have anything to add at this time, other than to say that we are highly confident of the merits of our case as we seek a fair resolution to the matter."
The Ark Encounter opened in 2016 and was intended by its creator, Ken Ham and his ministry Answers in Genesis, to mimic the dimensions for the ark set out in Genesis 6.
The Ark Encounter tells the story of Genesis 6-9 in which God saved one family and two of each creature from a flood which he sent to destroy the world for its wickedness. 
The Encounter cost $120 million to build and the town of Williamsburg floated $62 million in junk bonds to help with the project. Along with the Creation Museum, it employs almost 900 people. Tickets for the Encounter are $48 for adults and are $75 for the Encounter and the Creation Museum together.
The lawsuit was filed in district court in Covington, Kentucky and asks for a jury trial.
Scott Slayton writes at "One Degree to Another."
Photo courtesy: Pixabay
---
---