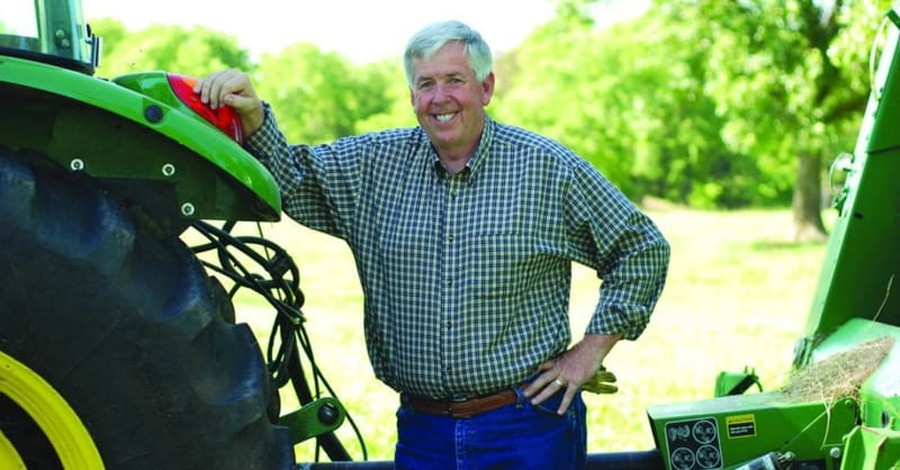 ---
Missouri will get a new governor today.
On Tuesday, Governor Eric Greitens resigned after backlash from a scandal involving a sexual relationship with his former hair stylist. Prosecutors also accused him of misusing his charity's donor list.
As of today, Lt. Gov. Michael L. Parson, a farmer and small-business owner elected in 2016 will replace Greitens and serve out the term until January 2021.
The New York Times published an article yesterday entitled: Who is Mike Parson, Missouri's New Governor? What's most interesting to me about the article is that Parson's path to leadership began in a small place.
Parson was raised on a farm in Hickory County, and graduated from Wheatland High School in Wheatland, Missouri, according to his official state biography. He owns and operates a cow and calf operation near Bolivar, Missouri, where he lives with his wife, Teresa.
His path to political leadership began when he served as sheriff of Polk County, where Bolivar is the county seat. Parson was Polk County sheriff from 1993 until 2005 when he was elected to the Missouri House of Representatives. After serving in the House from 2005 to 2011, he served as a state senator from 2011 until 2017.
I know Bolivar and Polk County because that's where I live. Bolivar is a small town of about 10,325 people, but this important Missouri community produces incredible people and products – and residents like me are proud of our tight-knit community which often goes unnoticed on the Missouri map.
The fact that Parson's path to leadership began in a small place is significant to me.
The road to leadership often starts with small beginnings. Regardless of the size of the community in which you live, your path to leadership may start small, almost obscure – from a place where you seem anonymous, insignificant, and unimportant.
Consider the story of David in the Bible who served 40 years as Israel's most notable king. Psalm 78:70 tells us that God chose David from the dusty sheep pens of Judah.
God may use times when you feel unseen, unappreciated, and unapplauded to train you for a critical leadership role.
You may spend hours hidden away in a library study carrel preparing a Bible study lesson, pouring over research, or writing a thesis. Or you spend your days picking up toys, folding clothes, and preparing meals.
A person's character can grow strong in obscure places where tedious tasks seem to monopolize the day.
God began a new search for a king when Saul, David's predecessor, was not loyal to the Lord and did not obey His commands (1 Samuel 15:11). God, however, knew exactly where to look.
He sent the prophet Samuel to the home of Jesse where David was "out in the fields watching the sheep and goats" (1 Samuel 16:11).
You and Missouri's new governor may have something in common – obscurity.
No one may see your hard work now, but remain faithful and one day you may be suddenly called upon to provide significant leadership.
Luke 16:10 NLT says, "If you are faithful in little things, you will be faithful in large ones. But if you are dishonest in little things, you won't be honest with greater responsibilities."
Let's focus on proving ourselves trustworthy because our responsibilities tomorrow depend upon our faithfulness today.
Laura Lacey Johnson is a cutting-edge faith and culture writer who focuses on everyday headlines. In addition to speaking, she is a columnist for Christian Headlines.com. To read Laura's latest work on the headlines, visit www.lauralaceyjohnson.com, or to download your FREE copy of Why Jerusalem is Important to 3 World Religions, subscribe to her blog here.
Photo credit: Linda Bunch
Publication date: June 1, 2018