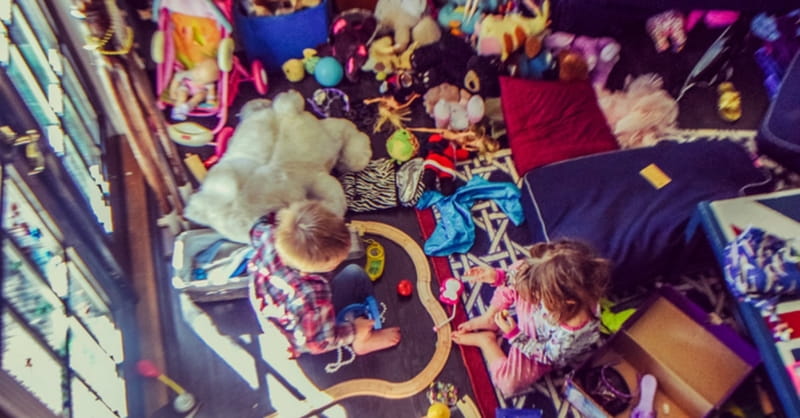 ---
Cleaning can make you more empathetic, says a new survey from Clorox.
Living in a clean home positively affects a person's level of empathy and even more so if they are responsible for some aspect of the cleaning.
That's good news for parents who want to involve their kids in helping with household chores.
The new research also showed that a clean space made most people happier and:
more relaxed (80 percent),
less stressed (60 percent), and
more productive (72 percent).
If only I could wipe away all the messes in my life away with Clorox, but life doesn't work that way.
In fact, some of the worst messes in my life were ones I created.
Perhaps I'm not alone.
Maybe you're in a "hot mess" right now – something financial, relational, academic, work-related, or another problem.
If so, you may feel like you'll never get things cleaned up.  If you're responsible for the mess, you may even believe you're too dirty for God's help.
You need to know that God loves to restore people who've made messes in their life.  God won't condemn you for making a mess.  Instead, He will help you clean it up and find a way forward.
Scripture says God sent Jesus to earth because He knew the people of this world are in a mess:
"God sent his Son into the world not to judge the world, but to save the world through him"(John 3:17).
Look at what Jesus said to the following people who made a mess of their life:
Come down to me – (Luke 19) As chief tax collector of Jericho, Zaccheus had grown rich by overtaxing his Jewish neighbors. One day, Jesus told him to come down because He wanted to eat with Zaccheus. As a result, Zaccheus became a follower of the Lord, repented of his sins, gave half of his wealth to the poor, and paid back four times the amount he overcharged to those he had cheated.
Talk to me – (John 4) When Jesus met the "woman at the well," she had been married five times and was living with a man who was not her husband. While the disciples wanted to know why Jesus was talking her, they remained silent and watched as He transformed her life through one grace-filled conversation. Afterward, she urged her entire town to meet Jesus and follow Him, too (John 4:28-30).
You're coming with me – (Luke 23) Jesus was crucified between two criminals. When one of them began hurling insults at Jesus, the other gave a moving speech about how the two of them were getting what they deserved for their crimes, but Jesus had "done nothing wrong."  He concluded with this request: "Jesus, remember me when You come in Your kingdom!"  Jesus replied, "Truly I say to you, today you shall be with me in Paradise" (Luke 23:42-43).
Come down to me, talk to me, and you're coming with me.  Jesus welcomes people like you and me who've made a mess of things.
No condemnation.  No shaming.
Clorox may help us clean our homes, but it can't clean our lives.
Only Jesus can get rid of our hot mess forever and light the way out of the darkness (John 8:12).
He's ready to help you, so talk to Him today.
Laura Lacey Johnson is a cutting-edge faith and culture writer who focuses on everyday headlines. In addition to speaking, she is a columnist for Christian Headlines.com. To read Laura's latest work on the headlines, visit www.lauralaceyjohnson.com, or to download your FREE copy of Why Jerusalem is Important to 3 World Religions, subscribe to her blog here.
Photo courtesy: ©Thinkstock/Lisa5201
Publication date: February 12, 2018