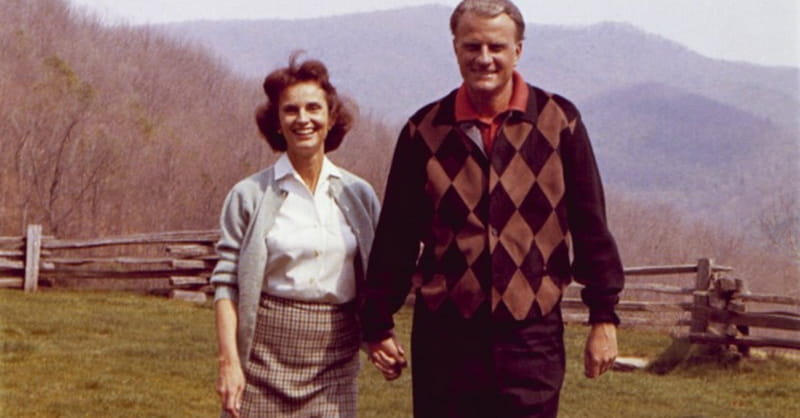 ---
People worldwide are sharing inspirational quotes from the Reverend Billy Graham and one personal principle from him, "The Billy Graham Rule," seems more relevant than ever before.
Consider yesterday's indictment of Missouri Governor Eric Greitens for a nude photo – the latest public figure to face legal trouble for personal behavior.
As you may know, "The Billy Graham Rule" came from Reverend Graham's personal commitment to never eat, travel, or dine alone with a woman other than his wife, Ruth.
Last spring, our culture mocked Vice President Mike Pence for following "The Billy Graham Rule" when this article profiling his wife Karen Pence revealed that "he never eats alone with a woman other than his wife and that he won't attend events featuring alcohol without her by his side, either."
I wonder how our news headlines would be different these days if more people in our society set personal boundaries to guard against temptation. Indeed, we would see fewer headlines like these:
Harvey Weinstein scandal: A complete list of the 84 accusers
Russian Curler Stripped Of Olympic Bronze After He's Found Guilty Of Doping
10 Additional Penn State Students Charged in Hazing Death of Pledge
Every human on this planet struggles with temptation.
That's why setting limits to keep ourselves from crossing over into the land of regret, a place where we've all been but never wish to return, is a wise idea. Personal boundaries help us in areas of weakness but also in places we want to keep strong – like our marriage.
The concept of setting a "Billy Graham Rule" is biblical.
Scripture says:
"Above all else, guard your heart, for everything you do flows from it" (Proverbs 4:23).
Bottom line: An unguarded heart leaves us vulnerable to all kinds of enemies – including ourselves.
We all struggle.
I am tempted to overspend when I go shopping.  That's why I must set financial limits when I go shopping.  I know I'm not alone.  You may not struggle with overspending, but chances are there is something else that vies for your heart's affection.
Scripture repeats the following message twice:
"The prudent see danger and take refuge, but the simple keep going and pay the penalty"(Proverbs 22:3, Proverbs 27:12).
In other words, if we see trouble and don't choose to change course, it's our own fault.
James 1:14 says, "But each person is tempted when he is lured and enticed by his own desire. Then desire when it has conceived gives birth to sin, and sin, when it is fully grown, brings forth death."
When we ignore the warning light for temptation and keep going, damage ensues, and we suffer heartache in our relationships, career, finances, or fill in the blank with your own bad adventure.
In Genesis 39:6-10, we read Potiphar's wife repeatedly tried to seduce Joseph. However, he refused saying, "How then could I do this great evil and sin against God?" (v. 9). Although Joseph's refusal to yield to temptation landed him in jail, God used the situation to promote him to a position second only to Pharaoh.
When it comes to temptation, we should "flee" (1 Corinthians 6:18).  Personal boundaries become our proactive protection.
Call "The Billy Graham Rule" old-fashioned, but imagine what our world would look like if more of us established boundaries to guard against temptation.
Laura Lacey Johnson is a cutting-edge faith and culture writer who focuses on everyday headlines. In addition to speaking, she is a columnist for Christian Headlines.com. To read Laura's latest work on the headlines, visit www.lauralaceyjohnson.com, or to download your FREE copy of Why Jerusalem is Important to 3 World Religions, subscribe to her blog here.
Photo: Billy Graham Evangelistic Association
Publication date: February 23, 2018