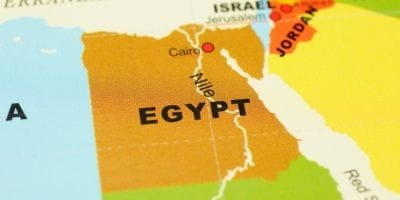 ---
In Al Nazla, a small village about 60 miles southwest of Cairo, you can still see the red graffiti marking the homes and businesses of Coptic Christians. The Saint Virgin Mary church in this town was among dozens of churches attacked and ransacked throughout the country in the wake of Mohammed Morsi's overthrow.
Mr. Awad, one of the members of the congregation, says he can remember when relations between Christians and Muslims in Al Nazla were positive – mere days before he watched as those he had known as neighbors and even friends joined in the attacks against his church.
"We were neighbors and friends, we did business together and talked together," he says. "However, when they had to choose between religion and us, they chose religion."
As Egypt's unrest continues, Coptic Christians are facing increasing violence across the nation. The Egyptian Initiative for Personal Rights has documented at least 39 attacks against Coptic schools, churches and places of business – just since Morsi's overthrow.
Mary-Jane Deeb is chief of the African and Middle Eastern Division of the Library of Congress. Born and raised in Egypt, she told PBS Newshour on Monday that "the Copts are an easy target" for violence.
In the nation's current chaotic state churches are easily targeted – and not so easily guarded, Deeb added. "There's no security and ability to protect particular places or people," she added.
Bishop Suriel of the Coptic Orthodox Church has called the attacks the most "unprecedented attack on the Coptic Church in our modern era."
He says he believes the military took the right action to end the violence, and blames the Muslim Brotherhood for attacks against Coptic Christians throughout the nation.
"Why are the Copts being taken as scapegoats, when they are an integral part of the Egyptian society?" he says.
"I believe that we have to hope and I do believe that we will come back to a democratic process. ... I think all of the people in the Middle East still have a lot to learn about democracy, but I believe that if they are united together, the moderate Muslims with the Christians, that we will be able achieve this."
In Al Nazla, church members are holding services in spite of the attacks.
"We have to pray no matter what happens," one church member said. "Even if they burn it to the ground, we will pray here."
Kristin Wright is a columnist and contributing writer at ReligionToday.com, where she focuses on global human rights issues. Kristin has covered topics such as bride trafficking in North Korea, honor killings in Pakistan, and the persecution of members of minority faiths in Iran. She has visited with religious minorities in Pakistan, worked with children at risk in Mumbai's "Red Light" district, and interviewed individuals on both sides of the Israeli-Palestinian conflict. Kristin recently returned from Turkey and the Syrian border, where she covered the plight of refugees fleeing the conflict. She can be contacted at [email protected]
Publication date: August 20, 2013