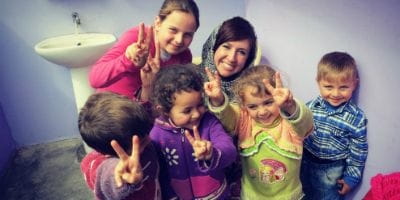 ---
I'm standing on a rooftop in Reyhanli, Turkey, a small town that sits along the country's border with Syria. In the distance I can see the green hills of Syria, above me a clear blue sky. Warm sunlight is splashing over the makeshift structures and dilapidated shelters of the town, and I see hints of color in the hung laundry and brightly painted walls.
In front of me, two tiny toddlers sit nestled together on a mat. Their "home," a lean-to with an aluminum overhang is barely sufficient to cover the family's few possessions, let alone the refugees themselves. Yet this is the reality that exists everywhere in Reyhanli and in countless hundreds of border towns in Turkey, Lebanon, Iraq and Jordan.
I'm here to learn more about the challenges confronted by Syrian refugees, and the organizations working to help them. Watan Syria is a Syrian organization actively providing aid to refugee families here.
One morning I join Esmat Rastan of Watan Syria and other staff members in delivering aid boxes to refugee families throughout the town. Esmat explains that the boxes are packed with macaroni, rice, cheese, salt, corn, sugar, tuna and oil -- staples that thousands of refugee families can't afford to purchase for themselves.
While we deliver boxes, I talk to refugee women, men, and children, learning their stories. As the Syrian conflict moves into its third year, more than 3.6 million people have been displaced, and over a million refugees have crossed borders into neighboring countries. More than half of those displaced are children.
Before the conflict began, over 90 percent of Syrian children were enrolled in school. Today, most Syrian refugee children do not have access to an education. In Reyhanli, I see children everywhere. Toddlers playing near makeshift shelters, young girls and boys running after our van, playing in the muddy streets, petting cats and flying kites. No one is in school. School doesn't even exist here.
Late one afternoon Ahmad Zn of Watan Syria drives me to Turkey's border with Syria. When we arrive at the border I watch more refugee families crossing over into Turkey, coming with only what they can carry with them. There are children too, ready to embark on a different life until the conflict is over. Sadly, school is not likely to be a part of that new life -- at least not anytime soon.
Ahmad takes me to a children's center that afternoon. There is not adequate funding for a school for Syrian refugee children in Reyhanli, so Watan Syria has established a center that provides children with a safe space to engage in activities, play and song. The supervisors at the school are nearly all refugee women volunteering their time for free.
There are many organizations working to help refugee children in countries neighboring Syria. World Vision operates child friendly spaces and some classes for Syrian children in Jordan.
The organization is "offering classes for Syrian children to facilitate their enrollment in Lebanese schools and providing supplementary classes for those already enrolled in school," according to a recent post about their work in Lebanon.
During my visit to the Syrian border, I heard so many horrific stories of the losses Syrian children have endured over the past two years. Yet in the midst of the heartbreak, there is a relentless optimism that took me by surprise. Everywhere I looked their smiles captured my attention and made me realize just how incredibly special they are.
We can't fix all of the heartache that has occurred over the last two tragic years, and after witnessing this pain firsthand I realize how helpless I truly feel. But we can begin to make a difference in the lives of Syrian children. I hope you will join me in contributing to help provide education, hope, and a fresh start to the beautiful children of Syria.
Get Involved
There are a number of aid groups working to help the children of Syria. Here are a few:
Publication date: May 22, 2013