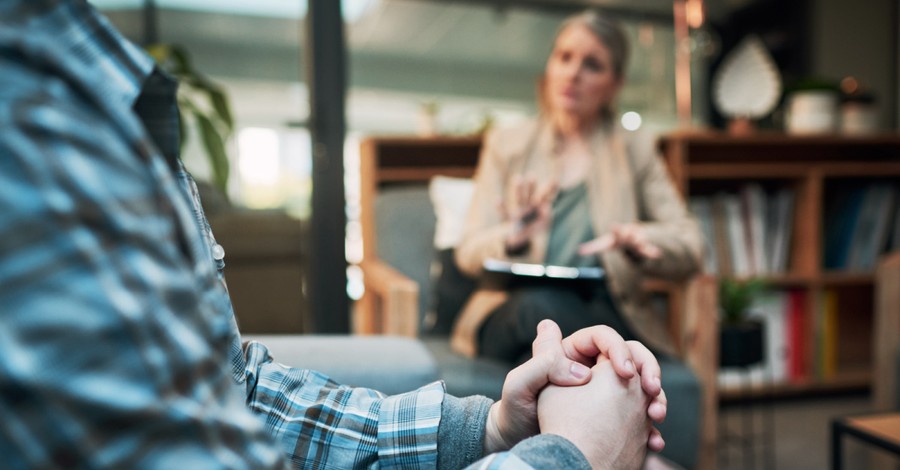 I can't tell you how helpful therapy has been for me in my walk with God. And the more that I dig out my own wounds, lies, and traumas, the more convinced I am that therapy is something that absolutely everyone could benefit from and even probably needs. Further than that, it might even be selfish for Christians not to get therapy.
I'm so grateful that I grew up in a family with a parent involved in the mental health profession, so topics like anxiety or depression were more or less a part of life, rather than an embarrassment. I started going to therapy when I was in college and have been seeing a counselor in one way or another ever since. I've seen the radical changes in my own life and in the lives of people I'm close to who are also going to therapy. On the other side of the coin, I've seen the damage that happens to people's hearts and relationships when there is an obvious need for healing, but they aren't brave enough to do it.
When Jesus first publicly spoke in a synagogue in Luke 4, he harkened back to Isaiah 61:1-3, telling people is his mission, "'The Spirit of the Lord is on me, because he has anointed me to proclaim good news to the poor. He has sent me to proclaim freedom for the prisoners and recovery of sight for the blind, to set the oppressed free. …'"
One of the most transformative ways God sets us free is through setting us free from trauma, life traps, and outright lies that we believe about ourselves and Him.
Here are my top 3 reasons why Christians should get therapy:
1. Therapy Helps Us See God Clearly
One of the most profound truths about our time on this earth is that our parents are our first and most impactful impression of who God is. God designed it this way. Because they are our first caregivers, they set the tone and expectation for the rest of the love we receive for the rest of our lives. Our baby brains either learn that the world is safe and that we will be taken care of or that love is not trustworthy, consistent, or abundant enough. Whatever the case is, we automatically assign these characteristics to God. And if we never heal from the ways our parents let us down, we will continue to see God's love through this wounded lens.
My favorite part of the movie The Case for Christ, about one former atheist's journey to becoming a believer, is when he approaches a psychiatrist with the argument that the early Christians must have just been experiencing some kind of mass hysteria. She follows up by asking him about his relationship with his father. Admitting that it was strained, she tells him that some of the world's most famous atheists, like Friedrich Nietzsche, Jean-Paul Sartre and Albert Camus, all had poor relationships with their father.
Strobel, the main character, later shares, "When you have been disappointed with your earthly father, you don't even want to know about a heavenly Father because it'd be worse with Him."
Even if we believe in God, we still have an impossible time holding out hope that He will be different than our parents, who have let us down, unless we directly confront this subconscious bias.
Maybe you "know" that God loves you. An intellectual knowing that you can back up with Scripture until your blue in the face. But let me ask you this, and be honest, what do you think God thinks of when He thinks of you?
If your answer is that He's probably angry, or disappointed, or doesn't think about you much at all, trace this idea back to how you think your parents really felt about you when you were growing up. Think of moments when you messed up or needed something. How safe were your parents to go to? How safe is God?
Confronting these wounds will help you undo the subconscious lies that you believe about God that are holding you back from fully experiencing His presence and love.
2. Healing Your Wounds Is Essential to Loving Those around You
Hurt people hurt people. It's just true. Well, hurt people who are still currently hurting because they haven't dealt with their wounds hurt people. There are a thousand ways this could play out.
You're hurt because your mother never had empathy for your pain, so as a result, you never meet people in their need for empathy. You don't think you deserve comfort, so you're confused and don't know what to do when other people ask you for it. When your wife is hurting, instead of being comforting, you somehow communicate that it can't be that bad and she needs to suck it up. So, she stops feeling safe bringing her pain to you.
Or, you went through a lot of trauma as a child, and because you've never worked through it, you shut down whenever a situation becomes too emotional. When it comes time for your kids to tell you that they're concerned about you, instead of communicating your thoughts and heart with them, you simply shut down. They feel hopeless and rejected. Even though it has nothing to do with them, they still bear the consequences of your wounds.
There is so much compassion for healing that still needs to happen. But to be blunt, you need to be brave enough to feel the pain of your life's biggest wounds. Because if you're not brave enough to, your family, spouse, friends, church community, etc., are going to be the ones that deal with the fallout.
Choose to deeply love the people in your life by recognizing how your hurt ends up hurting them. And then do the brave work to heal it.
3. Therapy Helps You to Comfort Others in Their Times of Need
2 Corinthians 1:3 says, "Praise be to the God and Father of our Lord Jesus Christ, the Father of compassion and the God of all comfort, who comforts us in all our troubles, so that we can comfort those in any trouble with the comfort we ourselves receive from God."
Being brave enough to face your wounds equips you to do that for other people. This doesn't mean that you suddenly have to be other people's therapists, but rather, you can be a good and supportive friend.
There is something so comforting about hearing "I've been there" from someone you respect. Because you went to the depths of your pain with God, you know that there is another side. You know that God comforts us in our sorrows. You know that he's close to the brokenhearted. You know that he's the Good Shepherd that leads you through the valley of death. And as a result, you'll be able to hold that space and faith for anyone in need of your love.
Therapy is for us as individuals, but really it's not just for us. When we heal personally, our community starts to heal. And it only helps us to love God and love people so much more deeply than we ever could without it.
The views expressed in this commentary do not necessarily reflect those of Christian Headlines.
Photo courtesy: ©Getty Images/People Images
Kelly-Jayne McGlynn is a former editor at Crosswalk.com. She sees the act of expression, whether through writing or art, as a way to co-create with God and experience him deeper. Check out her handmade earring Instagram and Etsy for more of her thoughts on connecting with God through creative endeavors.
---
---