My Faith Votes
| MyFaithVotes.org
| Friday, October 23, 2020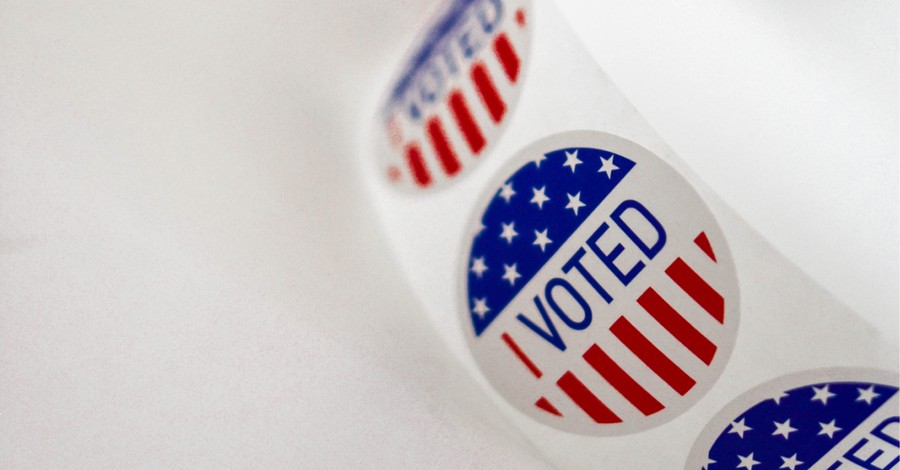 ---
We recently had the opportunity to talk with our friend Mike Sharrow, president and CEO of C12 Group, a global network of peer advisory groups for Christian business leaders. We discussed the importance of Christian business leaders engaging in politics and voting and loving our neighbors through our civic involvement.
This interview has been edited for clarity and length.
You've taken time to ask good questions of business leaders and CEOs to understand how they are viewing politics, elections and their role. What are you seeing and hearing?
One of the things that's given me a lot of encouragement, as I've spent time talking to hundreds and hundreds of CEOs around the country, going to D.C., meeting with congressmen and senators, meeting with officials in my own state, in my own city, is realizing there's a lot of opportunity. I think it's easy to get cynical, whenever we talk about politics and elections and the state of affairs. While there's plenty we could bemoan or be worried about, there's also tremendous opportunity.
When I went to D.C., for instance, I met with congressmen and senators on both sides of the line. I was talking to them about the concerns that people of faith have in business. I didn't get stiff-armed, I didn't get thrown out. I got asked a lot of questions: "Tell me more. How come I never hear from them? How is this affecting them? Tell me more, tell me more." In fact, I talked to a senator who said, "I listen to business owners because they represent constituents, families and customers and dollars and economic influence." One senator said, "If I get a deluge of business owners reaching out to me on something, I will reconsider my position. I said, "What's a 'deluge'?" And he said, "Eight, nine, ten." And I'm thinking, "You mean thousand?" He said "No, I just hear from so few, eight, nine, ten would really change my thoughts on things."
When I go talk to business owners, they think their vote doesn't count or "That congressman is way too busy, they would never take my call." They just don't know. We live in an era where there's such low voter engagement, such confusion around how things work. Business owners, particularly, steward capital. We steward teams and families. We have influence in the industry and communities, and it's oftentimes not stewarded.
I know you asked some really great questions around why people don't engage in politics. What are you hearing?
I found a lot of people who say, "I don't even vote, let alone encourage others to vote." I go, "Why not?" And I got, "Does my vote really matter? I mean there's [331] million people [in America]. What's one vote?" They don't realize that while there may be hundreds of millions of people, sadly, hundreds and millions of people don't vote, and many elections are decided by hundreds or thousands of votes, not millions. So your vote does matter.
And then I think there's a danger of putting our faith in politics. A lot of particularly Christian business owners I talk to [say], "I wrestle with the fact that...sometimes you're choosing between suboptimal choices" and "My hope is not in this world, my hope's in the Gospel." And so, almost punting on civic stewardship out of a loyalty to Jesus misunderstood, going "Well I want to put my hope in God. I'm gonna pray about the election. I'm not going to do anything about the elections." I think there's a false dichotomy there or a mistake: placing our faith in something, versus being responsible and actually engaged on something.
25 million Christians did not vote in the last presidential election, and there are 10 to 15 million more that aren't even registered. There's a huge opportunity to engage, but it takes intentionality.
I think this is such a golden opportunity for every business owner who's a Christian to think about. ...We're citizens of heaven and we're citizens here. We have an opportunity that's pretty unique not just to make our voice heard, but also to think about those we lead: the employees we have, the customers we serve, the supply chain and vendors, the whole business community we engage with, and not make it about a personal party, but draw them into an understanding of policy, of positions, of principles that matter and connecting it back to our faith.
I think there are some biblical imperatives that we fail to understand in business.
One would be that, in the American context, you and I are the government. We have delegated authority to representatives, whether it's state, city, federally. And so when we don't vote, we are negligent in our governing authority. Passages in Romans remind us we are to respect the government whether we like it or not [or] it's who we elected or not. That's our authority. We respect it, we submit to it. But we are also part of that equation. And so when we don't vote, we are actually failing to steward the authority that's been entrusted to us in our national context.
I also think [about] when Jesus says, "To whom much is given, much will be required." And usually, business leaders will look to [their] donors, and so we think about that being a financial thing. The greatest thing I think we're going to be held accountable for is our influence. And so the question is going to be not just, "You could have voted, did you vote?" Have you thought about your opportunity to empower the people you lead to be part of shaping the world we live in?
We need to help people see voting and influencing our government by electing leaders who represent our values as another opportunity to impact our communities.
Choosing our officials, knowing your officials, engaging them, being an advocate for those who are vulnerable in your community, whether that's foster children, whether that's immigrants, whether that's anybody you look at and go "This is an unheard people group." You get to be a voice for them. You can either complain about things, you can be grieved or you can do something.
Love is a verb that calls us to know things, to do things, to say things. You can't say, "I love people" and choose not to vote. You can't say, "I love people" and choose to not advocate and call your officials and say, "I'm part of the government, and I'm calling you towards this virtue, these values."
What do you want to say to business leaders who have an opportunity to empower others in the way that they lead their business and when it comes to voting?
The Gospel says that we are ambassadors for Christ. We are here to represent the agenda of our Father. And so I would say you've got a calling. You've been commissioned. You've got influence. You've got a responsibility.
We're called to love. So whatever lies or confusion you let rob you of the joy of obedience in this area, whether it's "I just don't know" or "I'm afraid," push that aside and embrace the fact that God's called you to lead. ...You have a chance to have multiplied influence if you will engage and lead others to engage responsibly.
All it takes is for a few people to do nothing to see evil keep perpetuating. But in the same way, a few people stepping up and saying "As for me in my house, I'm gonna do my part, and I'm gonna encourage others to" can also change the world more quickly than we realize.
My Faith Votes offers resources to help equip you to engage and empower people in your business. Download a free "Our Workplace Votes" Civic Toolkit here.
Watch the full interview with Mike Sharrow here.
Photo courtesy: Element 5 Digital/Unsplash
---
My Faith Votes is a nonpartisan movement that motivates, equips and activates Christians in America to vote in every election, transforming our communities and influencing our nation with biblical truth. By partnering with national faith leaders, My Faith Votes provides resources to help Christians Pray, Think, and Act to create an America where God is honored in the public square. Learn more at MyFaithVotes.org.