Brian Fisher
| Human Coalition
| Wednesday, March 18, 2020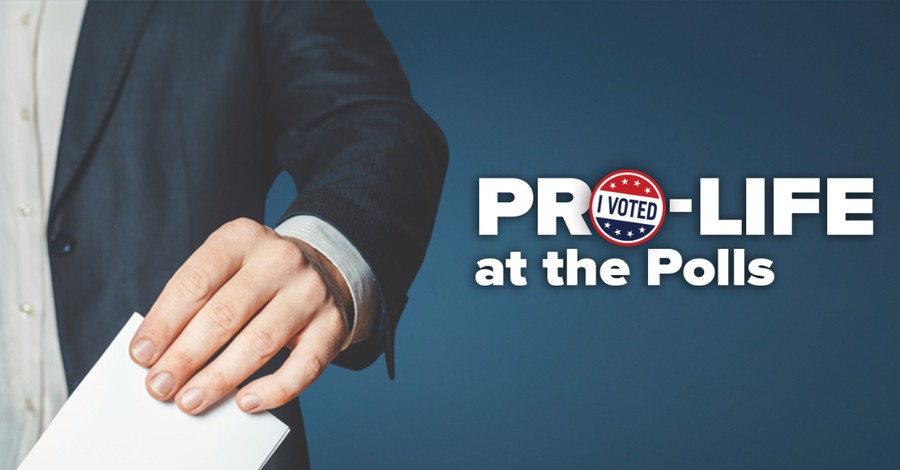 The national media and many politicians are quick to frame abortion as a binary and partisan voting issue. This is simply not the case.
Nearly 30% of Democratic voters and 44% of Independent voters identify as pro-life according to the last national Gallup Poll on abortion. In a January Marist Poll, about two-thirds (65%) of all Americans, including 44% of Democrats, said that they "are more likely to vote for" candidates who would limit abortion to the first three months of pregnancy only. Yet another poll revealed that 70% of Americans favor limiting abortion either to the first three months of pregnancy or to cases of rape, incest, or in situations where the mother's life is at risk. The data is clear: voter sentiment toward abortion is not confined to party lines.
In fact, most Americans are in favor of limiting abortion in some way. But despite the nuances of this issue, I believe we as Christians are called to have a firm stance against abortion.
There is no greater threat to American civilization and societal morality than abortion. That's obvious, as no other threat has come anywhere near to abortion's death toll.
God recognizes that a baby in the womb has the same extraordinary, intrinsic value as her mother or any other born human. Thus, the killing of over 61 million preborn children due to abortion in America since 1973 is the same as if we allowed the killing of 61 million toddlers.
If the primary role of government is the securing of its people's rights, securing the right to life is foundational. Without the right to life, what rights do we have at all? There are roughly one million abortion-determined women in the U.S. each year. Every 30 seconds, a child's right to life is taken.
At Human Coalition, we believe every person deserves the chance to live and thrive, including preborn babies and any mother facing an unplanned pregnancy. No one should ever be in a place where to they feel they must kill a child to have a meaningful life. This is why we come alongside these women, supporting them with a network of life-affirming resources.
As one of the largest pro-life organizations in the nation, we operate a growing network of women's care clinics, and we partner with 45 pregnancy centers across the nation. Our 501(c)4 arm, Human Coalition Action, advocates for preborn children by challenging legislators to vote for pro-life policies, informing voters about pro-life candidates, and supporting pro-life legal arguments in the Courts.
Recently, on an episode of The View, Meghan McCain questioned former Democratic presidential hopeful Pete Buttigieg about his stance on late-term abortion. McCain referenced an interview that Buttigieg gave in which he defended legal abortion, stating the Bible affirms that, "life begins with breath."
As McCain challenged Buttigieg he said, "I'm just pointing to the fact that different people will interpret their own moral lights, and for that matter interpret Scripture, differently. But we live in a country where it is extremely important that no one person should have to be subject to some other person's interpretation of their own religion. My point is that it shouldn't be up to the government official to draw the line. It should be up to the woman who is confronted with that choice."
McCain pushed Buttigieg asking him, "So, if a woman wanted to invoke infanticide after a baby is born, you'd be comfortable with that?"
Buttigieg evaded the question and again said that a woman and not the government should be the one to make the decision, sidestepping the issue.
This is political non-speak at its best.
For a Christian, the Word of God is our guide on such matters, not politics. First, the Bible affirms human life from conception, not from breath. Second, consider if Buttigieg had been asked the same question about tax-evasion. Can you imagine him saying that the government should not be the one to make the decision for a woman who is choosing whether or not to evade her taxes?
Tax evasion is either morally right or morally wrong. Abortion might not be red or blue, but it is either morally right or morally wrong.
And this is where Biblically-minded Christians must draw a line in the sand and not cross over.
If we align with Scripture and agree that human life is extraordinarily valuable starting at conception, then we should agree that abortion is the primary, most morally pressing, most urgent crisis of our generation, bar none. And, we must seek to support parties and candidates who, by their words and actions, protect and provide for preborn children.
We are fierce defenders of the vulnerable as Christ was for us. We understand moral priority according to Scripture and make the ending of American abortion genocide a top priority in our political thinking and actions. We support politicians who have not only said they would protect life, but actually do it.
And we make sure our consciences are informed, being careful to encourage one another to love and good deeds for the welfare of all, primarily those victims of slaughter in the womb. Millions of babies are counting on us to stand up for them, in compassionate action … and at the polls.
Photo courtesy: Human Coaltion
---
---