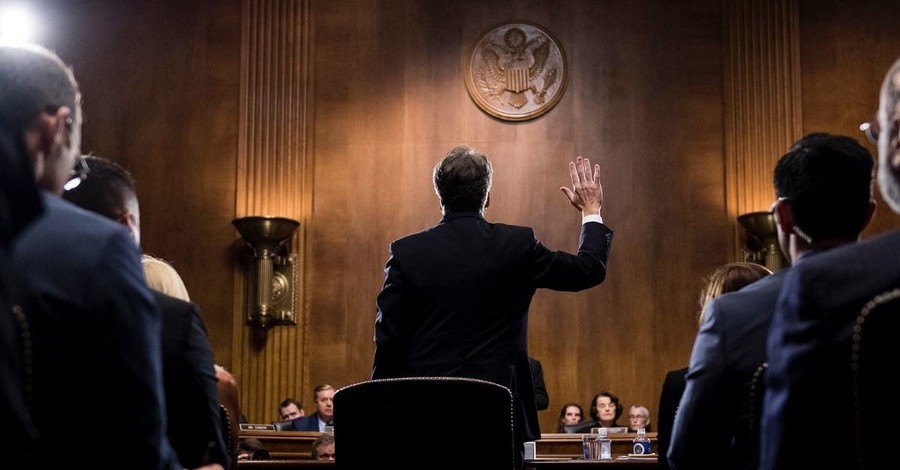 (RNS) — After credible allegations of sexual assault against U.S. Supreme Court nominee Brett Kavanaugh were made public two weeks ago — allegations that Christine Blasey Ford recounted in a live Senate testimony Thursday (Sept. 27) — many Americans thought warily back to their teenage years: Could we withstand a public trial of our worst actions from decades ago?
Who among us? has been the refrain, especially, it seems, from men who grew up in the same era and prep school environment as Kavanaugh.
"I do not understand why the loutish drunken behavior of a 17-year-old high school boy has anything to tell us about the character of a 53-year-old judge," tweeted American Conservative commentator Rod Dreher two weeks ago. "By God's grace (literally), I am not the same person I was at 17. This is a terrible standard to establish in public life."
"It's just a shame that a person like Judge Kavanaugh who has a stellar record — that somebody can bring something up that he did as a teenager close to 40 years ago," said president of Samaritan's Purse and prominent Trump supporter Franklin Graham.
In a fiery criticism at Thursday's hearing, Sen. Lindsey Graham assured Kavanaugh, "You've got nothing to apologize for."
In other words, Kavanaugh's more recent behavior should tell us far more about his fitness for the Court than any alleged behavior from three-plus decades ago. Graham and others have stressed the length of time that has passed since the alleged assault and the immaturity of Kavanaugh at the time it would have occurred.
"These are two teenagers and she said no and he respected that so I don't know what the issue is," said Graham. (According to Ford's testimony, she wouldn't have been able to say no because Kavanaugh covered her mouth with his hand.)
At Thursday's hearing, Kavanaugh has powerfully and categorically denied the allegations from Ford and claims innocence. But even if it were somehow confirmed that he did assault Ford in 1982 — by an independent FBI investigation or testimony from witnesses, such as Mark Judge — many onlookers have stressed that forgiveness is possible and indeed necessary for our common life.
Christians affirm that "all have sinned and fall short of the glory of God, and all are justified freely by his grace through the redemption that came by Christ Jesus" (Romans 3:23–24).
Here and elsewhere, Christian teaching makes clear that in one sense, all humans stand on the same moral playing field. No one can judge another's actions without pointing the finger back at himself.
Teachings on forgiveness have played a strong role in how Christian communities react to sexual harassment and assault allegations. But without a proper, biblical understanding of justice, forgiveness can easily, and wrongly, become about protecting the accused without seeking restoration for victims. The Bible makes clear that God hates oppression and violence against the vulnerable.
In Kavanaugh's case, forgiveness from God or from any alleged victims would not mean he deserves a seat on the highest court in the land, no matter how skillfully he interprets laws or how good and well-liked a student he was in his youth.
In January, Tennessee pastor Andy Savage apologized to his congregation for a "sexual incident" that he stressed took place 20 years ago — coercing a 17-year-old girl in the youth group into performing oral sex while he was youth pastor. After his confession, he received a standing ovation from churchgoers.
Here was a man humbly acknowledging his horrible behavior as a 21-year-old and earnestly seeking absolution. As Christians who have received unlimited grace from God, how could they not offer it?
But Jules Woodson, the victim, said that Savage hadn't apologized after it happened and that church leaders at the time asked her not to talk about it. While Savage eventually resigned from his pastoral role, the church's response to the assault focused on restoring the perpetrator rather than the victim.
Clearly the order is backward.
Ironically, Savage, who had experienced forgiveness for his past misdeeds, seemed unwilling to extend that mercy to others. After news of Matt Lauer's misconduct broke in November 2017, the former megachurch pastor took to Twitter to condemn him.
In response, Woodson emailed him. "Do you remember that night that you were supposed to drive me home from church and instead drove me to a deserted back road and sexually assaulted me?" she asked. Savage never replied. So Woodson made her story public.
Do you remember…? It was clear that, despite all that had happened in the 20 years that had passed, what transpired in the car between them was fresh and painful. Time might make memories fuzzy, but it doesn't erase physical, emotional and spiritual wounds.
This was also clearly true for Ford while she told of Kavanaugh pushing her into a bedroom, groping her and trying to remove her clothing, and covering her mouth to stop her from screaming. While some of the circumstantial details were forgotten to memory, the most pertinent, and painful, details remained, 36 years later. "Brett's assault on me drastically altered my life," said Ford, who says post-traumatic symptoms have stayed with her.
Kavanaugh has forcefully denied all the allegations against him.
In the Christian tradition, forgiveness begins with confession. The simple act of acknowledging wrongdoing can go a long way.
Caitlin Flanagan, a contributing writer at The Atlantic, recently told of her own experience as a victim of attempted rape in the late 1970s. The trauma led her to attempt suicide. The reason she was able to heal and move forward — in a way that's not been granted to Ford — was that the young man took responsibility for his actions and sincerely apologized.
There was an honest account of the violation of one image bearer by another — and that led to freedom, Flanagan said.
"Forgiveness is really crucial to find paths forward in the midst of brokenness, pain, suffering, wrongdoing," says theologian L. Gregory Jones. "But it's both a gift that is offered and something that requires a commitment to repentance."
Christians understand that forgiveness — by God or others — is not a free pass. It's not cheap. We believe it cost the life of the Son of God.
"Repent" means to turn away from wrongdoing and to seek amendment of life and help to any injured parties. When done well, with honesty and humility, it can heal the deepest of wounds, including the wounds of sexual violence, a uniquely personal and humiliating violation.
But it will undoubtedly cost the alleged offender a lot — perhaps, even, a seat on the Supreme Court.
(Katelyn Beaty is former managing editor of Christianity Today and the author of "A Woman's Place." The views expressed in this opinion piece do not necessarily reflect those of Religion News Service.)
READ THIS STORY AT: RELIGIONNEWS.COM
Article originally published by Religion News Service. Used with permission.
Photo courtesy: RNS/Tom Williams/Pool Image via AP
---
---