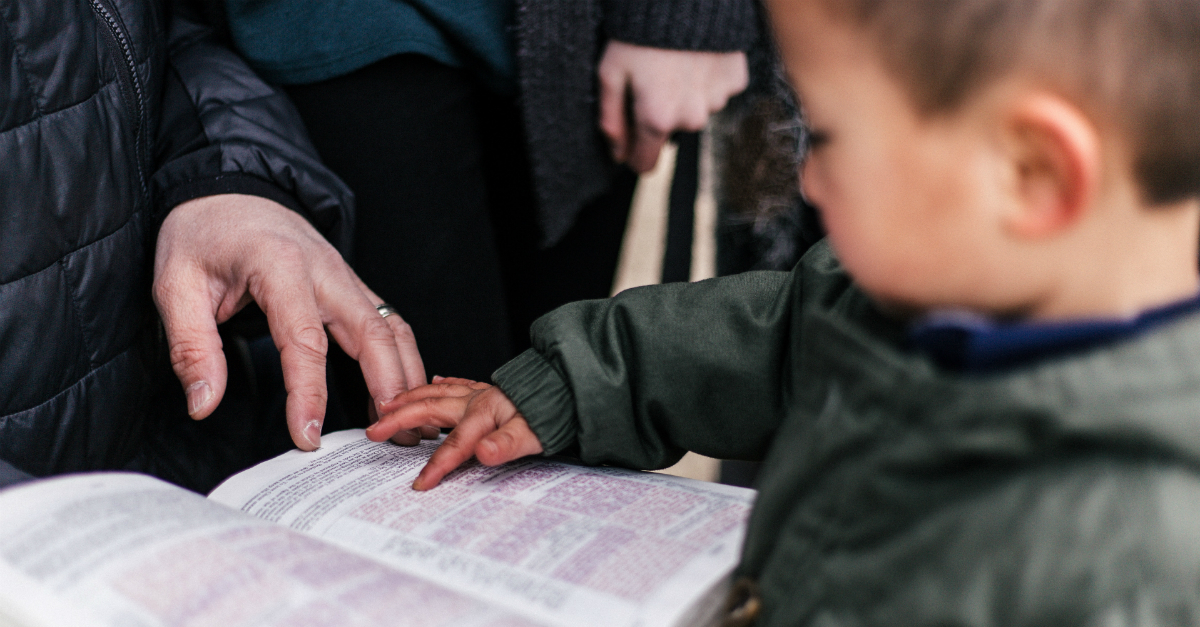 ---
We all hope our children will love the Lord the way we have grown to. Baking with them is a brilliant way to help His love and goodness come alive to them.
According to The International Bible Society, the Bible has been around well over 3,000 years. In these last 3,000 years it has drastically transformed hearts, nations, governments and history. Although the Bible is physically old, God's word does not have an expiration date or lose effectiveness over the years. Instead, it gains momentum and power with each passing year.
In fact, Hebrews 4:12 says, "For the word of God is alive and active. Sharper than any double-edged sword, it penetrates even to dividing soul and spirit, joints and marrow; it judges the thoughts and attitudes of the heart."
If you've experienced the transformative nature of God's Word in your own life, there's no doubt you would want your children to have the same hunger in their lives.
The Word of God is something we can all anchor our lives to. Since we as parents cannot guarantee our children won't face hardship, we can only trust that properly equipping them with His Word will give them a firm foundation to stand on.
The big question is, how can we help our children cultivate a love and passion for the Bible?
With so many distractions like electronics and social media pulling for children's attention in this day and age, how can we get our children to see the magnitude and importance of the Bible?
There is no easy answer, but when I found my own love for the Bible it reminded me of baking in the kitchen with my mom. Gathering all the ingredients and reading over the recipe for instruction. Just as we read the recipe and use the measuring cups to produce a delicious result, we also read God's word as our ultimate guide and we hold His Word up as our measurement to produce a beautiful life.
As you embark on the journey of baking with your children in the kitchen it is better to go into it knowing there will be a mess. Yes, they will most likely end up stirring furiously and spilling powdery mix outside of the bowl. They might crack the egg on the counter, but it is all about the learning process.
When we are guiding our children to learn about the Bible it is best to leave room for mistakes.
If we constantly got mad at our children every time they spilled the batter outside of the bowl they would not want to bake with us anymore. It is more important to create open communication with our children for moments to share life and our love for God.
In Proverbs 34:8 it says, "Taste and see that the Lord is good; blessed is the one who takes refuge in him." When someone tastes the word of God for themselves they can see it is sweet and good. When we have an open relationship with our children it builds those "taste and see" moments.
It is no wonder Jesus is referred to as the bread of life. He and His Word are something to encounter and experience. Similarly, when pouring the batter while baking, the delightful smell and gooey appearance will inevitably warrant little hands in the batter for taste testing. When our kids see God working in our lives it will cause the same curiosity for them to want to reach their little hands out for God's goodness.
Ultimately our kids want our time. They want to be around us and enjoy the things we enjoy.
In an article by The Stream, author Bob Hartman shares about his father's love for cars, which led to his own love for cars. In Bob's words, "My dad didn't talk about cars because he thought it was 'good for us.' He didn't sit us down and say, 'It's car time, kids. Pay attention.' He talked about cars because he loved cars. He couldn't help it." As parents, our love for God's word should be so genuine and strong that we can't help but share about it.
Deuteronomy 4:9 says, "Only be careful, and watch yourselves closely so that you do not forget the things your eyes have seen or let them fade from your heart as long as you live. Teach them to your children and to their children after them."
Our testimony is one of the most powerful keys we can give our children.
Show your children in real-time from your own life what Jesus has done for you. Often times our legacy is bound up in our words. They are the stories that are never told, the goodness of God that does not get professed.
Deuteronomy is a strong declaration and warning to never forget what God has brought us through and to. And most importantly, to tell your children of these things so they never forget. When your kids understand that the Bible is a storybook full of testimonies and triumphs, they can better connect how your story and their story play a part.
Photo courtesy: Unsplash/Priscilla du Preez
---
LightWorkers' mission is to create engaging, uplifting and inspirational content that breaks through the clutter, building a community of sharing and igniting a movement in the real world that motivates people to celebrate and share the good all around them.