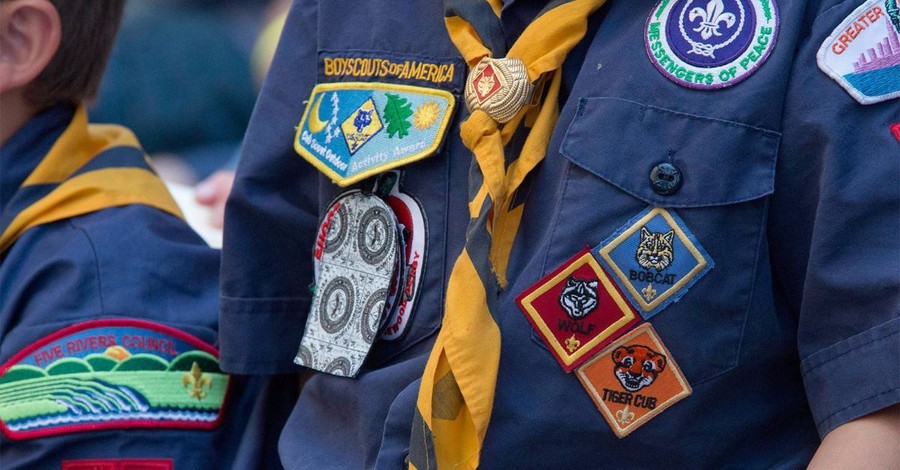 (RNS) — The Boy Scouts of America have seen better days. A lawsuit is alleging that nearly 800 former Scouts were sexually abused by Scout leaders over eight decades. The suit also claims the BSA itself was complicit in what the suit calls a "pedophilia epidemic."
Earlier this year, the BSA commissioned an investigation into the abuse, where the organization uncovered thousands of abusers in its ranks. Some appeared on a list of offenders internally referred to as "perversion files," but many of the abusers were not flagged in BSA's records.
While it's easy to demonize the abusers, we must also recognize that by failing to report, the institution became complicit in their crimes. The BSA has not been transparent about these offenses for years, often responding reactively rather than proactively to complaints about abuse, allowing countless children to endure trauma that will plague them for the rest of their lives. It's time for the organization to reform and make amends.
Such widespread abuse of children should bother us all, but it is especially painful for me. When I was a kindergartner, two teenage boys who were both Boy Scouts took me from my babysitter's home and brutally raped me, continuing their assault throughout various locales around the neighborhood. Though I longed for rescue and wanted to scream, their hands muffled my cries.
As I have read about these recent allegations, I've thought back to that traumatic event and various questions arise. One of the boy's fathers was their scoutmaster and was often present in their home while they violated me in a back bedroom. Why did a father not think it odd that his son and friend escorted a 5-year-old girl there? His unawareness of what was going on in his own home certainly suggests a lack of awareness about what was going on in scouting at large.
When I see a Boy Scout uniform today, I get a stomachache and am suddenly transported back to the Pacific Northwest where my innocence is stolen again and again. This is the nature of trauma — the painful gift that keeps on giving. This is why many victims talk of suicide. Like me, they still flashback to those moments of predation.
Over the past few years, I've researched this issue and have written a book about the problem of institutional self-protection in the face of sexual abuse allegations. Whether it's the Roman Catholic Church, the Southern Baptist Convention or some other organization, consistent patterns emerge.
Upon first hearing allegations, leaders often disbelieve the story or outright deny it. They often discourage the abused from going public, stressing the damage it would cause the abuser and organization. Then they will internally investigate, quietly dismiss the predator and continue to move forward without changing their policies, procedures or the toxic culture that allowed it.
Eventually, more survivors come forward, verifying the pattern of abuse, and they typically bring civil lawsuits, triggering public attention. This is when the organization will backpedal, employ detached grief rhetoric and attempt to appease the outcry, as if they are hoping a Band-Aid apology will stop the bleeding of a now-severed limb. Sound familiar?
The Boy Scouts must start by making amends. Any apology must be specific, detailing how the organization failed survivors, fessing up to what actions it took that harmed others. It must admit its lack of oversight, poor vetting of leaders and any efforts to destroy records. Trust is earned, not granted, and for the public to trust an organization that has so deeply violated it, transparency must become the new pattern of communication.
But public lament is not nearly enough. The organization must also introduce specific policies that will prevent similar crimes from occurring in the future. It can hire truly independent investigators to uncover everything, then heed the findings and recommendations.
The new, robust policies must include deeper, extensive background checks for leaders and volunteers, transparent child protection policies and procedures, and mandatory reporting to the authorities.
Rather than hide its history, the organization must now become an advocate and a haven for those who have been abused. BSA must begin by exposing those who have preyed on others in its own ranks. In order to change their culture, organizations that have done as little as possible in the past need to do abundantly more than is required. It's the only way that any institution that has failed so deeply can restore such a breach of trust. It must happen now.
(Mary DeMuth is a sexual abuse survivor and author, most recently, of "We Too: How the Church Can Respond Redemptively to the Sexual Abuse Crisis." The view expressed in this commentary do not necessarily reflect those of Religion News Service.)
READ THIS STORY AT RELIGIONNEWS.COM. 
Article originally published by Religion News Service. Used with permission.
Photo courtesy: Mary Altaffer/AP Photos/RNS
---
---