Crossing Cultures International
| Sponsored Content
| Tuesday, March 7, 2023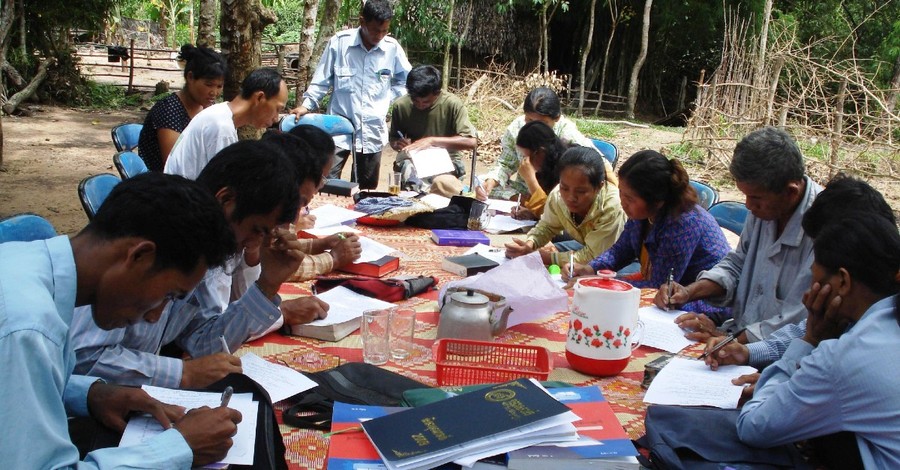 Crossing Cultures International (CCI) is leading the way in how cross-cultural missions are being done. By equipping and training national pastors and church leaders through the local church, the culture remains unaltered as sound biblical knowledge is imparted through a discipleship relationship.
In Matthew 28:16-20, the Lord Jesus commanded us to make disciples of "all nations." He also instructed the apostles to be His witnesses from Jerusalem, Judea, Samaria, and to the ends of the earth. As you may know, the word "nations" is from the Greek word ethne, which means people groups, i.e., a group of people with their own language and culture. According to the Joshua Project, there are 17,443 people groups in the world. Of these, 7,423 are unreached.
Unreached means there are less than a 2% Evangelical Bible-believing presence. Most of these unreached people groups live in the 10/40 Window, which is located 10 degrees to 40 degrees above the equator, from the western rim of Africa to the eastern rim of Japan.
More than 3 billion people live in this area, which is over 40% of the world's population. They have been largely resistant to the gospel, with the predominant religions being Islam, Hinduism, and Buddhism. Even though Indonesia and Mongolia are not located within this Window, they are also considered unreached, and many unreached people groups are in India and Indonesia.
Only 1% of missions giving goes to unreached people groups in the 10/40 Window. Not only are small amounts of missions' dollars going to unreached people groups, but the overwhelming majority of US missionaries are serving in "reached" countries and not in this area of the world.
The mission that Jesus entrusted to us is not just to send and support missionaries but to make disciples of all nations. It costs, on average, $300,000 to send and support a missionary family for five years. With the same amount of funds, we can equip around 2,000 indigenous pastors and church leaders who already know the language and culture. From a financial and strategic standpoint, you can see the value of our mission.
Our strategy and commitment is that the very best evangelist, pastor, church leader, or church planter for a particular people group is someone from that group. Click here to watch a short video about CCI training.
Therefore, the goal of CCI is to effectively train national pastors and church leaders for local church ministry. Nationals already know the language and culture and are less vulnerable to kidnapping. Even in places where theological training may be available, it is expensive, far away from their family and ministry, and often in a different language.
The solution – we bring training to the local church in their language at an affordable price through the discipleship relationship. Through this model of relational training, they are equipped to serve. Their lives are changed, and they are entrusted with biblical understanding, ministry skills, and character development for long-term ministry effectiveness.
The majority of CCI's classes are in India, Nepal, Pakistan, Bangladesh, Myanmar, Thailand, Laos, Cambodia, Vietnam, Malaysia, Indonesia, and the Philippines, where most unreached Muslims live in Mindanao. By God's grace, CCI is equipping pastors and church leaders on six continents, in 37 nations, and reaching 130 people groups.
In Vietnam, we have equipped an indigenous church leader from every people group – all 28 tribes. One group is the Hmong people group. The translation of our curricula is finished in Hmong, and more than 100 indigenous pastors and church leaders are being trained among the Hmong people.
More than 2.2 million pastors are without training. CCI endeavors to equip national church leaders with biblical knowledge, ministry skills, and personal character development in order to become participants in the Great Commission and not just recipients of the gospel. The harvest is plentiful, but the laborers are few.
Will you come alongside CCI and help fulfill The Great Commission?
More than ever, we are compelled to continue to reach more unreached people groups who do not have a personal relationship with our heavenly Father and face the terrible prospect of eternity in the Lake of Fire without ever hearing the gospel of Jesus Christ.
Please pray with us as we seek the Lord to open doors among the least reached. Your financial investment helps us expand the ministry among the unreached. To give and help us reach the nations, visit cciequip.org.
Crossing Cultures International (CCI) equips national pastors and church leaders with comprehensive training, consisting of 520 in-class hours, under the guidance of a Christlike, mature leader who guides the student through the process of acquiring ministry skills, Bible knowledge and a Christlike character to serve effectively. As classes grow in each area or country, we wait for the Lord to point us to a faithful man to whom we entrust the ministry and the resources to oversee this ministry. As leaders are equipped, they train others who train others. As a result, the training is multiplied.
To learn more about CCI's mission, visit cciequip.org. You can sign up for our monthly newsletter and receive a copy of the CCI Ministry President's eBook on Philippians by clicking here.
Images courtesy: CCI
---
---