Charles C. Camosy
| Religion News Service
| Tuesday, April 21, 2020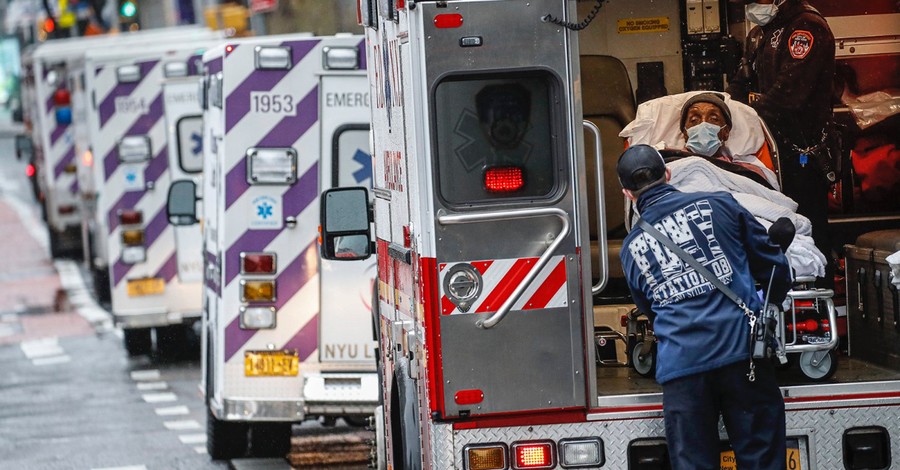 ---
(RNS) — In the first installment of this two-part series, I argue that we should ramp up support for home health care and hospice — if that is what patients with COVID-19 and their families want and there is enough personal protective equipment for everyone involved. Saying a final good-bye to loved ones, or getting last rites from a religious figure, are the kinds of goods that could justify the possibility of a marginally higher infection rate.
Cardinal Cupich of Chicago apparently agrees. He has decided to give priests special training to deliver last rites to people whose lives are threatened by COVID-19. In addition, some hospitals are also now rightly starting to permit family to visit their dying loved ones in person.
These practices are not without controversy. Some believe that everything possible must be done to preserve life. But our best theologians and philosophers have been thinking for centuries about the kinds of "goods" — ultimate, beneficial values — that are at least as important as preserving life.
Each semester, I teach Fordham freshmen in a theology course called Faith and Critical Reason. I ask each group if they have any goods for which they are willing to risk their own deaths. To the extent they do (and the overwhelming majority do), they have also likely identified the thing in their lives that is an irreducible source of ultimate concern.
The exercise prepares them for other courses they will encounter, in which we dive deeply into the Catholic tradition of distinguishing between ordinary and extraordinary means of life-preserving medical treatment — noting how refusing such treatment may be justified for proportionately serious reasons.
This current crisis is slightly different, though, because choosing a slightly higher possibility of exposure to COVID-19 puts others at slightly higher risk as well as oneself. Are there goods beyond what I've just articulated that could justify such risk? Are there proportionately serious reasons for allowing it?
This debate over these questions kicked into high gear a few weeks ago, when Texas Lt. Governor Dan Patrick suggested that older people would gladly put themselves at higher risk from COVID-19 to save the economy for their children. If Patrick meant that older people should risk death so that younger people could, say, preserve what is left of their 401(k), this was obviously a gross and ageist argument.
About the same time, Rusty Reno wrote a piece for First Things mourning the fact that during this pandemic, family members aren't visiting their sick parents, pastors are not ministering to their flock, and the sacraments are being withheld from the people.
But Tim O'Malley's response to Reno noted that priests "are offering drive-thru confessions, live-streaming Masses, and risking their lives (when they can) to anoint the sick and dying." Offering a similar rejoinder in First Things, the Rev. Thomas Joseph White also noted that the Church has temporarily stopped publicly offering Mass during plagues in several different contexts.
Reno seemed to be arguing that even a temporary loss of goods reflecting our irreducible sources of ultimate concern isn't justified by the good of lowering the COVID-19 infection rate. If I am understanding him correctly, I can't help thinking he is on weak ground. Missing Mass for two months, or temporarily not seeing one's parents, are not proportionately serious reasons for possibly putting more lives at risk.
But irreplaceable actions, such as receiving last rites at the hour of one's death or saying final good-byes to one's children, are totally different kinds of goods. And not all of those who express concern about the economic fallout of the pandemic are worrying about young people's robust stock portfolio.
Pope Francis has said rather dramatically that, in a manner of speaking, an economy can "kill." And, indeed, the pope is on firm ground when he highlights the fact that those who live in poverty, especially when they do not have a strong social safety net, die at dramatically higher rates than those who are not in poverty.
If we find ourselves in another Great Depression, the number of deaths that will come from dramatically increased poverty and lack of a social safety net will be very large indeed. What will happen to Medicaid, food stamps, school lunches and unemployment programs if we continue to dramatically undercut the economy for a year or more?
Food insecurity is likely to increase dramatically over this time as our supply chain continues to weaken. The Seattle police department has already seen a 21% increase in domestic violence, and activist groups have noted that, for the first time ever, half the victims calling in to the National Sexual Assault Hotline were minors.
Furthermore, the declines in education, physical fitness and health and overall happiness brought on by our response to the pandemic will affect those on the margins worst of all. These populations were already hit hard by loneliness and deaths of despair. What will come of shelter in place for an extended period?
Neither of the neat and clear answers — (1) open things back up and try to go back to normal or (2) continue what we are doing for the next 12 to 18 months — is viable. The only options available involve a very difficult and imprecise weighing of various, often competing, goods.
This weighing is made even more difficult given the radical moral diversity of U.S. culture. We have everyone from hardcore atheist utilitarians, to social-justice Catholics, to pro-life fundamentalists and everyone and everything in between.
There are personal differences, too. My wife and I are very protective of our two-year-old son who had two separate bouts with pneumonia during the six months before the COVID-19 pandemic arrived in the U.S. For now, no one in our household goes to any indoor places where we may encounter people. We've held training sessions for the kids about how best to wipe down our packages and groceries after they are delivered.
So it is very stressful to think about my older children starting up school again, or my wife going back to work, because according to our pediatrician it will put little Thaddeus at significantly greater risk given the lung damage he has already sustained.
But the wicked problem we currently face as individuals and as a culture is such that there is no choice we can make that will not put the vulnerable at serious risk. The best we can do is candidly and courageously engage the issues, weigh the goods involved and make the best prudential judgments we can.
(The views expressed in this opinion piece do not necessarily reflect those of Religion News Service or Christian Headlines.)
READ THIS STORY AT RELIGIONNEWS.COM
Article originally published by Religion News Service. Used with permission.
Photo courtesy: ©Religion News Service/AP Photo/John Minchillo