Jack Graham
| PowerPoint Ministries
| Friday, March 27, 2020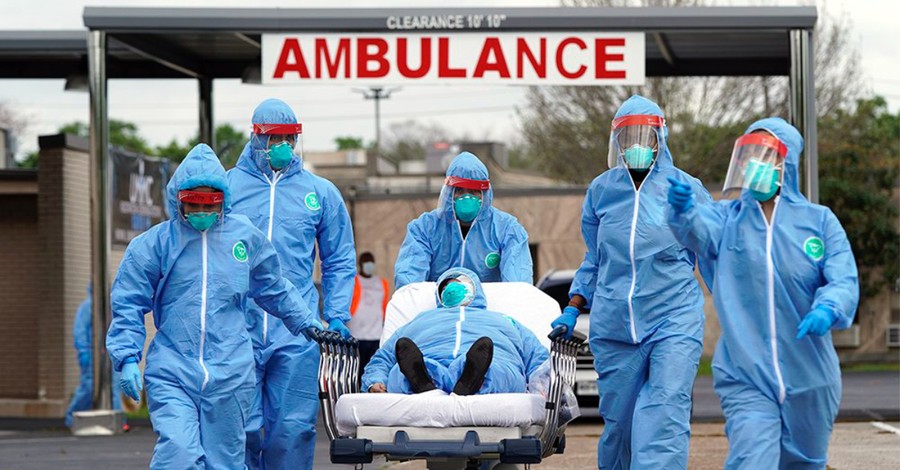 (RNS) — In 2009, when I was battling cancer, a friend said to me, "Jack, I'm praying that you will learn everything you need to learn in the midst of this trial in your life."
My friend's prayer became my prayer: "Lord, teach me what you want to teach me." I think God taught me a lot more than I wanted to know at the time.
Trials are tests that authenticate our faith. They are painful, but they strengthen us spiritually and build our character.
Right now America is living through one of the greatest trials we have faced as a nation. Every day the news headlines about the coronavirus pandemic seem to get worse, and fear and uncertainty are on the rise. What can we learn as a nation and individually during this time?
In the Book of James, the half brother of Jesus and the leader of the church in Jerusalem writes, "Count it all joy, my brothers, when you meet trials of various kinds" (James 1:2).
God is at work in our trials. He wants to grow our character and to bless us in our season of adversity in these four ways:
The blessing of humility
First, trials produce humility. That's why James called himself a servant. He writes in the opening, "James, a servant of God and of the Lord Jesus Christ … " (James 1:1).
James understood the challenges and difficulties that life throws at us. He was the leader of the early church in Jerusalem during a time of famine, hardship and political unrest, and according to church tradition, he was martyred by a mob for his faith. His example is a remarkable testimony of the humility and endurance with which we should serve God and others in the face of adversity.
Trials drive us to our knees, and while it may be painful, it also may be exactly where we need to be to find relief and answers to help us through: on our knees in prayer.
The blessing of stability
To be steadfast is to be immovable. It means standing strong even under immense pressure. This is what trials produce in us. James writes, "Count it all joy, my brothers (and sisters) when you meet trials of various kinds, for you know that the testing of your faith produces steadfastness" (James 1:2-3).
Remaining steadfast in trials is difficult because our first reaction when we experience pain is to escape whatever is causing it. But sometimes we need to do just the opposite. We need to face our trials head-on until we have developed the patience and steadfastness that produces stability in our lives. God wants to bring us to the place where we don't fall apart when bad things happen, so we aren't crushed by a crisis in our lives. Then we will be prepared for something better and greater in our lives than we ever thought possible.
I genuinely believe that America will emerge out of this great trial stronger than ever before. We have done it in the past (think of the Great Depression, World War II or the Cold War), and with God's help, we can do it again.
The blessing of maturity
When my grandkids come to visit, things can get a little wild around the house. They shout and laugh and have the greatest time. But if they're still behaving the same way 20 years from now, that's a problem!
You and I want our kids and grandkids to grow up. God wants his kids to grow up, too. But some of us aren't growing — we keep making the same mistakes in our relationships, finances and personal habits we should have grown out of years ago.
Sometimes trials are the needed catalyst to wake us up and get us going. The steadfastness that we develop during trials leads to maturity. As James writes, "And let steadfastness have its full effect, that you may be perfect and complete, lacking in nothing" (James 1:4).
The blessing of clarity
God often uses our trials to clear our thinking. When we ask God for wisdom, our eyes are opened to what he is doing in our life. James writes, "If any of you lacks wisdom, let him ask God, who gives generously to all without reproach, and it will be given to him" (James 1:5).
Now, we don't always know why the trial is there or even where it came from, but we do get perspective. How often has adversity — be it illness, an accident, financial hardship or another crisis — reminded you of what is most important in life? Trials lift our eyes from the banal things in life we so often waste our time on and help us see the things that truly matter, such as family and faith.
I've discovered that in life pain is inevitable, but misery is optional. It's up to us how we will respond to trials when they come knocking at the door: Will we choose to learn to experience the blessings they can teach us?
(Jack Graham is the pastor of Prestonwood Baptist Church, one of the largest and fastest-growing churches in America. Watch and listen to his sermons at PowerPoint Ministries and follow him @jackngraham. The views expressed in this commentary do not necessarily reflect those of Religion News Service.)
READ THIS STORY AT RELIGIONNEWS.COM
Article originally published by Religion News Service. Used with permission.
Photo courtesy: Religion News Service/AP Photo/David J. Phillip
---
---