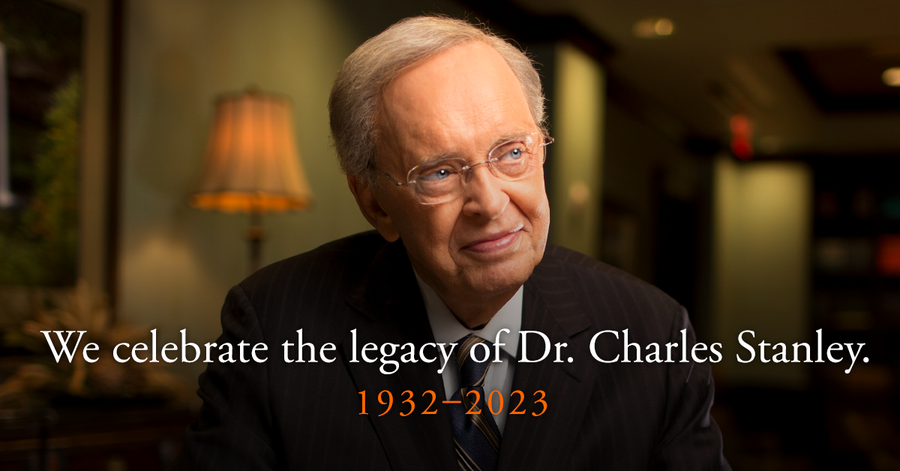 Brought to you by
Few pastors in recent memory have had the reach and impact of Charles F. Stanley (1932-2023).
Like his contemporaries, J. Vernon McGee and Billy Graham, Stanley found great success using radio and television to spread his message. He founded In Touch Ministries, which reports that Stanley's sermons have been translated into 127 languages, and he was "the country's longest-serving pastor with a continuous weekly broadcast program." He was also a bestselling author of over 70 books.
Let's look deeper at his life and the values that drove him.
10 Important Events in Charles Stanley's Life
1. Charles Frazier Stanley was born on September 23, 1932, in Dry Fork, Virginia. His father died from Bright's Disease on June 18, 1933. Stanley would later describe his childhood years—particularly after his mother remarried in 1942 to an abusive alcoholic—as difficult. However, his mother ensured that he attended church weekly, which provided solace.
2. Stanley accepted Jesus as his savior on June 9, 1944, at a service at Pentecostal Holiness Church in Danville, Virginia. Two years later, he felt a call to preach. His grandfather, pastor George Washington Stanley, provided mentoring and advice during these early years.
3. In 1956, Stanley graduated with a bachelor of arts from the University of Richmond, Virginia. During his time there, he met and married Anna Margaret Johnson. The same year he graduated, he was ordained for the ministry at Danville's Moffett Memorial Baptist Church.
4. In 1969, Stanley became the associate pastor of First Baptist Church Atlanta. He became the church's senior pastor in 1971, a position he would hold for nearly 50 years.
5. In 1973, Stanley began giving sermons on "The Chapel Hour," a half-hour TV program broadcast on two Atlanta stations.
6. In 1977, Christian Broadcasting Network offered to broadcast "The Chapel Hour" nationwide. Stanley retitled the program "In Touch with Dr. Charles Stanley," which expanded to reach a huge audience. In Touch Ministries was incorporated in 1982, and it grew to include many other forms of media. Today, In Touch Ministries' magazine reaches over 1.5 million readers, and its programs are broadcast in over 50 languages worldwide.
7. In 1984, Stanley served the first of two consecutive terms as President of the Southern Baptist Convention.
8. In 1988, Stanley was inducted into the National Religious Broadcaster's Hall of Fame.
9. In 2020, Stanley stepped down as senior pastor of First Baptist Church Atlanta to focus on In Touch.
10. Stanley passed away on April 18, 2023, at 90 years old.
10 Inspiring Quotes by Charles Stanley
1. "Granddad told me, 'Charles, if God tells you to run your head through a brick wall, you head for the wall, and when you get there, God will make a hole for it.'" — Courageous Faith
2. "Are your actions and words strengthening your fellow Christians? Or do you gossip, express negativity, and push your own preferences and opinions? Be careful. God has mandated that our conduct positively impact the church's unity. This is essential if we are to accomplish His purpose." — "Togetherness in the Body"
3. "In the midst of our complex and hectic lives, nothing is more urgent, nothing more necessary, nothing more rewarding than hearing what God has to say." — How to Listen to God
4. "One of the greatest hindrances to the gospel's effectiveness is Christians who act one way at church and another way elsewhere. The way we live for God should permeate all areas of life." — "Christians in the Workplace"
5. "He is the only One who knows the plans that He has for us and how they can be fulfilled. They are plans that contain renewed peace and joy." — God Has a Plan for Your Life: The Discovery that Makes All the Difference
6. "When you feel unsatisfied, try basing your response on your position as a co-heir with Christ (Romans 8:17) rather than feelings." — "The Secret Gift of Contentment"
7. "So right now, set your mind on this truth: Our God is a planner. He is not a reactor. He did not set this world in motion to be ruled by chance or wild, unchecked forces. Nor did he create you to live without hope and purpose." — The Will of God: Understanding and Pursuing His Ultimate Plan for Your Life
8. "The fullness of the Spirit and godly character await those who choose God over self." — "How Do We Live a Spirit-Filled Life?"
9. "After brokenness our lives can be the most fruitful and have the most purpose. The dawn after a very dark and storm-wreaked night is glorious." — The Blessings of Brokenness
10. "Obey God and leave all the consequences to him." — famous advice to others, included on his portrait at In Touch Ministries' headquarters
What Can We Learn from Charles Stanley?
1. God can use even the most broken for great things. Stanley openly talked about his childhood trauma—moving 17 times before he was 17 years old and conflicts with his stepfather. Despite his stepfather claiming he would never amount to anything, Stanley went on impact the kingdom in many ways.
2. Legacy may pay off in surprising ways. Stanley's grandfather was also a pastor, and he described his father as also having a calling to share the gospel with people. Stanley's pastoring legacy continued with his son, Charles Andrew "Andy" Stanley.
3. Opposition may come before the blessing. Stanley experienced severe opposition before and after he became senior pastor at First Baptist Church Atlanta. In Deep and Wide, Andy Stanley recalls their family receiving hate mail and a board member punching his father at a meeting. Stanley refused to step down, and ultimately the church experienced great growth and renewal under his leadership.
4. Sometimes, it's good to have a simple message. Stanley recalled that in his early pastoring years, when church leaders wanted him to leave, "They couldn't tell me why. They just said all I preached about was how to get saved, the coming of Jesus, and how to be filled with the Holy Spirit. I just laughed and thought, Well, God, I hope that's true!"
5. Even Christian leaders have struggles and crises. Stanley's wife applied for a divorce in 1993, which resulted in various people calling for his resignation as pastor. After various reconciliation attempts and separations, they officially divorced in 2000. Stanley's church ultimately decided to keep him as pastor. Anna Johnson Stanley passed away in 2014. The In Touch Ministries website carries a statement that "Charles has said he wants the world to remember what was best in Annie as the mother of his children and a woman who served God and others with her whole heart."
6. God can use broken times in unexpected ways. Stanley observed that while his divorce led to loneliness and pain, he was a better pastor after the experience, connecting better with people with struggles.
7. Paying attention to the future allows for greater success. In Touch Ministries reports that a turning point in its ministry came in 1989 when Stanley felt God was calling him to use available technology to broadcast the gospel as far as possible. Its commitment to using new tech led to the ministry translating his messages into over 100 languages.
8. Ministry is not the enemy of creativity. While some pastors disregard creative activities like writing and art as superfluous, Stanley embraced his passion for photography. First Baptist member Tim Olive observed that photography became a restful retreat for Stanley. His photographs frequently appeared within In Touch material.
9. Having the same calling doesn't require using the same methods. While Stanley and his son both became pastors, they clashed over different preaching and evangelism methods. Andy Stanley ultimately left his job at First Baptist Church Atlanta with his father's blessing and developed the highly successful North Point Ministries.
10. Sometimes, the first step to reconciliation is breaking bread with people. Remembering the difficult times when he and his son were estranged, Stanley said he continued inviting Andy to have Sunday lunch with him. Continued interactions, along with counseling, helped them to heal.
10 Inspiring Books by Charles Stanley
1. Courageous Faith: My Story From a Life of Obedience
3. God's Purpose For Your Life: 365 Devotions
4. When You Don't Know What to Pray: 100 Essential Prayers for Enduring Life's Storms
5. 10 Principles for Studying Your Bible
6. The Spirit-Filled Bible: Discover the Joy of Surrendering to the Holy Spirit
7. Surviving in an Angry World: Finding Your Way to Personal Peace
9. The Blessings of Brokenness: Why God Allows Us to Go Through Hard Times
10. How to Let God Solve Your Problems: 12 Keys for Finding Clear Guidance in Life's Trials
You may also enjoy the Charles F. Stanley Bible Study Series, 12 books exploring biblical principles for living a spiritually-centered life.
You can also read Stanley's work on Christianity.com and Crosswalk.com.
To read more about Charles Stanley, go the following:
15 of the Most Influential Quotes from Charles Stanley
Charles Stanley Explains Why it's Important to Follow Jesus, Wherever He May Lead
Photo Credit: ©CharlesStanley/SWNdesign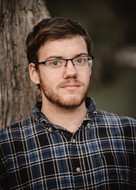 G. Connor Salter is a writer and editor, with a Bachelor of Science in Professional Writing from Taylor University. In 2020, he won First Prize for Best Feature Story in a regional contest by the Colorado Press Association Network. He has contributed over 1,200 articles to various publications, including interviews for Christian Communicator and book reviews for The Evangelical Church Library Association. Find out more about his work here.
---
This article is part of our People of Christianity catalog that features the stories, meaning, and significance of well-known people from the Bible and history. Here are some of the most popular articles for knowing important figures in Christianity:
How Did the Apostle Paul Die?
Who are the Nicolaitans in Revelation?
Who Was Deborah in the Bible?
Who Was Moses in the Bible?
King Solomon's Story in the Bible
Who Was Lot's Wife in the Bible?
Who Was Jezebel in the Bible?
Who Was the Prodigal Son?
This article originally appeared on Christianity.com. For more faith-building resources, visit
Christianity.com.
---
---