Dr. James Emery White
| Gordon-Conwell Theological Seminary
| Thursday, March 28, 2019
They say a picture tells the story of a thousand words.
According to the General Social Survey (GSS), Evangelicals are holding relatively steady at just under a quarter of the American population (22.5%), though in a long-term decline since the mid-'90s.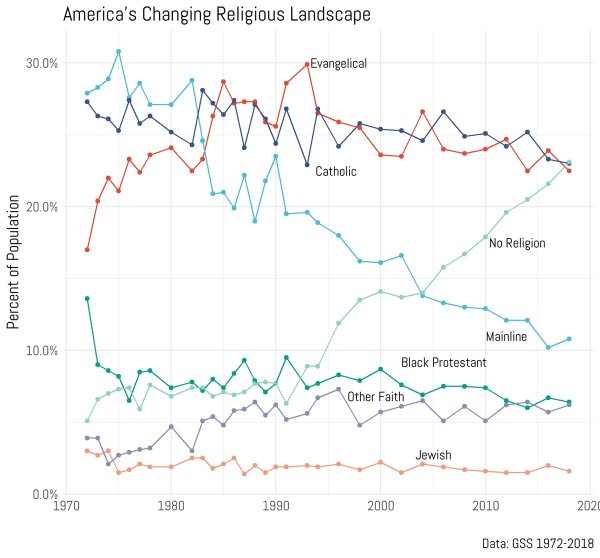 The "nones", however, are skyrocketing and by GSS calculations now represent 23.1% of the population.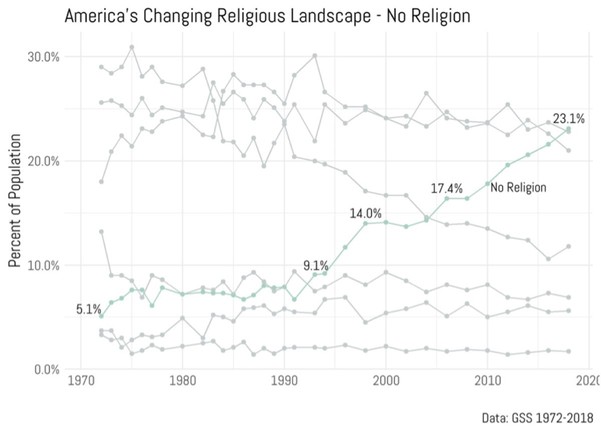 Let the story be told.
James Emery White
Sources
"Results of the 2018 General Social Survey Now Available to the Public," NORC at the University of Chicago, March 19, 2019, read online.
Ryan P. Burge, "Evangelicals Show No Decline, Despite Trump and Nones," Christianity Today, March 21, 2019, read online.
About the Author
James Emery White is the founding and senior pastor of Mecklenburg Community Church in Charlotte, NC, and the ranked adjunctive professor of theology and culture at Gordon-Conwell Theological Seminary, where he also served as their fourth president. His latest book, Meet Generation Z: Understanding and Reaching the New Post-Christian World, is available on Amazon. To enjoy a free subscription to the Church & Culture blog, visit ChurchAndCulture.org, where you can view past blogs in our archive and read the latest church and culture news from around the world. Follow Dr. White on Twitter and Instagram @JamesEmeryWhite.