Dr. James Emery White
| Gordon-Conwell Theological Seminary
| Thursday, April 4, 2019
According to the latest information from the General Social Survey, the "share of U.S. adults reporting [having] no sex in the past year reached an all-time high in 2018." Further, among the "23% of adults – or nearly 1 in 4 – who spent the year in a celibate state, a much larger than expected number of them were 20-something men."
The overall rise is not so surprising. The 60-and-older demographic jumped from 18% of the population in 1996 to 26% in 2018. That group has consistently reported around 50% having no sex, so when their numerical size grows, so will the overall percentage.
But it's the younger demographic that is intriguing observers. "The portion of Americans 18 to 29 reporting no sex in the past year more than doubled between 2008 and 2018, to 23%."
And not only that, it is young men driving the rise. "Since 2008, the share of men younger than 30 reporting no sex has nearly tripled." This is "a much steeper increase than the 8 percentage point increase reported among their female peers."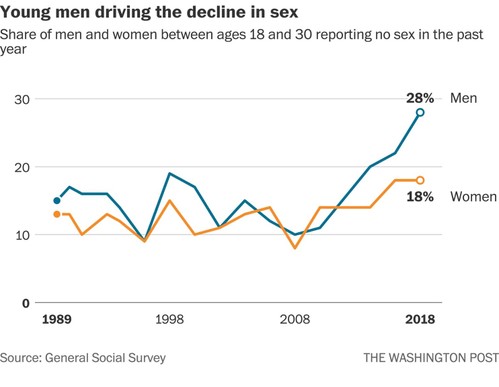 Those interviewed on the data by The Washington Post gave varying reasons for the phenomenon. Some said it was "primarily attributable to partnering up later in life." Or because they "don't have a live-in partner." Or it's attributable to a drop in "labor force participation in men," since researchers see a "connection between labor force participation and stable relationships." Young men "are also more likely to be living with their parents than young women." And at the risk of stating the obvious, "when you're living at home it's probably harder to bring sexual partners into your bedroom."
But it was the final potential factor, almost buried amid the other explanations, that I would argue is the real culprit.
Technology.
Not in the sense that "there's a lot more things to do at 10 o'clock at night now than there were 20 years ago… streaming video, social media, console games…"
No, not that. I would argue for "technology" as the culprit in terms of pornography. The largest free pornographic sharing site was launched in August of 2006. As of February 2014, it was the 83rd most popular website overall. According to SimilarWeb, as of February 2019, three of the top 10 most visited websites in the world were adult in nature.
Does that timing seem coincidence?
No other generation has had pornography so available, and in such degrees, at such a young age. Seventy percent of all 18- to 34-year-olds are regular viewers. The average age to begin viewing? Eleven. It's been called the "wallpaper" of their lives. In 2014, one porn site alone had more than 15.35 billion visits. No, that is not a typo. That's billion with a "b". To put that into perspective, at the end of 2015 the entire population of the world was just more than 7 billion.
And what is this doing?
One thing we're learning is that the more someone is exposed to pornography, the more it harms their relationship with their current, or future, spouse/partner. It is absolutely bogus to say that watching porn enhances a sexual life. Instead, it cheapens it.
Porn quickly becomes a substitute for sexual intimacy.
So I'm not surprised by the latest findings of a drop in sexual activity among younger men. But let's be clear: they are certainly being sexual.
It's just not with a physical person.
James Emery White
Sources
Christopher Ingraham, "The Share of Americans Not Having Sex Has Reached a Record High," The Washington Post, March 29, 2019, read online.
Holly Finn, "Online Pornography's Effects, and a New Way to Fight Them," The Wall Street Journal, May 3, 2013, read online.
Niamh Horan, "Porn Now the Wallpaper of Our Lives," Independent, October 18, 2015, read online.
About the Author
James Emery White is the founding and senior pastor of Mecklenburg Community Church in Charlotte, NC, and the ranked adjunctive professor of theology and culture at Gordon-Conwell Theological Seminary, where he also served as their fourth president. His latest book, Meet Generation Z: Understanding and Reaching the New Post-Christian World, is available on Amazon. To enjoy a free subscription to the Church & Culture blog, visit ChurchAndCulture.org, where you can view past blogs in our archive and read the latest church and culture news from around the world. Follow Dr. White on Twitter and Instagram @JamesEmeryWhite.