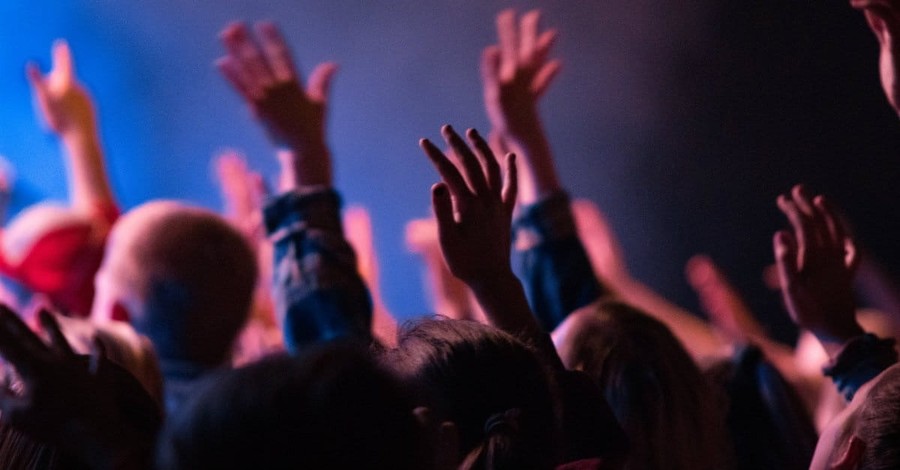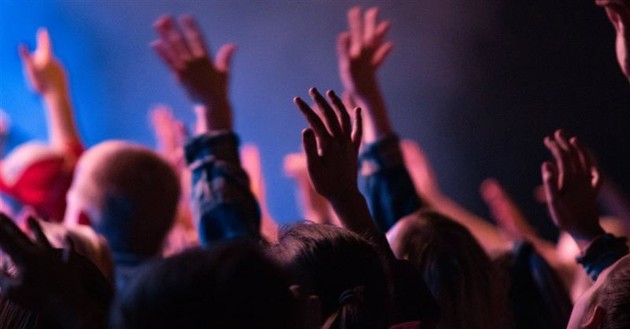 Are you a member of a church?
Most would answer, "no."
Well, half would answer that way.
Church membership among adults has gone into a freefall, from 70% in 1999 to 50% in 2019. This, after holding steady at approximately 70%, as charted by Gallup, for more than eight decades.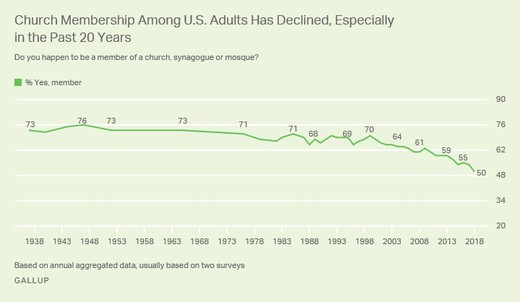 Let me put this out there: If you are a follower of Christ, you should be a member of a church. Period.
 
Here's why.
 
Once you come to Christ and go public with that decision through baptism, the Bible says the third step is to get connected with the community of a local church. If for some reason that's not possible, do it digitally. (Yes, I believe I can make a missional case for that, but let's keep going.)
 
If you take a walk through the New Testament, and specifically the four biographical accounts of the life and teaching of Jesus, you'll notice a distinct pattern. Jesus asked people to follow Him. And when Jesus asked someone to follow Him and they said "yes," the next relational step was always to join with the community He was building in order to do life with others who had also made the decision to follow Him.
 
This was so ingrained in those who chose to follow Jesus, that you find a beautiful description of the early church that Luke was inspired by the Holy Spirit to write. It is found in the second chapter of the book of Acts, after Peter stood up and called people to faith in Christ and some 3,000 responded. It reads this way:
 
"They devoted themselves to... the fellowship... All the believers were together and had everything in common... Every day they continued to meet together... They broke bread in their homes and ate together...." (Acts 2:42-47, NIV)
 
I like how Eugene Petersen paraphrases this section in The Message:
 
"That day about three thousand... were baptized and were signed up. They committed themselves to the teaching of the apostles, [and] the life together...." (Acts 2:42, Msg)
 
But this wasn't just some generic kind of community. It wasn't just a loose network of relationships. 
 
It had a name. 
 
It was called church. 
 
The word church is a translation of the Greek word ecclesia, which means "the called out ones"—the new community established between human beings in and through Christ.
 
But this community isn't just some turned-inward "lovefest" that's all about hanging out together, doing life together, supporting each other and growing tight. Yes, the Bible talks about church being a fellowship or, as it refers to it in the Greek, a koinonia. But if that's all you have, you don't have koinonia, you have "koinoitis." We're supposed to be a community on mission.
 
We're trying to redeem the world,
 
... which means we're trying to bring the light of the message of Christ to people who have yet to experience Him as Forgiver and Leader in ways that penetrate the post-Christian culture.
 
We're trying to restore the world,
 
... which means we're trying to address the brokenness of poverty and hunger, racism and injustice, to stop the hemorrhaging of this world before it bleeds to death.
 
And we're trying to renew the world,
 
... which means we're trying to bring forth the good, the true and the beautiful through art and policy, education and media, creating a culture that offers glimmers of the shining glory of the Kingdom of God.
 
And you aren't a part of it?
 
You say, "But it's just a man-made organization."
 
Let's bracket off that you put your name on the rolls of a lot of man-made organizations: country clubs, homeowner's associations, YMCAs, soccer leagues, etc.
 
But is the church in that camp?
 
Um, no. 
 
Take a look at the words of Jesus Himself:
 
"... I [am putting] together my church, a church so expansive with energy that not even the gates of hell will be able to keep it out." (Matthew 16:18, Msg)
 
Or maybe your objection is that you don't believe in organized religion.
 
Okay, but does that mean what you're after is DISorganized religion?
 
Another reason may be that you think something else is already the church for you.
 
I've had students in college say that their campus group is their church; I've had people say their Bible study or small group is their church; I've had people say that their family functions as their church. I've even heard some people say (God theologically help them) that they "home-church." I even had the CEO of a bottling company tell me that his business was the church!
 
Let me say this as clearly as I can:
 
A company is not the body of Christ instituted as the hope of the world by Jesus Himself.
 
A marketplace venture that offers itself on the New York Stock Exchange is not the entity that is so expansive with energy that even the gates of hell can't withstand its onslaught. 
 
An assembly of employees in cubicles working for end-of-year stock options and bonuses is not the gathering of saints bristling with the power of spiritual gifts as they mobilize to provide justice for the oppressed, service to the widow and the orphan, and compassion for the poor.
 
Neither is your family, your small group, your Bible study, parachurch group, television ministry nor anything else you want to put in place of what the Bible so clearly describes. If everything is the church, then nothing is the church. You can't just call any gathering of Christians the church.
 
The Bible is very clear.
 
The church is where there is a clearly defined community, made up of people of faith of every race, ethnicity, gender and age. 
 
The church has defined entry and exit points, so that it can have integrity as to who is part of the church and who is not.
 
It must be a place where the Word of God, as put forward in Scripture, is proclaimed in its fullness. 
 
It is to have clear organizational roles, such as set-aside pastors, as well as corporate roles based on spiritual gifts, such as teachers and leaders.
 
The church is to gather for public worship as a unified community of faith, including the stewarding of the sacraments of baptism and the Lord's Supper.
 
And, of course, the church is to organize and then unleash itself for the mission of Christ to this world.
 
That's the church.
 
And you are to be a member of one.
 
Yes, member.
 
Card-carrying, signed-on, name-on-the-line member.
 
As the apostle Paul wrote,
 
"... you are a member of God's very own family... and you belong in God's household with every other Christian." (Ephesians 2:19, LB)
 
So,
 
… are you?
 
James Emery White
 

Sources
 
Jeffrey M. Jones, "U.S. Church Membership Down Sharply in Past Two Decades," Gallup, April 18, 2019, read online.
About the Author
James Emery White is the founding and senior pastor of Mecklenburg Community Church in Charlotte, NC, and the ranked adjunctive professor of theology and culture at Gordon-Conwell Theological Seminary, where he also served as their fourth president. His latest book, Meet Generation Z: Understanding and Reaching the New Post-Christian World, is available on Amazon. To enjoy a free subscription to the Church & Culture blog, visit ChurchAndCulture.org, where you can view past blogs in our archive and read the latest church and culture news from around the world. Follow Dr. White on Twitter, Facebook and Instagram.