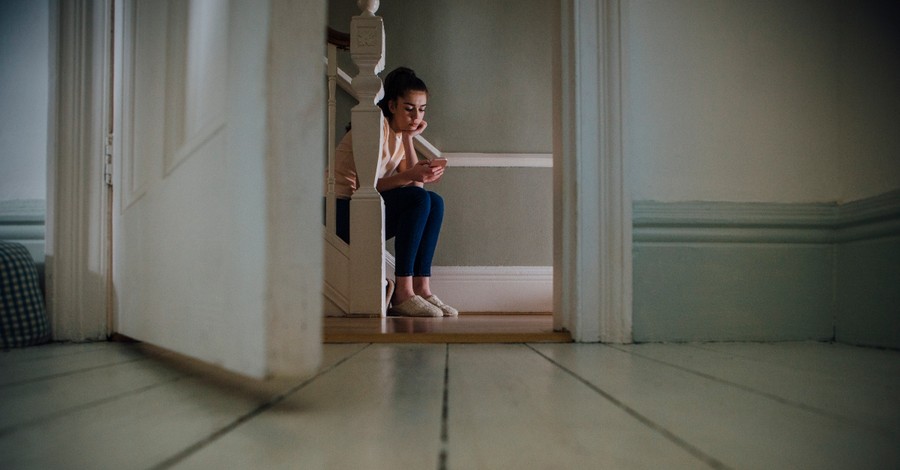 According to a new report from the US Surgeon General's office, lacking social connections "can increase the risk of premature death to levels comparable to smoking daily." Loneliness increases the risk of premature death by nearly 30 percent and elevates our risk of stroke, heart disease, depression, anxiety, and dementia.
Technology is making this problem worse: people who use social media for two hours or more daily are more than twice as likely to report feeling isolated than those who are on such apps for less than thirty minutes a day.
"A reason for living and some hope"
May is Mental Health Awareness Month. (For an excellent resource, please see Dr. Lane Ogden's "What does the Bible say about mental health" on our website.) As a result, we'll see a plethora of information like the Surgeon General's report in the coming days. In the midst of all the bad news, however, here's some good news: according to the Wall Street Journal, America is seeing a "surprising surge of faith among young people."
A recent survey found that about one-third of eighteen-to-twenty-five-year-olds say they believe in the existence of a higher power. This is more than the percentage who doubt such an existence and is up from about one-quarter in 2021. The Journal explains: "Young adults, theologians, and church leaders attribute the increase in part to the need for people to believe in something beyond themselves after three years of loss."
An eighteen-year-old college student is typical of many: Believing in God "gives you a reason for living and some hope."
However, in another new survey, only 31 percent of younger Americans said religion was very important to them, which was the lowest percentage of all adult age groups. Another study found that only 20 percent of this age group attend religious services monthly or more, down from 24 percent in 2019.
A warning from the "Godfather of AI"
When a driver stops using the fuel his car was designed to depend upon, he should not be surprised when his car stops running.
A recent Harvard poll found that 48 percent of Americans between the ages of eighteen and twenty-nine felt unsafe recently. Twenty-one percent say they've felt unsafe at school; 40 percent are concerned about being victims of gun violence or a mass shooting; 73 percent believe homelessness could happen to anyone; and 32 percent fear they could one day be homeless.
More signs of the times: There are twice as many security guards employed in the US compared with twenty years ago. Due to financial volatility such as the ongoing banking crisis, older adults are entering a "retirement minefield." And an artificial intelligence pioneer often called "the Godfather of AI" is warning that AI technologies will upend the job market and could pose a threat to humanity.
Feeling fear in a fallen world is inevitable. Having no one to trust with our fears is not.
A science-based approach to mental health
As our society focuses on mental health this month, I'd like to offer a suggestion: spend some time each day thinking less about yourself as a creature and more time thinking about creation and the Creator.
New York Times opinion writer and Anglican priest Tish Harrison Warren writes that "we need to take up the task of embracing the goodness of the palpable, analog world, whether it be to make time for a hike or to notice the sweetness of gentle rain or to revel in the bitterness of good coffee or to listen to the laughter of children."
She quotes priest, author, and chef Robert Farrar Capon, who claimed that "God is the biggest materialist there is." Capon explained that since God created the material world, he must enjoy it even more than we do.
When we consult the field of epigenetics, we find physiological reasons why focusing on the beauty of creation and the glory of our Creator is good for our mental health. These scientists study changes in gene expression that do not alter the underlying DNA sequence. As a result, they report that our environment, lifestyle, and thoughts can lead to changes in our physical, mental, and emotional well-being.
For example, chronic stress and negative thoughts can lead to changes in gene expression associated with inflammation and an increase in chronic diseases. However, practices such as meditation, mindfulness, and positive thinking influence gene expression to promote relaxation, stress reduction, and improved immune function. Over time, focusing on positive aspirations can lead to tangible changes in our brains and, thus, our reality.
Why God became one of us
The magnificence of creation and the majesty of the Creator intersect most fully in the One who is "the image of the invisible God" by whom "all things were created" (Colossians 1:15-16). In Jesus, God became one of us so we could be one with God.
This is why, as we noted yesterday, a daily, transforming relationship with the living Lord Jesus is so vital for us. Such intimacy with Christ feeds our souls, strengthens our mental health, and empowers our cultural impact.
So, don't settle for a religion about Jesus when you can have a personal relationship with him. Imagine yourself walking alongside him all through this day. Talk with him about the challenges and opportunities you encounter. Ask him to speak by his Spirit into your mind and spirit. Make it your first priority today to practice his presence.
I am convinced that if every Christ follower truly followed Christ, our lonely, fearful, dangerous world could not be the same.
Will you join me in testing my assertion today?
NOTE: If you're a pastor or church leader, please visit this page for a free resource entitled "What does Gen Z believe? And why we should care" and an accompanying video in exchange for subscribing to A Pastor's View, our twice-weekly email newsletter for pastors and church leaders.
Publication date: May 3, 2023
Photo courtesy: ©Getty Images/DGLimages
The views expressed in this commentary do not necessarily reflect those of Christian Headlines.
For more from the Denison Forum, please visit www.denisonforum.org.
The Daily Article Podcast is Here!
---
---