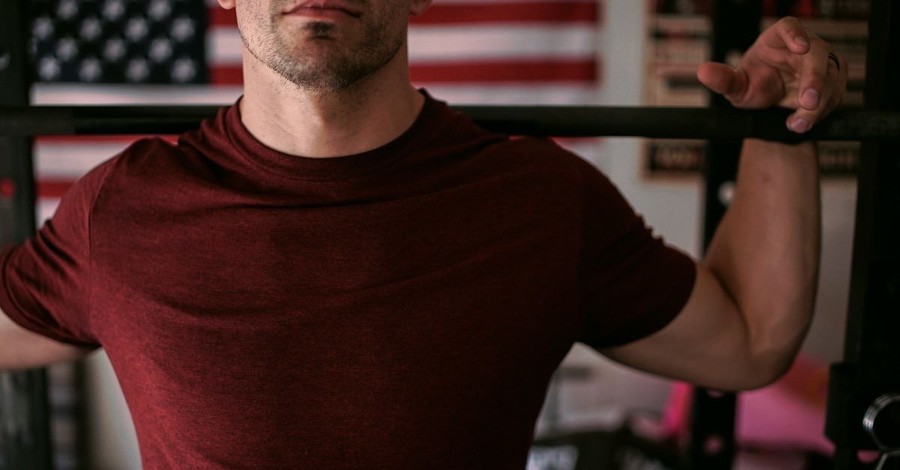 Hunter Wallace is a wrestler at Northwest High School in Justin, a suburb of Fort Worth, Texas. He didn't win a single match this year, but he is the captain of his team. His coach explains why: "Hunter's one of those kids that leads by example. He's always positive. I've never heard the kid complain."
Hunter also has cerebral palsy. 
As the reporter who told his story says, Hunter has "an upper body built like an ox, but wobbly legs." Nonetheless, he wanted to do squats to get stronger. A video of his workout went viral. 
Hunter explains: "You got the right mentality, heart, and God in front of you, nothing will stop you. You just gotta push through it." He adds: "I'm just like a normal person. God made me who I am." 
"Enemy-occupied territory" 
Affliction finds us all. 
World leaders and citizens from more than thirty countries are mourning the loss of 157 people who died when their Ethiopian Airlines jet crashed yesterday morning. The victims included at least thirty-two Kenyans, eighteen Canadians, nine each from Ethiopia and France, eight each from the US, China, and Italy, and seven from the UK. 
Meanwhile, the Islamic State is losing its last territorial foothold, but terrorism experts believe that jihadis will continue their activities around the world. In related news, the Wall Street Journal reports that Osama bin Laden's son, Hamza, is an emerging leader in al Qaeda. According to the State Department, he has been calling on followers to carry out attacks on the US and has been declared a Specially Designated Global Terrorist. 
C. S. Lewis explained the reason for the adversity we face every day: "This is a civil war, a rebellion, and . . . we are living in a part of the universe occupied by the rebel. Enemy-occupied territory—that is what this world is." 
The good news is that, like Hunter Wallace, when we trust God in our afflictions, our rebellious world takes note. 
"The waters have come up to my neck" 
David was so close to God that the Lord called him "a man after my heart" (Acts 13:22). Nonetheless, he began Psalm 69 with the cry, "Save me, O God! For the waters have come up to my neck. I sink in deep mire, where there is no foothold; I have come into deep waters, and the flood sweeps over me" (vv. 1–2). 
His words are in Scripture because they tell our story as well. 
When we read about Joseph's innocent suffering (Genesis 39:19–20), or Elijah's lonely despair (1 Kings 19:4), or Hosea's marital pain (Hosea 3:1–3), those who face similar struggles know they are not alone. 
Reading through the book of Job, I was struck by this remarkable phrase: God "delivers the afflicted by their affliction" (Job 36:15). The text does not say that God delivers the afflicted "out of" their affliction, but "by" it. 
Paul agreed. In Romans 8, the apostle cited grave threats facing believers: tribulation, distress, persecution, famine, nakedness, danger, and sword (v. 35). Then he declared: "In all these things we are more than conquerors through him who loved us" (v. 37). We are conquerors in our challenges, not despite them. 
One way God redeems suffering 
If Hunter Wallace did not have cerebral palsy, you would probably not know his name. Without Pharaoh, would we know of Moses? David had his Goliath, Daniel his lions, Paul his prisons, John his Patmos. 
One way our Lord redeems suffering is by using it to show the world the power he provides in the midst of pain. 
Rather than sparing Joseph from slavery and prison, God used his years in Egypt to save the Jewish race. Rather than keeping Shadrach, Meshach, and Abednego from the fiery furnace, God protected them in its flames. 
Rather than removing Paul's "thorn in the flesh," God taught him to "boast all the more gladly of my weaknesses, so that the power of Christ may rest upon me" (2 Corinthians 12:9). Rather than transporting John from Patmos, Jesus visited his beloved disciple on his prison island and gave him the book of Revelation.  
How to "please the Lord" today 
When we face sickness, we should ask God for healing (James 5:14). When believers are imprisoned for their faith, we should pray for their release (cf. Acts 12:5). Whatever our challenges, we should ask God for help (Matthew 7:7). 
Sometimes God redeems suffering by removing it. Jesus healed the sick and raised the dead; God freed Peter from Herod's prison (Acts 12) and Paul from his Philippian jail (Acts 16). 
At other times, he redeems our suffering by sustaining us in it. 
If God has not yet removed your "thorn in the flesh," look for reasons why. Look for lessons he is teaching you and ways he is glorifying himself through your courageous faith. 
You may not understand this side of glory all that God is doing with your pain (1 Corinthians 13:12). But we know that our Father loves us as much as if we and our circumstances were perfect (1 John 4:8). We know that he is glorified in our rebel-occupied world when we trust him in hard places. 
And we know that he is greatly pleased if we trust him when we do not understand him.  
In the same psalm where David cried out to God in desperation, he later testified: "I will praise the name of God with a song; I will magnify him with thanksgiving. This will please the Lord more than an ox or a bull with horns and hoofs" (Psalm 69:30–31). 
How can you please the Lord today?
For more from the Denison Forum, please visit www.denisonforum.org.
The Daily Article Podcast is Here!
Publication Date: March 11, 2019
Photo Courtesy: Brad Neathery/Unsplash.jpg
---
---