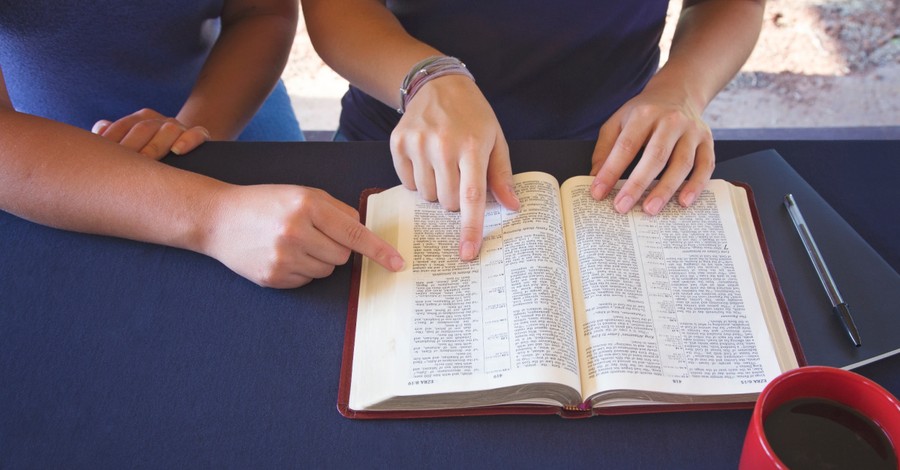 Would you like to know your actual "biological age"? Would you like to learn whether you have physical conditions that are associated with increased risks of mortality? Your eyes apparently hold the key.
A new study says your retina may be able to provide doctors with a way to "evaluate underlying pathological processes of systemic vascular and neurological diseases" you would not otherwise recognize. Doctors could then treat these conditions proactively, improving your health and even extending your life.
What we cannot see is determinative in many ways of what we can.
AT&T and Verizon have agreed to delay their rollout of 5G within two miles of airports as the FAA studies the potential impacts of this technology on flights. Reports are now surfacing that three of Tonga's small islands "suffered devastating consequences" from last Saturday's tsunami waves produced by the eruption of an undersea volcano.
And a home in San Francisco no one would buy based on its appearance recently sold at auction for nearly $2 million. Even though it is hazardous and currently unlivable, it sold due to the perceived desirability of its location.
In each case, forces we cannot see are directly influencing actions we can.
As gently as he can or as harshly as he must
This fact is true culturally and spiritually as well. For example, the unseen fact that lost people are lost explains so many of the consequences of lostness we see in the news every day.
This week we've been discussing redemptive ways Christians can relate to a culture that is, in New York Times columnist David Brooks' assessment, "falling apart at the seams." As we have explored ways we can share with our fellow sinners the good news of God's grace, we have focused on the urgency of compassion.
Today let's discuss the compassion of urgency.
I often say that "it is always too soon to give up on God." No matter how bleak things seem, no matter how vociferous the opposition to biblical morality becomes, our Lord is still the king of the universe. Nothing I write today surprises him. He sees the end from the beginning (Isaiah 46:10) and is sovereign over our world.
However, the longer we harden our hearts to God's correction and direction, the more difficult change becomes and the more punitive God's judgment must become to effect that change. He deals with us as gently as he can or as harshly as he must. To presume on his grace is to forfeit his grace.
"I love you enough to let you hate me"
Peter captured this balance perfectly. He assured us, "The Lord is not slow to fulfill his promise as some count slowness, but is patient toward you, not wishing that any should perish, but that all should reach repentance" (2 Peter 3:9). Then he warned us, "But the day of the Lord will come like a thief, and then the heavens will pass away with a roar, and the heavenly bodies will be burned up and dissolved, and the earth and the works that are done on it will be exposed" (v. 10).
Stated bluntly, our compassion for the lost must be expressed with urgency since Jesus told us that "whoever believes in [Jesus] is not condemned, but whoever does not believe is condemned already, because he has not believed in the name of the only Son of God" (John 3:18).
Jesus' best friends and closest associates shared his urgency. John restated Jesus' message: "Whoever believes in the Son has eternal life; whoever does not obey the Son shall not see life, but the wrath of God remains on him" (John 3:36). Peter warned the Jewish authorities, "There is salvation in no one else, for there is no other name under heaven given among men by which we must be saved" (Acts 4:12).
The more we love someone, the more we are willing to tell them hard truths even if they resent us for doing so. Erma Bombeck used to tell her children, "I love you enough to let you hate me." The doctor who doesn't want to hurt his patient's feelings by telling her that she has cancer does his patient no favors. His "compassion" is actually the opposite.
The only reason I will go to heaven when I die
As we have seen this week, we are to share the gospel with the lost out of solidarity with them as fellow sinners.
When Ezra learned that many of the Jews in Israel had intermarried with Gentiles, he reported, "I tore my garment and my cloak and pulled hair from my head and beard and sat appalled" (Ezra 9:3). We might expect his first words to condemn them for their sinfulness. Instead, his first words were a prayer of contrition for sins he had not committed: "O my God, I am ashamed and blush to lift my face to you, my God, for our iniquities have risen higher than our heads, and our guilt has mounted up to the heavens" (v. 6, my emphasis).
When Nehemiah learned of the grievous condition of Jerusalem, he prayed, "confessing the sins of the people of Israel, which we have sinned against you. Even I and my father's house have sinned. We have acted very corruptly against you" (Nehemiah 1:6-7, my emphasis). When Daniel recognized the spiritual condition of his people, he prayed, "We have sinned and done wrong and acted wickedly and rebelled, turning aside from your commandments and rules" (Daniel 9:5, my emphasis).
The only reason I am going to heaven when I die and lost people are going to hell when they die is that someone shared the gospel with me and I accepted the salvation it offered my soul. I am no better than anyone else. The door out of our spiritual prison stands open for anyone who will walk through it.
Now that I know both the grace and the urgency of salvation, how can I not share that grace with urgency?
"The deepest questions of the human heart"
Billy Graham said of the Bible: "It alone answers the deepest questions of the human heart—questions that have not changed over the centuries. Who am I? Why am I here? Where did I come from? Where am I going when I die? How should I live? Only the Bible gives us firm answers to these questions—and the reason is because it is God's word, given by him to guide us and point us to Christ."
You and I can give everyone we know the answers to the most urgent questions of life.
Is there a more urgent privilege?
Publication date: January 20, 2022
Photo courtesy: ©Getty Images/Pamela D. McAdams
The views expressed in this commentary do not necessarily reflect those of Christian Headlines.
For more from the Denison Forum, please visit www.denisonforum.org.
The Daily Article Podcast is Here!
---
---