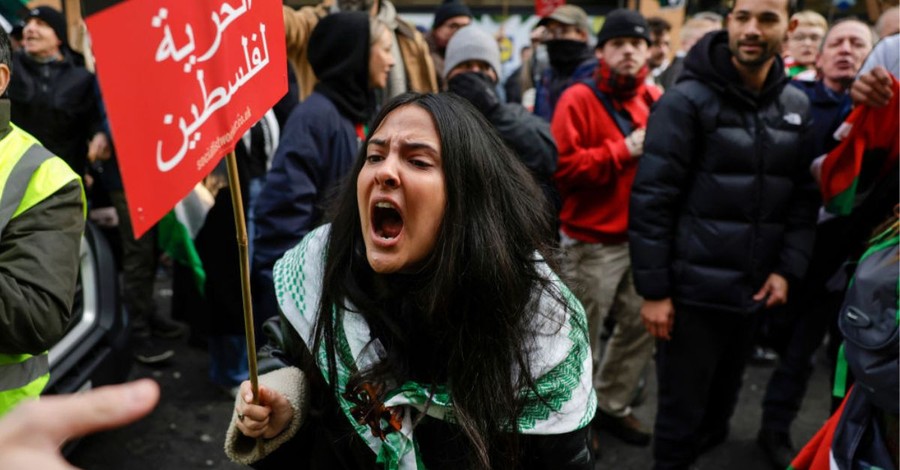 A month ago today, Hamas launched a barbaric attack on civilians in Israel. When the news broke, who would have guessed that such horrific atrocities would provoke rising animosity, not against the perpetrators but against the people they seek to eradicate? So why is antisemitism rising?
Cornell University canceled all classes recently after a student was arrested for allegedly threatening violent attacks against Jewish students at the college. There has been an increasing police presence on campus since the threats were made.
After Harvard alumnus and hedge fund manager Bill Ackman met with students and faculty last week, he described antisemitism on campus as "much worse" than he realized and said, "Jewish students are being bullied, physically intimidated, spat on, and in several widely-disseminated videos of one such incident, physically assaulted." He called on Harvard's president to take immediate steps to reduce antisemitism on campus.
The Anti-Defamation League has documented a nearly 400 percent rise in antisemitic incidents across the US since October 7. As part of this escalation, it reports fifty-four antisemitic incidents at American universities.
What explains this surge in antisemitism on our college campuses?
Two crucial factors
Protests against Israel at America's universities are nothing new. For example, a movement to "boycott, divest from, and sanction" Israel has been popular on college campuses since it was launched in 2005. Opposition to Israel escalated after Hamas's invasion on October 7, even before Israel began a military response. In the weeks since such opposition has become deafening.
In response, I wrote a website white paper yesterday explaining in detail two factors involved in this complex issue.
First, I responded to the claim that Israel is an "occupying colonizer" who stole its land from its rightful Palestinian owners. I noted:
The original owners of the land were Canaanites, from whom Jews conquered the region under Joshua. Their descendants now live in Lebanon and bear no genealogical relationship to the Palestinians.
Present-day Palestinians are descendants of the Arabs who first conquered the land in AD 640, not the Philistines for whom the region is named. These Arab Muslims took the land from the Jews and Christians who lived there prior to their conquest.
Since the time of Joshua, there has always been a Jewish presence in the land; Jews repopulated it alongside Arab Palestinians in recent centuries.
An autonomous nation called Palestine would have been created by the United Nations in 1947, but Arab leaders rejected it.
Thus, Israel did not steal the land from its rightful Palestinian owners. If anything, the Palestinians' ancestors stole it from the Jews who were there prior to AD 640.
Second, I addressed the claim on college campuses that Israel is oppressing the Palestinian people with its military response to Hamas.
I noted that Hamas is using the Palestinian population as human shields, hiding its soldiers and weapons in tunnels beneath hospitals, schools, and mosques. Just one such tunnel requires enough construction supplies to build eighty-six homes, seven mosques, six schools, or nineteen medical clinics. In addition, Hamas continues to steal fuel, medical supplies, and provisions intended for the civilian population.
Israel must respond to Hamas's atrocities in order for its citizens to be able to live in their own land. However, the cease-fire being demanded on college campuses would only enable Hamas to strengthen its position in Gaza. As the Wall Street Journal noted, "No other country on earth would agree to the terms of defensive engagement that much of the world wants to impose on Israel."
"His dominion is an everlasting dominion"
As you can see, two simple but erroneous concepts—that Israel is an occupying colonizer and oppressor of the Palestinians—are inflaming opposition to Jews on college campuses and across America today. They illustrate the fact that ideas, whether right or wrong, change the world.
I have visited Cuba ten times over the years and grieve for the suffering of its people under the tragic ideology of Communism. I have visited Yad Vashem, the holocaust museum in Jerusalem, many times over the years and grieve each time as it explains Hitler's claim that the Jews were to blame for Germany's decline and must be eradicated.
I also grieve for our nation as the intellectual cancer of moral relativism continues to metastasize across our culture. C. S. Lewis warned in his 1943 work, Abolition of Man, that abandoning objective values based on unchanging principles would lead to our decline and "abolition" as humans. We are watching his prophecy come to pass more and more each day.
This is why God's admonition is so urgent: "These are the things that you shall do: Speak the truth to one another; render in your gates judgments that are true and make for peace" (Zechariah 8:16). Said differently, we are to "contend for the faith that was once for all delivered to the saints" (Jude 3).
The best way you and I can do this is to know Christ and make him known. When Jesus returns, he will be "given dominion and glory and a kingdom, that all peoples, nations, and languages should serve him" (Daniel 7:14a). This is because "his dominion is an everlasting dominion, which shall not pass away, and his kingdom one that shall not be destroyed" (v. 14b).
Accordingly, let's make these words from the Book of Common Prayer our intercession today:
Lord Jesus Christ, you stretched out your arms of love on the hardwood of the cross so that everyone might come within reach of your saving embrace. So clothe us in your Spirit that we, reaching forth our hands in love, may bring those who do not know you to the knowledge and love of you, for the honor of your Name.
Amen.
Photo Courtesy: ©Getty Images/Jeff J Mitchell / Staff
Publish Date: November 7, 2023
The views expressed in this commentary do not necessarily reflect those of Christian Headlines.
For more from the Denison Forum, please visit www.denisonforum.org.
The Daily Article Podcast is Here!
---
---