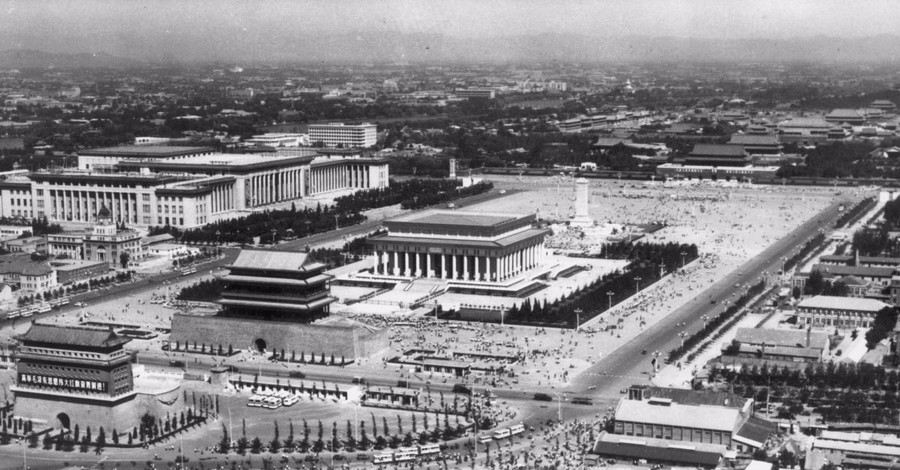 Tiananmen Square consists of 109 acres in the heart of Beijing, China. Ironically, the name means "Gate of Heavenly Peace." First constructed in 1420 during the Ming dynasty, it was the entrance to the Imperial City and the Forbidden City (the homes of emperors and their households for almost five hundred years).
When I visited several years ago, I was amazed by the massive size of the square. And by the fact that it displays no indication whatsoever that one of the most dramatic events of my lifetime took place there. 
"Tank man" makes history 
In 1989, weeks of pro-democracy protests led to demonstrations by more than a million people in Tiananmen Square. Thirty years ago today, the Chinese government ordered its military to reclaim the area. 
Troops reached the square around 1 a.m. the following morning, June 4, leading to hundreds of deaths and thousands of arrests. An official death toll has never been released. Several dozen people were later executed for their parts in the demonstrations. 
Mention of the massacre is banned in China still today. 
Perhaps the most iconic moment came when an unidentified protester stood in front of a line of tanks, blocking their progress. The so-called "tank man" stood there for several minutes before he was pulled aside by onlookers.
The church's "spectacular growth" 
The same day the Chinese government massacred hundreds of pro-democracy demonstrators, Communist Party leaders watched as pro-democracy candidates in Poland supplanted Communist rule. Pope John Paul II's support was indispensable to their success. 
Writing for the Wall Street Journal, Nina Shea and Bob Fu describe what happened to Christians in China after the Tiananmen massacre. Shea directs the Hudson Institute's Center for Religious Freedom. Dr. Fu was a student leader during the Tiananmen Square demonstrations and founded ChinaAid "to bring international attention to China's gross human rights violations and to promote religious freedom and rule of law in China." 
It was my privilege to meet with Dr. Fu a few years ago; I have followed his courageous career with gratitude. 
Shea and Fu state that Chinese Christianity experienced "spectacular growth" over the thirty years after Tiananmen and report that "there could be well over 100 million Chinese Christians." They cite projections that China could have nearly 250 million Christians by 2030. By contrast, the Communist Party numbers ninety million. 
To counter such tremendous growth, President Xi Jinping last year began enforcing religious regulations to bend the church to the party's leadership. 
"A high-tech digital dictatorship" 
According to Shea and Fu, ten thousand Protestant churches were ordered shut last year in Henan province, even though most were registered with the state. During 2018, more than one million Christians were threatened or persecuted; five thousand were arrested. 
Mr. Xi's regulations ban minors from entering churches and forbid Sunday schools and Bible camps. Christian symbols are sometimes being replaced in churches with pictures of Mr. Xi. Police ordered facial-recognition cameras installed in one Protestant megachurch in Beijing, prompting the pastor to close the church. 
China expert and social scientist Steven Mosher warns that the persecution of Christians in China is unfolding in unprecedented ways. He reports that local officials have been instructed by the central government not to permit the public expression of religious sentiment anywhere in the towns they control. As a result, these officials are removing crosses from churches and confiscating Bibles and other religious articles from private homes. 
Mosher also reports that the Chinese government is using smartphones, video surveillance, social media, and other technology to monitor its citizens. It then rewards or punishes them through a social credit system. 
For example, everyone is required to have a Xi Jinping app on his or her smartphone. It is called "Study Xi Strong China"; everyone is required to study Xi on their smartphone for half an hour daily and answer a quiz. If a person misses a session, his or her social score is penalized. 
Through the app, big data, artificial intelligence, and surveillance techniques, the Communist Party has developed what Mosher calls "a high-tech digital dictatorship." He warns: "What we have in China is an unfolding persecution the world has never seen the likes of. It's not a persecution where Christians are being arrested and fed to lions, but it's a persecution where Christians are being arrested for their very thoughts."
"They are doomed to lose this war" 
As the world focuses this week on the Tiananmen Square massacre, let's focus on the spiritual war being waged for the souls of more than a billion Chinese people. Just as we are to "pray for those who persecute you" (Matthew 5:44), so we are to pray for those who are being persecuted (cf. Hebrews 13:3). 
Please pray for persecuted Chinese believers to be protected and sustained by God (Psalm 46:1). Pray for them to experience "the hope to which he has called you [and] the riches of his glorious inheritance in the saints" (Ephesians 1:18). Pray for them "to be strengthened with power through his Spirit in your inner being" (Ephesians 3:16). And pray for them "boldly to proclaim the mystery of the gospel" (Ephesians 6:19). 
God promises his people: "No weapon that is fashioned against you shall succeed" (Isaiah 54:17). Therefore, let's say with confidence: "The Lord is my helper; I will not fear; what can man do to me?" (Hebrews 13:6). 
Shea and Fu quote a Chinese pastor and his wife who were arrested in December and are awaiting trial for subversion: "In this war . . . the rulers have chosen an enemy that can never be imprisoned—the soul of man. Therefore they are doomed to lose this war."
For more from the Denison Forum, please visit www.denisonforum.org.
The Daily Article Podcast is Here!
Publication Date: June 3, 2019
Photo Courtesy: Getty Images/31Keystone Stringer
---
---