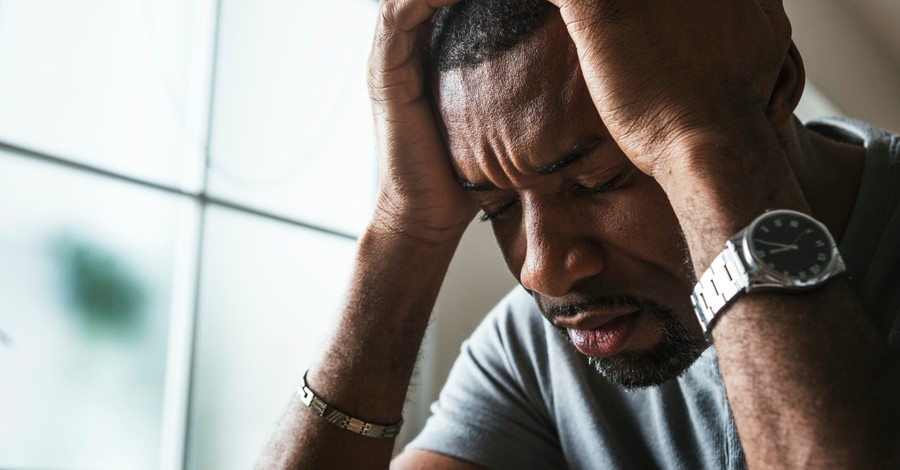 Gallup has published its "Negative Experience Index" for 2021 with the headline, "World Unhappier, More Stressed Out Than Ever." The report is illustrated with a photo of a woman sitting with her elbows on her knees, hands holding her hair, and eyes clenched in sadness and discouragement.
The headline is appropriate in that the Negative Experience Index is higher than at any time since Gallup began doing this research in 2006 and 50 percent higher than in 2007. Gallup's "Positive Experience Index" also decreased for the first time since 2017.
These facts led me to expect the actual numbers to be as dire as the photo accompanying the article. But the contrary is actually the case.
The Negative Experience Index stands at 33, which means 67 percent of respondents are not negative about their lives. In fact, while the Positive Experience Index fell, it still stands at 69 percent.
In 2021, 42 percent of adults worldwide said they experienced a lot of worry, which means 58 percent did not. Twenty-eight percent experienced sadness, which means 72 percent did not. And the Gallup survey averaged scores from 122 countries and areas, including Afghanistan (where their Positive Experience Index understandably stands at 32), for example.
British scholar John Lubbock noted, "What we see depends mainly on what we look for."
Subway employee killed in dispute over mayonnaise
Some years ago, Janet and I led a study tour to Greece and Turkey. Outside the ancient city of Ephesus, we visited a Turkish factory where we bought a decorative rug that hangs on the wall of my home study to this day.
During our visit, our group watched some of the weavers at work. Their fingers moved so quickly that it was hard to follow their motions. We were told that they could work for years on a single tapestry.
However, as I watched one of them work, I was singularly unimpressed with what she was making. Her fabric was knotted and gnarled; the colors clashed; the pattern was unimpressive. Then I walked around the loom to the side where the weaver sat. There, everything was artistic and harmonious.
You and I are living on the wrong side of the "loom."
Abortions can resume in some Texas clinics after a judge blocked a pre-Roe v. Wade ban.
President Volodymyr Zelensky issued a call at the United Nations yesterday for world leaders to punish Russia after a Russian missile strike killed at least eighteen people at a mall in central Ukraine. Members of a Houston church are grieving after their beloved pastor was killed in a road rage incident. And a Subway employee was shot and killed over "too much mayonnaise" on a customer's sandwich.
Where do we turn for hope on this side of eternity?
"The further from a viper the better"
Addressing his exiled people in Babylon, the Lord spoke through his prophet, "Depart, depart, go out from there; touch no unclean things; go out from the midst of her; purify yourselves, you who bear the vessels of the Lᴏʀᴅ" (Isaiah 52:11). They were to bring nothing from the Babylonian pagan culture with them as they returned to rebuild the Holy City and "bear the vessels of the Lᴏʀᴅ" for the temple.
In 2 Corinthians 6:17, Paul quoted this text in a broader application to our engagement with the fallen culture. In this context, he asked, "What partnership has righteousness with lawlessness? Or what fellowship has light with darkness?" (v. 14). The clear answer is "none."
Commenting on this biblical imperative, Charles Spurgeon advised: "When the town is on fire, our house cannot be too far from the flames. When the plague is abroad, a man cannot be too far from its haunts. The further from a viper the better, and the further from worldly conformity the better."
The great British pastor then showed us how to obtain such personal purity. In a reflection on Hebrews 12:2, "looking to Jesus, the founder and perfecter of our faith," he wrote: "If we would at once overcome Satan and have peace with God, it must be by 'looking unto Jesus.' Keep thine eye simply on him; let his death, his sufferings, his merits, his glories, his intercession, be fresh upon thy mind; when thou wakest in the morning look to him; when thou liest down at night look to him."
How you can 'abound in hope' today
We're focusing this week on the urgency and power of living in submission to God's Spirit (Ephesians 5:18). When we surrender our minds, perspectives, and days to him, he draws us closer to Jesus. As John Calvin noted, the "Holy Spirit is the bond by which Christ effectually unites us to himself."
The closer we are to our risen Lord, the more we are able to see the world through the prism of his love, presence, and sovereign power. And the more "the God of hope [will] fill you with all joy and peace in believing, so that by the power of the Holy Spirit you may abound in hope" (Romans 15:13).
Author and speaker Wayne W. Dyer noted, "Loving people live in a loving world. Hostile people live in a hostile world. Same world." Philosopher Friedrich Nietzsche similarly observed, "Those who were seen dancing were thought crazy by those who could not hear the music."
Are you listening to the "music" of the Spirit today?
NOTE: At Denison Forum, we publish The Daily Article email newsletter and podcast, The Denison Forum Podcast, and our many books, articles, and videos in order to challenge and inspire Christians across the globe to live out God's calling in their lives. If you stand with our mission, please consider donating today to help meet our summer fundraising goal of $482,173 by July 31
Publication date: June 29, 2022
Photo courtesy: ©Getty Images/Rawpixel
The views expressed in this commentary do not necessarily reflect those of Christian Headlines.
For more from the Denison Forum, please visit www.denisonforum.org.
The Daily Article Podcast is Here!
---
---