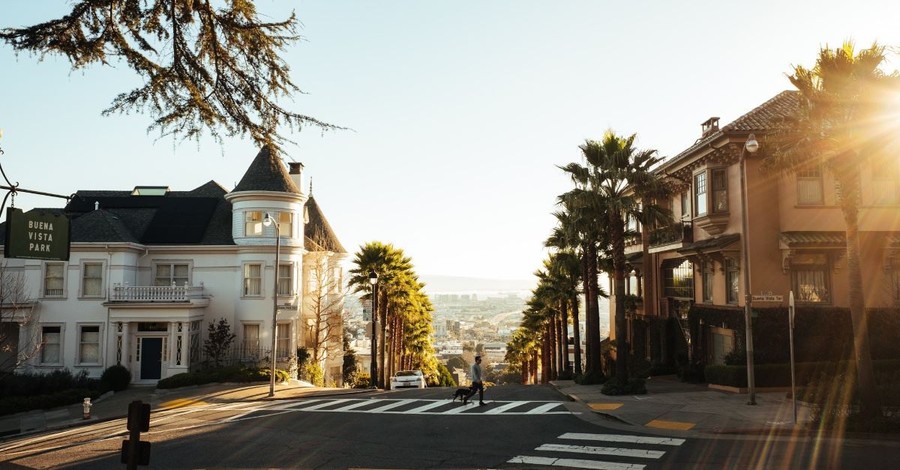 If a structural engineer in Southern California is right, half a million people in his state are living in buildings that are likely to collapse if an earthquake strikes.
Called "soft-story" structures, they are apartment buildings with a parking lot underneath. They were a popular way to combine housing and parking in California's post-war boom. But the posts that carry the building's weight were often designed to maximize parking space, not to withstand the side-to-side shifting of an earthquake. 
A powerful tremblor can collapse these posts and the structures they support. Some owners are taking steps to retrofit their buildings, but many more properties are at risk. 
"Soft-story" buildings are a metaphor for our times. There is peril in our world we cannot see on the surface. All seems fine today, but when a crisis strikes tomorrow, the hidden danger becomes all too apparent and devastating.
"I only did what I had to do" 
Crisis reveals character. Consider two examples. 
A man ran into a burning building in Aberdeen, Washington, last Thursday to save his eight-year-old niece. When a fire broke out in their home, he rushed inside, grabbed her, and took his shirt off to wrap around her face so she would not inhale smoke. 
Derrick Byrd, age twenty, is recovering in a Seattle hospital from burns on his face, neck, arms, and back. He said, "I don't care if I was burning. I just wanted to make sure I got her out."
On the other side of the world: you may not remember Filippo Magnini, the Italian swimmer who won a bronze medal in the 2004 Olympics. But the man he saved from drowning will not forget him. 
Off the Mediterranean island of Sardinia, the man was chasing a float that had been carried by the wind into the ocean. He began to struggle in the water, so lifeguards rushed to deploy a rescue boat. 
However, Magnini was closer. He quickly reached the drowning man, keeping his head above water until lifeguards arrived. "I only did what I had to do," he said later.
Who we are when no one is looking 
Our private character is the foundation for our public lives. Who we are when no one is looking is who we truly are. 
Our enemy knows the significance of personal integrity. That's why he attacks our character in every way he can. 
As we noted yesterday, Satan hates us and will never offer a moment of pleasure or apparent happiness unless he knows that it will cost us more than it will give us. His strategy is based on three facts about sin: 
Our future loss will exceed the present "gain." Sin will inevitably cost us more than it gives.
The eternal loss from our sin outweighs the present pleasure. We will lose reward in heaven we can never regain.
The opportunity loss from our sin exceeds the gain it offers. Sin keeps us from serving God and others.
Three facts about obedience 
The good news is that God's grace offers precisely the opposite response for obedience to his word and will. 
Our future gain will exceed the present "loss." Paul testified, "I consider that the sufferings of this present time are not worth comparing with the glory that is to be revealed to us" (Romans 8:18). 
The eternal gain from our obedience outweighs its present cost. When we stand before God in judgment, we will "receive a reward" for every act of obedience (1 Corinthians 3:14). 
The opportunity gain from our service exceeds the sacrifice it requires. God will use our faithfulness to change lives and extend his kingdom in ways we may not see this side of glory (cf. Revelation 7:13–17). 
"God's almighty power will flow through you" 
Let's close with more good news: when we choose to obey our Father's call and word, we position ourselves to be empowered and transformed by his omnipotent love. 
Oswald Chambers: "It really is true to say, 'I cannot live a holy life,' but you can decide to let Jesus Christ make you holy. 'You cannot serve the Lord . . .'—but you can place yourself in the proper position where God's almighty power will flow through you." 
In fact, it is essential that we admit we cannot live for God in our strength: "The person who is still relying and trusting in anything within himself is the last person to even come close to saying, 'I will serve the Lord.'" 
Here's the question, according to Chambers: "Do I really dare to let God be to me all that He says He will be?" 
Do you? 
For more from the Denison Forum, please visit www.denisonforum.org.
The Daily Article Podcast is Here!
Publication Date: July 11, 2019
Photo Courtesy: Robert Bye/Unsplash
---
---