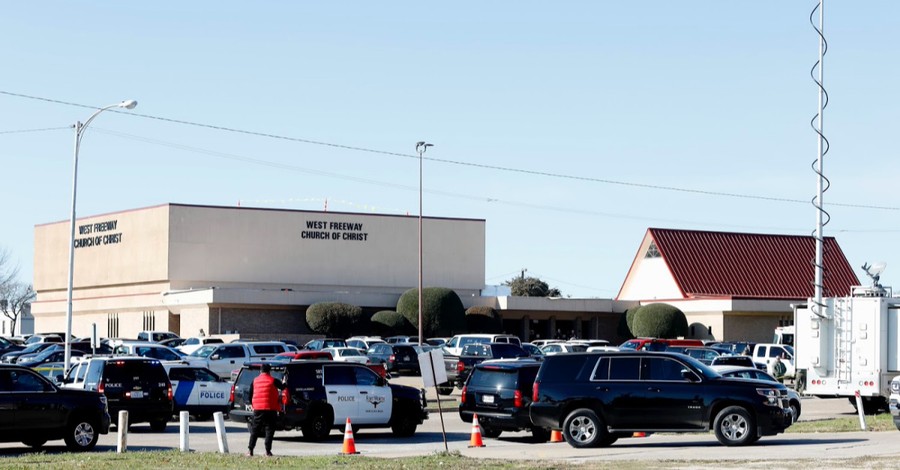 Gunfire broke out yesterday morning during worship services at the West Freeway Church of Christ in White Settlement, a suburb of Fort Worth, Texas.
A gunman shot two people before two members who are part of the church security team shot him. The gunman and one of his victims died at the hospital. A second victim was resuscitated on the way to the hospital but died later.
One of the victims, Anton "Tony" Wallace, was a husband, father, grandfather, and registered nurse. His daughter said, "You don't think it's going to hit home and the fact that it hit our home and someone that supports us and loves us and is our dad [is gone], that's what hurts the most."
China intends to rewrite the Bible
Attacks on Christians are escalating worldwide. For example, more than a thousand Christians have been killed in Nigeria this year. One believer said, "Our home is destroyed. The hospital was burnt. They tried to burn the roof of the church by piling up the chairs, like a bonfire. Life is frightening."
Ideological pressure is being brought against our faith as well. For instance, China intends to rewrite the Bible to reflect its Communist ideology. The Committee for Ethnic Affairs has announced a "comprehensive evaluation of the existing religious classics aiming at contents which do not conform to the progress of the times."
According to reports, "Jesus Christ's parables" will have to fall "in line with the Communist Party, failing which they run the risk of being purged from the bibles [sic] available to the faithful."
Religious persecution is not limited to Christians. Communist officials in China are targeting the Qur'an and Buddhist texts for revisions as well. And anti-Semitic hate crimes in New York City are up 50 percent this year. Assaults on Jews nationally are up 105 percent over last year. Especially horrifying was the stabbing attack Saturday night that left five Hasidic Jews wounded.
To summarize, the Associated Press reports that "houses of worship were attacked with deadly frequency in 2019." Christians, Buddhists, Muslims, and Jews all suffered assaults.
"The key not to the past, but to the future"
Corrie ten Boom was released from the Ravensbruck Concentration Camp in Northern Germany seventy-five years ago today.
She and her family had been arrested because of their work with the underground resistance in their native Holland, where they sheltered Jews from the Germans during World War II. Her parents were murdered; her sister died of starvation at Ravensbruck.
Corrie was released on this day due to a clerical error. She spent the rest of her life proclaiming the gospel of forgiveness and grace.
Her story illustrates this fact: opposition to our faith is an opportunity for Jesus.
When we use persecution and temptation to turn to our Lord in dependent commitment, we position ourselves to experience his presence and provision in transforming ways. Then, as he empowers us, our courage and perseverance become a powerful witness to a skeptical and antagonistic culture.
Speaking of challenges to our faith, Corrie ten Boom noted: "I know that such memories are the key not to the past, but to the future. I know that the experiences of our lives, when we let God use them, become the mysterious and perfect preparation for the work he will give us to do."
What Hanukkah teaches us
The Bible is filled with proof that she is right.
David learned from defeating lions and bears that he could defeat Goliath with the help of God (1 Samuel 17:36). Paul learned from his "thorn in the flesh" that God's "power is made perfect in weakness" (2 Corinthians 12:9). When John met the risen Christ on the prison island of Patmos, he learned that our Lord is truly "with [us] always, to the end of the age" (Matthew 28:20; Revelation 1:12ff).
The Jewish tradition of Hanukkah is another reminder of God's past provision and future help. In the second century before Christ, Seleucids (Syrian-Greek forces) controlled Israel and tried to paganize the nation. Against all odds, Jewish soldiers led by Judas the Maccabee defeated them, reclaimed the temple in Jerusalem, and rededicated it to the service of God. ("Hanukkah" means "dedication.")
However, when they sought to relight the Menorah (the seven-branched candelabrum), they found only a single cruse of olive oil that had escaped contamination by the Greeks. Miraculously, this one-day supply of oil lasted for eight days, until new oil could be prepared under conditions of ritual purity.
To commemorate and publicize these miracles, Jewish leaders instituted the festival of Hanukkah. The ancient celebration that ends tonight reminds Jews around the world that as God has been faithful in the past, he will be faithful in the future.
A question worth reflection today
Each time we read of religious persecution, we should stop and pray for those being persecuted. We should ask God to protect them, strengthen them, and use their courage to advance his kingdom for his glory.
Would you stop and offer such intercession right now?
And, as we consider their suffering, let's remember Corrie ten Boom's claim that "the experiences of our lives" can become "the mysterious and perfect preparation for the work [God] will give us to do." For example, I learned from the ways God provided for our family after my father died that I could trust him to provide for our family when our son was diagnosed with cancer.
As one year ends and another begins, here's a question worth reflection today: What has your past taught you about God's future?
NOTE: It's hard to believe that only two days remain in 2019. This year in The Daily Article, I've covered incredible stories of culture-changing Christians and challenging news items that seem to attack our most foundational beliefs.
But I believe that 2020 may be our most demanding year yet as Christians in a post-truth culture. There are only 48 hours left to have your gift DOUBLED by a generous matching grant (up to $175,000)! Please give now to have a lasting impact.
Publication date: December 30, 2019
Photo courtesy: ©Getty Images/Stewart F House/Stringer
The views expressed in this commentary do not necessarily reflect those of Christian Headlines.
For more from the Denison Forum, please visit www.denisonforum.org.
The Daily Article Podcast is Here!
---
---