Jim Denison
| Denison Forum
| Thursday, January 17, 2019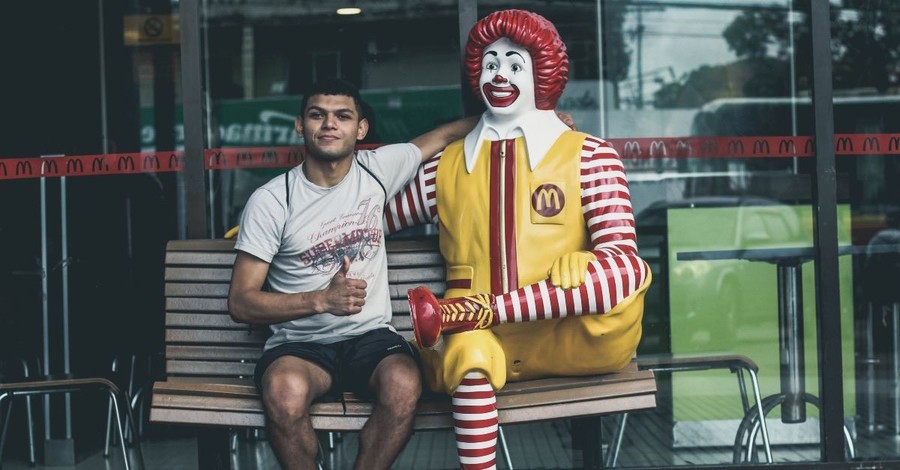 Christians in Israel are protesting a sculpture in a museum depicting Ronald McDonald as "McJesus." The artwork displays the clown crucified on a wooden cross. It is part of an exhibition called "Sacred Goods," which is intended to highlight ways our faith is dominated by the consumer culture.
Christians have been demonstrating in front of the Haifa Museum of the Arts, demanding that it remove the artwork. In response, the museum posted signs at the exhibit entrance warning that it contains content some might find disturbing.
As usual, relational challenges are dominating the news.
Citing security concerns, House Speaker Nancy Pelosi has asked President Trump to reschedule his State of the Union address or deliver it in writing if the government remains shut down. The spouses of Jeff Bezos and Lauren Sanchez reportedly knew about their affair for months before it was made public. And The Bachelor's Colton Underwood has told reporters that gymnast Aly Raisman was his "first love" and "worst heartbreak." 
Are your friends really your friends?
Relational health is more important to our health than we might imagine.
Think of those you consider to be friends. Studies show that only 34 percent to 53 percent feel the same way about you.
This is important for obvious reasons related to honesty and psychological well-being, but also to physical health. Research indicates that those with stronger social relationships are 50 percent more likely to live longer.
A new report further documents the link between relational health and physical health. It shows that international students moving to an unfamiliar socio-cultural context can experience significant anxiety. That's not news. But this is: such anxiety is correlated to systemic inflammation in their bodies, which can lead to cardiovascular disease and poor overall health.
Why am I afraid to tell you who I am?
Our greatest desire is to be fully known and fully loved. But our culture teaches us that the two are adversaries. The more you know me, the less you will love me. The more you love me, the less you know me.
Years ago, John Powell wrote a masterful book, Why Am I Afraid to Tell You Who I Am? The answer, in short: because I'm afraid you won't love me if I do.
There's only one person who knows us fully and loves us fully. Because God is omniscient, he "looks on the heart" (1 Samuel 16:7) and "knows everything" (1 John 3:20). And because "God is love" (1 John 4:8), he loves you and me with an "everlasting" and "steadfast" love (Jeremiah 31:3; Deuteronomy 7:9).
No one else is omniscient. No one else's essential nature is love. That's why no one else can know us fully and love us fully.
Here's why this fact matters. As Craig Denison notes, "Until your longing to be fully known and fully loved is satisfied in the wealth of God's affection for you, you will never stop seeking it elsewhere. Until you know beyond a shadow of a doubt that you are cared for, thought about, liked, and wanted by your Creator, you will never stop trying to satisfy those needs in others."
And we know how that turns out.
"A new commandment I give to you"
What does God's omniscient, unconditional love for us mean in practice?
Here's what it doesn't mean. It doesn't mean that we should see ourselves as more valuable simply because God knows us fully and loves us fully.
The Lord knows things about us others do not, but this is not why he loves us more than they do. He loves us because he is love. His love is an expression of his nature, not our merit. As a result, we need never fear that he will learn something about us that will cause him to love us less.
Here's what God's unconditional love does mean: we should seek to love others and ourselves as he loves us. Jesus was clear: "A new commandment I give to you, that you love one another: just as I have loved you, you also are to love one another" (John 13:34). Just as could be translated "in the same way."
Our Lord wants us to love each other as unconditionally as he loves us. And to love ourselves in the same way (Matthew 22:39).
How? The first "fruit of the Spirit" is love (Galatians 5:22). When the Holy Spirit controls and empowers us (Ephesians 5:18), he manifests the love of God in and through us. It's not that we love ourselves and others more fully–we experience and share his love.
Imagine the impact of our influence on our culture if every Christian loved every person he or she knows with the love of Christ.
"A current seemed to pass from me to him"
Years after the Holocaust, survivor Corrie ten Boom met one of the former guards at her concentration camp. She could not find it in her heart to forgive him. So she asked God, "Give me Your forgiveness."
Then, "As I took [the guard's] hand, the most incredible thing happened. From my shoulder along my arm and through my hand, a current seemed to pass from me to him, while into my heart sprang a love for this stranger that almost overwhelmed me."
That day, Corrie ten Boom learned a vital fact: "It is not on our forgiveness any more than on our goodness that the world's healing hinges, but on His. When He tells us to love our enemies, He gives, along with the command, the love itself."
For whom do you need his love today?
For more from the Denison Forum, please visit www.denisonforum.org.
The Daily Article Podcast is Here!
Publication Date: January 17, 2019
Photo Courtesy: Unsplash/Niver Vega
---
---