Jim Denison
| Denison Forum
| Wednesday, November 23, 2022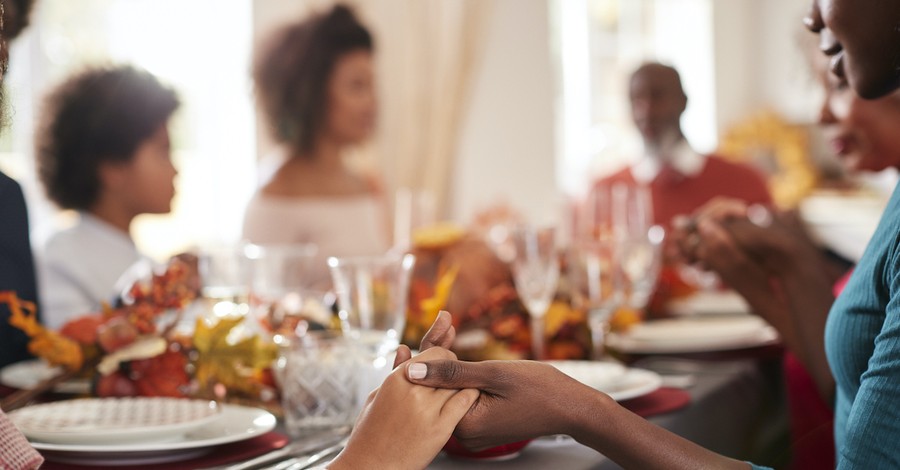 At least seven people are dead after a mass shooting at a Walmart supermarket in Chesapeake, Virginia, last night. The shooter, believed to be the store manager, opened fire and then turned the gun on himself and is now dead.
In other news, Virginia's football game against Virginia Tech that was scheduled for Friday has been canceled in the aftermath of the shooting that claimed the lives of three Cavaliers football players. Police in Idaho are asking for the public's help after receiving a tip that one of the four students murdered on November 13 had a stalker. And Ukrainian President Volodymyr Zelensky is condemning Russia's strike today on a maternity ward that killed a newborn baby.
"There's a need and I have resources"
Scripture calls us to "give thanks in all circumstances" (1 Thessalonians 5:18), a command that is especially difficult to obey in the midst of tragedy.
But it is in such hard times that serving others can spark gratitude in those who grieve and lift the spirits of those who are suffering.
Tom Gorzycki is an example. The eighty-seven-year-old learned to cut hair in the Navy, then worked for more than thirty-six years in a barbershop. Now he works from the basement of a Minnesota retirement home, where he offers free haircuts in exchange for donations.
The money doesn't go to Gorzycki—it benefits a relief organization called "Arm in Arm in Africa." In the five years he has set up shop, he has raised more than thirteen thousand dollars cutting hair. He has donated thousands more from his personal savings.
"There's a need and I have resources. That's what you do," Gorzycki said. He added, "As long as my hands are steady, I'll just keep doing it. One person can make a difference. You just roll up your sleeves and do what the heck you can."
"Good stewards of God's varied grace"
When I read Tom Gorzycki's story, my spirits were lifted and my desire to serve was strengthened. I would guess you felt the same way.
Of all the people who live and love in ways that evoke such gratitude from others, followers of Jesus should be at the front of the line. Scripture is clear: "As each has received a gift, use it to serve one another, as good stewards of God's varied grace" (1 Peter 4:10).
Furthermore, God calls us a "royal priesthood" (1 Peter 2:9). St. Leo the Great (died AD 461) responded to this biblical assertion: "What is more king-like than to find yourself ruler over your body after having surrendered your soul to God? And what is more priestly than to promise the Lord a pure conscience and to offer him in love unblemished victims on the altar of one's heart?"
When we serve and live in ways that honor our Lord, we direct gratitude to the Source of our lives: "Let your light shine before others, so that they may see your good works and give glory to your Father who is in heaven" (Matthew 5:16).
"Living and true temples of God"
The bishop, preacher, and theologian St. Caesarius of Arles was born around AD 470 and died in 542. In a sermon, he reminded us that "we are indeed living and true temples of God. God does not dwell only in things made by human hands, nor in homes of wood and stone, but rather he dwells principally in the soul made according to his own image and fashioned by his own hand."
He continued: "When Christ came, he banished the devil from our hearts, in order to build in them a temple for himself. Let us therefore do what we can with his help, so that our evil deeds will not deface that temple. For whoever does evil, does injury to Christ."
He then applied his exhortation: "Whenever we come to church, we must prepare our hearts to be as beautiful as we expect this church to be. Do you wish to find this basilica immaculately clean? Then do not soil your soul with the filth of sins. Do you wish this basilica to be full of light? God too wishes that your soul be not in darkness, but that the light of good works shine in us, so that he who dwells in the heavens will be glorified.
"Just as you enter this church building, so God wishes to enter into your soul, for he promised, 'I shall live in them, I shall walk through their hearts'" (paraphrasing 2 Corinthians 6:16).
"Instead, I think of myself less"
As we prepare for Thanksgiving tomorrow, let's resolve to be people for whom others give thanks. And let's do so out of transforming gratitude for the One to whom we direct the thanksgiving of our tables and of our hearts.
Tim Keller observed: "The Christian gospel is that I am so flawed that Jesus had to die for me, yet I am so loved and valued that Jesus was glad to die for me. This leads to deep humility and deep confidence at the same time. It undermines both swaggering and sniveling. I cannot feel superior to anyone, and yet I have nothing to prove to anyone. I do not think more of myself or less of myself. Instead, I think of myself less."
As you think of yourself less and your Lord more, I invite you to make this hymn by Charles Wesley your prayer today:
O Thou who camest from above,
the pure celestial fire to impart
kindle a flame of sacred love
upon the mean altar of my heart.
There let it for thy glory burn
with inextinguishable blaze,
and trembling to its source return,
in humble prayer and fervent praise.
Jesus, confirm my heart's desire
to work and speak and think for thee;
still let me guard the holy fire,
and still stir up thy gift in me.
Ready for all thy perfect will,
my acts of faith and love repeat,
till death thy endless mercies seal,
and make my sacrifice complete.
Amen.
Note: For more biblical encouragement throughout your day, please follow me on Twitter @JimDenison
Publication date: November 23, 2022
Photo courtesy: ©Getty Images/monkeybusinessimages
The views expressed in this commentary do not necessarily reflect those of Christian Headlines.
For more from the Denison Forum, please visit www.denisonforum.org.
The Daily Article Podcast is Here!
---
---