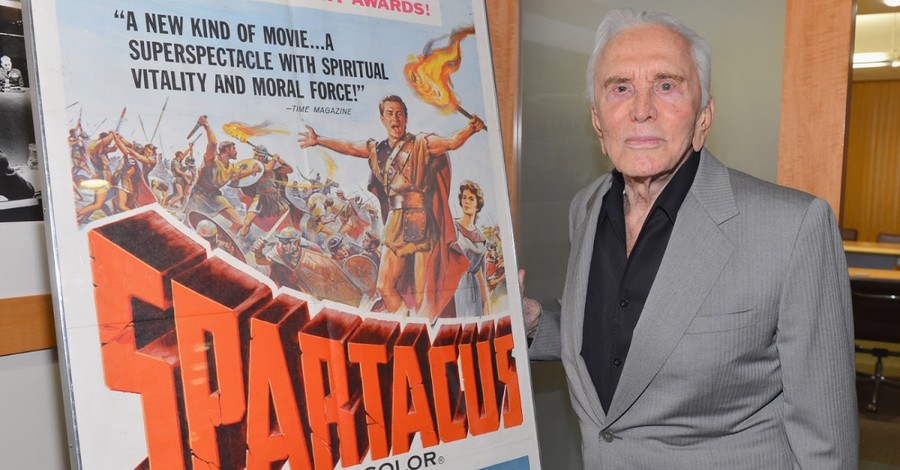 Kirk Douglas died Wednesday at the age of 103. He was born Issur Danielovitch on December 9, 1916, in Amsterdam, New York. He changed his name to Kirk Douglas before entering the US Navy during World War II.
He was the only son of seven children born to illiterate Russian immigrants. In his autobiography, he reported that his father was a "ragman," trading in old rags, pieces of metal, and other junk. As a child, Douglas sold snacks to mill workers and had more than forty jobs in his youth. As a young adult, he once spent the night in jail because he had no place to sleep.
He recited the poem "The Red Robin of Spring" in kindergarten and received applause, an experience that caused him to aspire to become an actor. After graduating from college and studying at the American Academy of Dramatic Arts in New York City, he joined the Navy in 1941 and was medically discharged three years later for war injuries.
He then returned to New York City, where he found work in radio, theater, and commercials. He became one of America's biggest box-office stars in the 1950s and '60s, eventually appearing in more than ninety movies. He received the Presidential Medal of Freedom in 1981, an honorary Academy Award in 1996, and the National Medal of Arts in 2002.
Douglas and his wife of sixty-five years donated multiplied millions of dollars to various schools and up to $55 million to an Alzheimer's treatment facility in California. After a near-fatal helicopter crash in 1991 that took the lives of two other men, he returned to the Judaism of his roots and even celebrated a second Bar-Mitzvah in 1999 at the age of eighty-three.
President Trump and Speaker Pelosi were together again
Media attention has been focused on Douglas, the growing coronavirus epidemic, and the continued controversy surrounding the Iowa caucuses. Meanwhile, a less-reported event was held yesterday in Washington, DC, that deserves our attention today.
President Trump spoke Thursday at the National Prayer Breakfast, as did House Speaker Nancy Pelosi, who focused on those facing religious persecution around the world.
President Dwight D. Eisenhower began the event in 1953 at the urging of evangelist Billy Graham. The president did so from the conviction, as he told the gathering that "all free government is firmly founded in a deeply felt religious faith." Every president since has addressed this gathering of 3,500 elected officials, diplomats, national and international religious and political leaders.
I have attended the breakfast several times over the years but watched yesterday's gathering online. It was a bit surreal to see President Trump and Speaker Pelosi together for the first time since the State of the Union address, after which she ripped up the manuscript of the president's speech at its conclusion.
If ever we needed an event to bring together disparate political figures, it's today.
Three steps to breaking the cycle of contempt
The keynote speaker for yesterday's breakfast was Dr. Arthur Brooks, a Harvard professor and best-selling author of eleven books who previously led the American Enterprise Institute, a conservative think tank. Brooks addressed what he called "the biggest crisis facing our nation and many other nations today: it's the crisis of contempt and polarization that's tearing our societies apart."
He focused on Matthew 5:44, where Jesus called us to "love your enemies and pray for those who persecute you." Based on this text, the answer is not more civility and tolerance, according to Brooks. That's because "civility and tolerance are a low standard," he said. "Jesus didn't say, 'tolerate your enemies.' He said, 'love your enemies.' Answer hatred with love."
How do we do this? According to Brooks, we must break the cycle of contempt for those with whom we disagree. Three steps are necessary.
One: "Ask God to give you the strength to do this hard thing, to go against your human nature, to follow Jesus' teaching."
Two: "Make a commitment to somebody else to reject contempt," asking others to hold us accountable.
Three: "Go out looking for contempt," seeking opportunities to initiate reconciliation as we "run toward the darkness" and "bring your light."
Brooks also offered this interesting insight: Moral courage isn't standing up to those with whom we disagree. Rather, it's "standing up to those with whom you agree on behalf of those with whom you disagree."
"The point when national healing begins"
Kirk Douglas's story shows that people who identify their gift and use it with excellence can make a mark on culture that endures, no matter their background. But we cannot do it alone.
Douglas's favorite movie was Spartacus, a 1960 film that won four Academy Awards. He plays a slave who leads an uprising against the Roman Empire. After the Romans defeat his army of fellow slaves, they try to locate Spartacus by offering a pardon if the men will identify him.
In one of the most famous scenes in movie history, every man responds by shouting, "I'm Spartacus!" As a result, they are all sentenced to death by crucifixion.
If we are to change our divisive culture for Christ, we must pray for God's help as we reject contempt wherever we find it. And we must pay any price to love our enemies, remembering that our loving Savior paid the highest price for us.
Dr. Brooks told his audience, "When you leave this National Prayer Breakfast today, you'll be back in a world with a lot of contempt. See it as your opportunity."
He asked them to imagine a sign above the door reading, "You Are Now Entering Mission Territory." Then he said, "If we see the world outside this room as mission territory, we might just mark this day, February 6, 2020, the National Prayer Breakfast in Washington, DC, as the point when national healing begins."
How will you contribute to such healing today?
Publication date: February 7, 2020
Photo courtesy: ©Getty Images/Alberto E. Rodriguez/Staff
The views expressed in this commentary do not necessarily reflect those of Christian Headlines.
For more from the Denison Forum, please visit www.denisonforum.org.
The Daily Article Podcast is Here!
---
---